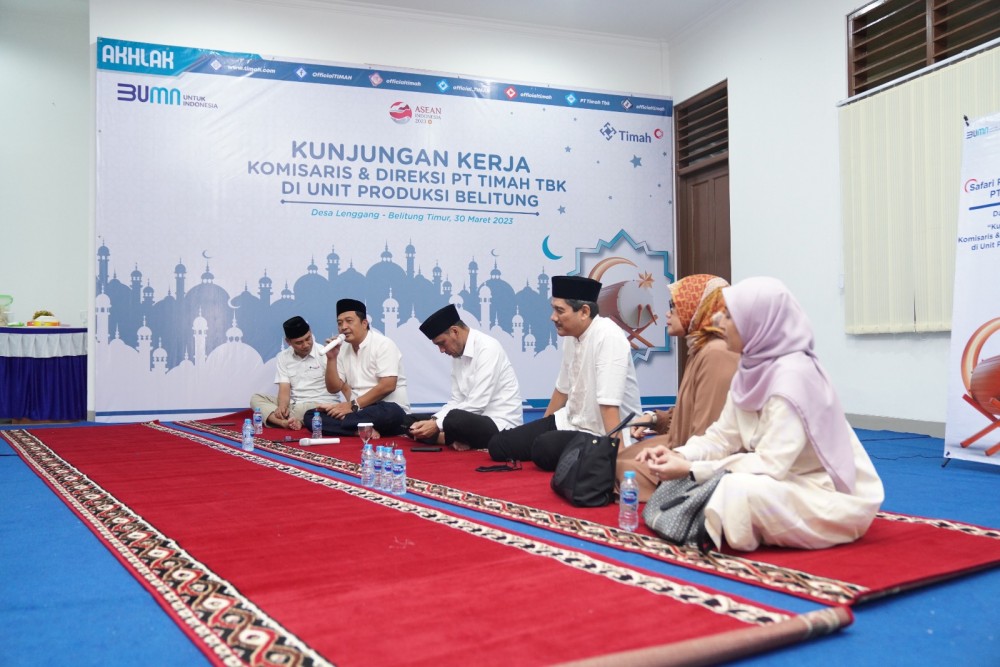 Working Visit to Belitung Island, Directors and Commissioners of PT Timah Tbk Hand Over Compensation for the Community
EAST BELITUNG - In the momentum of the Month of Ramadan 1444 Hijriah, the Board of Directors and Commissioners of PT Timah Tbk handed over assistance to the community in the Company's operational areas during a work visit to the Belitung Production Unit, in Lenggang Village, Gantung District, East Belitung Regency, Thursday (30/03/2023).
The commissioners and directors of PT Timah Tbk symbolically handed over this assistance to the orphans and orphans as well as beneficiaries.
The Directors and Commissioners of PT Timah Tbk handed over compensation to orphans and orphans as well as dhuafa children in the form of school supplies, compensation for the Koran teacher and mosque marbot as well as assistance with basic food packages for people in need.
President Director of PT Timah Tbk Achmad Ardianto said that in the momentum of the Holy Month of Ramadhan this is to increase worship so that it can bring blessings to the company.
"We hope that all of our employees will do the same, namely coming with noble intentions, so they can work well," he said.
Belitung Island is the first place visited during the working visit of the Directors and Commissioners in this Ramadan Month. For this reason, he asked tin employees to implement the AKHLAK values ??as the core values ??of SOEs.
"Let's comrades unite steps and unite intentions to achieve the target together," he explained.
He also advised employees to implement occupational health and safety, so as to prevent various unsafe and dangerous actions.
"So take care of ourselves, take care of our friends and make sure everything around us is safe, so we can work in peace," he said.
Meanwhile, one of the recipients of compensation from the Head of the Muhammadiyah Putra Orphanage, Firman Triyono, was grateful for the working visit of the Commissioners and Directors of PT Timah Tbk at the Belitung Production Unit and provided compensation for them.
"We are very grateful and the children are very happy to receive this assistance," he said.
According to Firman, the Putra Muhammadiyah Orphanage had previously received compensation from PT Timah Tbk, and at that time PT Timah Tbk came directly to the orphanage.
"Hopefully we will continue to expect PT Timah Tbk's attention to us," he explained.
In the same vein, Matarudin, one of the marbots at the Al-Falah Mosque, also received compensation during the working visit of the Commissioners and Directors of PT Timah Tbk at the Belitung Production Unit. (*)