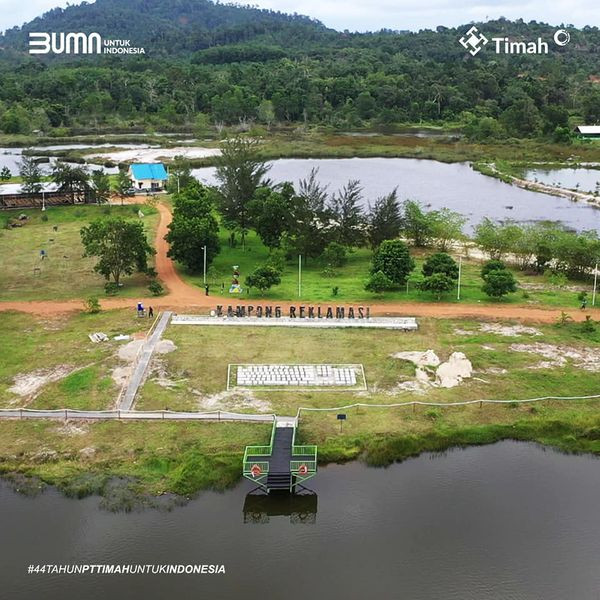 Waiting for Kampong Selinsing Reclamation
Tens of hectares of ex-mining land in Selumar Hamlet, Selinsing Village, Gantung District, East Belitung Regency will be transformed into a new tourist destination. Carrying the concept of agro-tourism, this ex-mining reclamation is carried out with the surrounding community. Currently, this 22 hectare land still looks barren, however, several new trees have been planted, such as papaya, guava, mango. This area has begun to be organized into several sections in accordance with the management plan.

At first glance, several locations began to be labeled such as; a nursery house, a canteen area consisting of huts, a toilet for visitors, and several landmarks with the words Kampong Reclamation and three-dimensional welcome greetings have been completed. There is something interesting in this area. Several icons for taking pictures such as Kopi Tumpa, a pencil-shaped building as a colorful direction also add to the beauty of this area. It's not over yet, now it's tempting visitors to tour this area.

Based on the master plan, later, when entering the Selinsing Reclamation Village, visitors will be greeted with a traditional Belitong house, as well as a stretch of horticultural fruit trees. This area will also be equipped with fishing villas, parabolic shelters in the area underneath, executive villas, docks, conservation areas, light parks, nursery houses, camping grounds, dredgers, kupi tumpa, and a farm area. Not only that, later in this area a compost house will be built, planting local endemic plants such as sengon wood, dungun, pelepak. "There will be a dredge building, we will build it on a scale of 1: 5, but this is still in process. The concept is the same as reclamation in other agro-tourism areas," said Head of PT Timah Tbk's Reclamation Division, Rahendra.

At present, the construction of this facility is still in the construction stage, the construction which only started in early 2019, the construction process is only around 20 percent. The plan is that the Selinsing reclamation area will be open to the public next year. Not only as a new tourist destination, this reclamation as well as education for the community, ex-mining land can be processed and produced for the community, such as for cultivation, agricultural land and tourist objects.

In its development, this reclamation area is also carried out with the community. Some blocks, for example, such as nurseries, horticultural crops and livestock. "We engage the community to work on certain blocks, for example planting chilies, our capital seeds. Then we teach them how, their results will be. So that they also feel the benefits," he added.

In the future, Rahendra said that each district will have a reclamation village. Currently, only Air Jangkang Reclamation Village, Air Nyatoh Reclamation Village, Selinsing Reclamation Village have been started. For the Belitung, the plan will be made in Cerucuk Village. The presence of Selinsing Reclamation Village will increase the number of new tourist destinations in East Belitung. So, guys!!!! Make sure to come on the completion of the Selinsing Reclamation Village. *