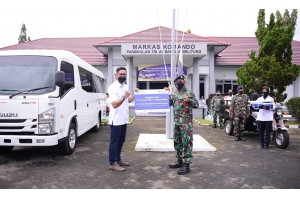 Two Vehicle Units for Lanal Operations
CSR
PT Timah Tbk handed over two operational vehicles to the Naval Base (Lanal), Bangka Belitung Islands Province, at Mako Lanal Babel, Monday (13/7/2020). The assistance provided is in the form of a mini bus vehicle and a three-wheeled motorbike unit with the aim of supporting the operations of Lanal Babel. This assistance is a form of synergy to support the operational activities of Lanal Babel.
Head of the Bangka Marine Mining Unit, Rian Andri, hopes that this assistance can support the operations of Lanal Babel, so as to improve security and also support the operations of PT Timah Tbk. "We hope this assistance can be useful for Lanal Babel marine operations and daily activities. This is a form of synergy between PT Timah and Lanal Babel. We also hope to be supported by Lanal Babel so that PT Timah's operational security can run well, "he said while handing over the aid symbolically.

Danlanal Bangka Belitung, Colonel (Laut) Dudik Kuswoyo appreciated the assistance provided by PT Timah Tbk and stated that the assistance provided was really helpful for his party, to support the operations of Lanal Babel. "Thank you for the support of PT Timah, which has distributed two vehicles to Lanal Babel. This vehicle assistance is really needed for the operations of Lanal Babel. If the "Elf" vehicle is for mobilization, we welcome guests from Pangkalpinang to Belinyu, as well as "Tuso" to help with our operations, "he said.

He said that so far his party had synergized with PT Timah in securing the company's operations. He hopes that later Lanal Babel operations will be maximized with the help of this vehicle. *