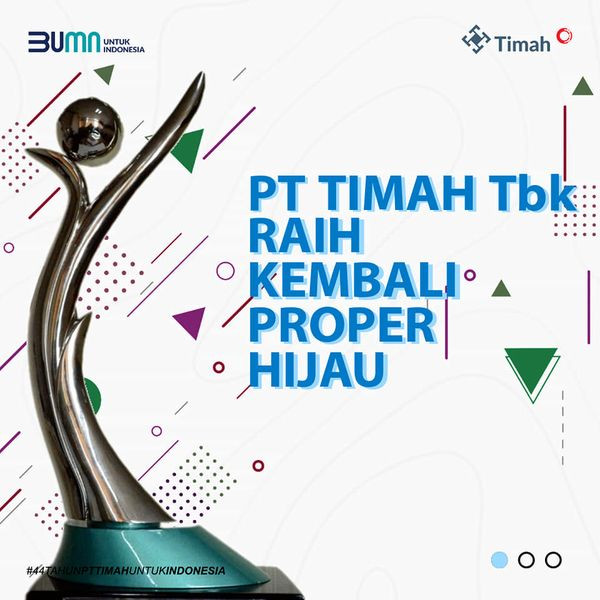 Twice the Green Proper!
PT Timah Tbk has again demonstrated its successful environmental management achievements by winning the 2020 Green PROPER award. This shows PT Timah's commitment to continue to make improvements in environmental aspects. This is the second year PT Timah Tbk won Green PROPER after last year also winning the same predicate. This virtual award was also witnessed by the Vice President of the Republic of Indonesia, KH Ma'ruf Amin and the Minister of Environment and Forestry, Siti Nurbaya, Monday (14/12/2020).

Green Proper presented businesses or activities that have involved environmental management more than required in the regulations (beyond compliance) through the implementation of an environmental management system, efficient use of resources through the 4Rs (reduce, reuse, recycle, and recovery) and carry out social responsibility with good. PROPER assessment involves many aspects, including compliance with environmental management regulations, application of Environmental Management Systems, energy efficiency, water conservation, emission and GHG reduction, protection of biodiversity, 3 R of B3 and non-B3 waste, and community empowerment.

To achieve Green PROPER, many innovations have been made by one of the world's tin producers. Efforts made include equipping employees in each production unit and partners of PT Timah Tbk with adequate knowledge of the requirements and regulations regarding environmental responsibility.

The Minister of Environment and Forestry, Siti Nurbaya Bakar, said that the Proper assessment was carried out with a measured analysis, clear methods and a system that continues to be improved. "This year there are additional criteria in the assessment, namely the company's sensitivity to disasters in the aspect of empowerment," he said.

PT Timah Tbk Corporate Secretary, M. Zulkarnaen, is grateful for this Green Proper achievement. Where this year only 125 companies won Green PROPER. The award is a concrete step for PT Timah Tbk as a mining company in environmental management. "The company will continue to maintain its commitment and maximize its ability to innovate environmental management based on community empowerment from the mining to post-mining processes," he said.

With this achievement, Green Proper is expected to continue to spur the spirit of innovation and the company will continually strive to improve standards for environmental management and preservation in line with the company's mission and increase contribution to society. "The company will gradually improve environmental management, the goal is to expand the scope of environmental management that is integrated with the company's business processes. In addition, it will try to make improvements so that PT Timah can achieve PROPER Gold, "he concluded. *