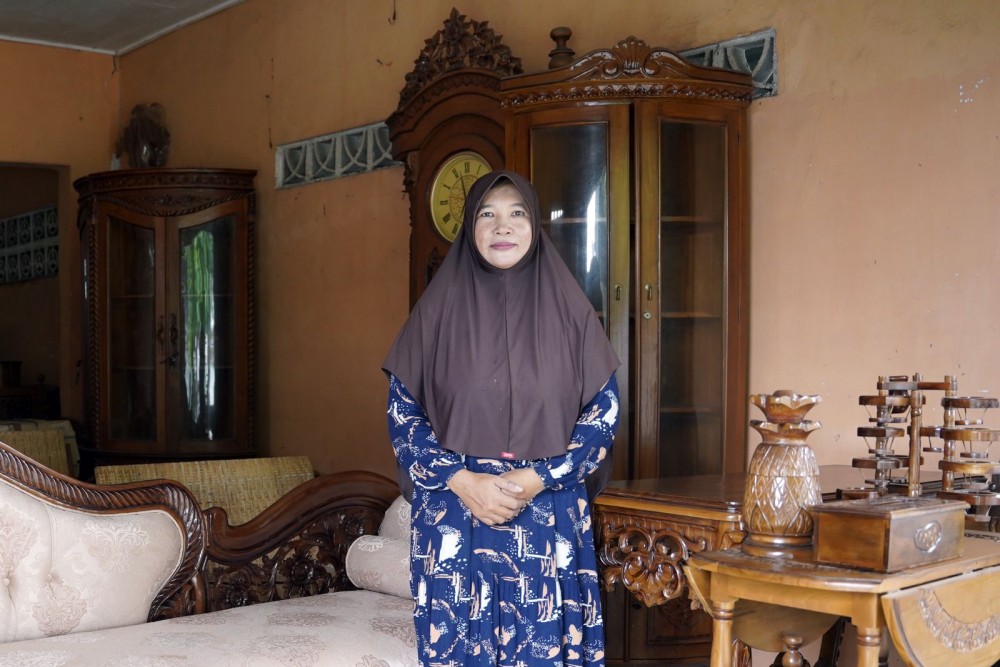 Teguh Jati's business is growing, Risna can add various products after becoming a foster partner of PT Timah Tbk
PANGKALPINANG -- Household furniture is a tool that is often hunted by women to fill the house. Now various types of furniture come with various attractive models and raw materials.
One of the furniture that is timeless and is still widely sought after is furniture made of teak wood.
Seeing this opportunity, Risna Purwanti (46), a foster partner of PT Timah Tbk, continues to run a furniture business that provides various teak-based equipment. Their furniture shop known as Teguh Jati is located at Jalan Kampung Melayu no 118 Bukit Sari Village, Gerunggang District, Pangkalpinang City.
Risna said that the teak business she was running was a derivative business from her parents, who had been selling teak equipment for a long time.
Teak furniture equipment that he sells includes guest chairs, dining tables, beds, L liter chairs, 2 meter sideboards, teak glass, cupboards, displays, tissue holders, wall clocks, console tables, work tables, single sofa chairs, dressing tables, wardrobes. , patio chairs, dining chairs, tea tables, dressing tables and other equipment.
"I don't produce here, this is teak from Jepara, the original manufacturing process is all there. Here I only sell and take orders and I have some items in stock," she said, met some time ago.
She is grateful that the teak business that has been carried out for generations has been known so that they have had consumers in various regions.
"The promotion is word of mouth, Alhamdulillah, the customers are from various regions on Bangka Island. Besides that, I also promote on WhatsApp, and many also ask for products because maybe they know the quality," she said.
To add product variants, she needs capital and takes advantage of PT Timah Tbk's Micro Small Business Funding Program (PUMK), so that there are more and more variants of his teak products.
"If this teak product is not seasonal, it's just a matter of innovation, for example, making it a tissue holder, drinking water holder, display case. That's why I want to increase my capital so I take advantage of the PT Timah Tbk program," she said.
She is grateful that the capital from PT Timah Tbk can increase product stock, so that when visitors come to his shop, they can see various product variants.
"I added the loan capital from PT Timah Tbk for display items, fruit stands, and others because these small ones are currently in demand. Thank God, with this capital, businesses can continue to spin," she said.
Not only that, he said the marketing is also growing after becoming a foster partner because of the promotion. The products are even entered in the TINS ??Gallery and often receive orders.
"My product is in TINS ??Gallery and from there, Alahmdullillah, someone ordered it too. Some even came here to order the product. It was very helpful in terms of marketing," she said.
She hopes that in the future this teak business can continue to grow, to attract buyers in addition to offering good quality products, they also provide a time period for the payment system for goods.
"It's important for a business like this to run smoothly. I'm grateful that many consumers come back after shopping. In addition, we also offer economical prices and can use the tempo system for payments," she said.
She hopes that in the future PT Timah Tbk's PUMK program can continue so that it can help business actors in developing their businesses and improving marketing.
"This program is very interesting and not difficult, the process is easy and we have a lot of benefits from the marketing side as well," she said.