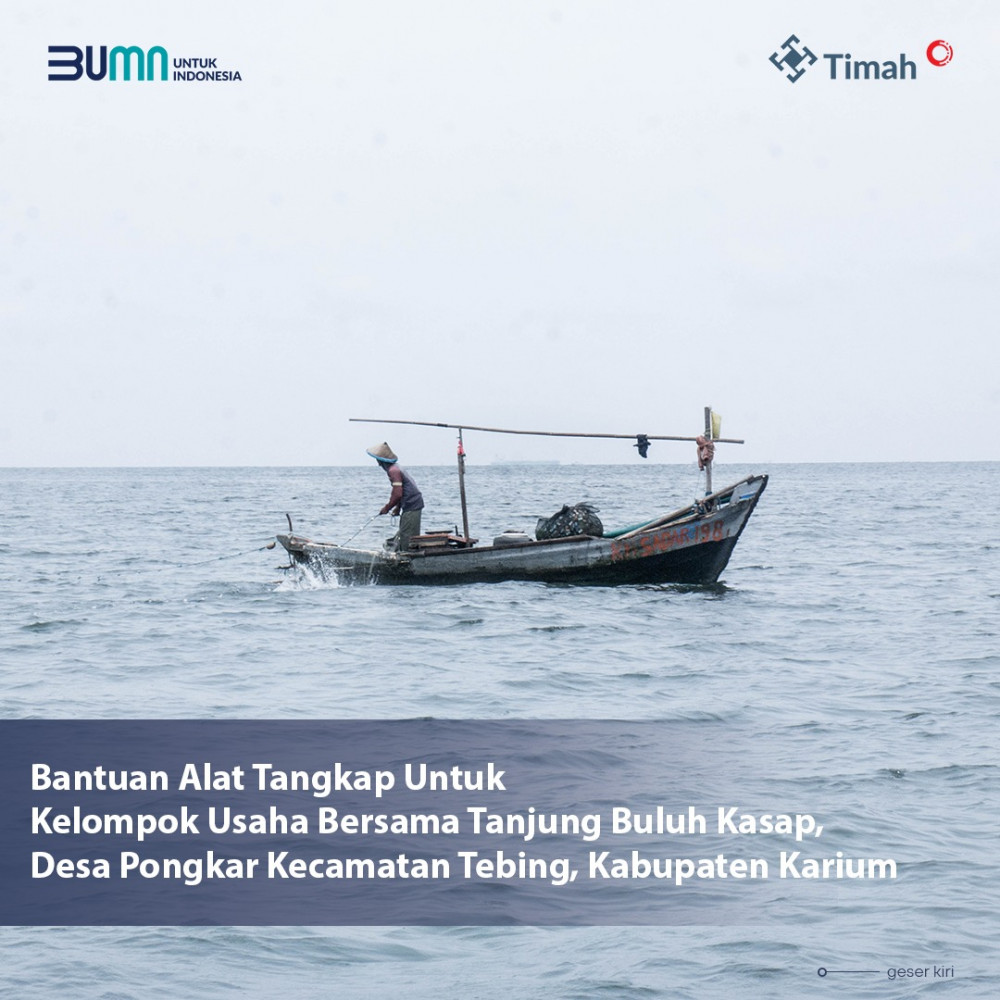 Tanjung Buluh Kasap KUB Turns to Receive Fishing Equipment Assistance from PT Timah
KARIMUN -- PT Timah Tbk again handed over aid to the fishermen group in Karimun. This time it was the Tanjung Buluh Kasap Joint Business Group (KUB) turn, Pongkar Village, Tebing District, Karimun Regency, which received assistance from CSR PT Timah Tbk, Wednesday (14/7/2021).
This cash assistance will later be used to improve fishing gear infrastructure. So that later it is expected to increase the catch of fishermen. Increasing the catch of fishermen will have an impact on the economy of the community.
In addition to providing assistance, PT Timah also implements a Community Empowerment Program for fishermen. One of them is by involving the fishing community to cultivate fishery commodities.
The head of the Tanjung Buluh Joint Business Group (KUB) Kasap Wira appreciated the assistance provided by PT Timah to his group. According to him, this assistance helps their group to equip their fishing gear.
"The aid will be used to add fishing gear for group members, it can be in the form of nets and others what the members need and we will discuss together," he said.
Meanwhile, the Chairman of the Joint Venture Fishermen Cooperative Berjaya (KNB3), Deni, expressed his appreciation to PT Timah for its consistent commitment to helping the community around its operational area, especially for traditional fishermen such as KUB Buluh Kasap.
He said that their cooperative houses five KUB Fishermen and two Farmers Groups. Where one of the KUB Fishermen Dugong Pelambung has also received assistance from PT Timah.
"We are grateful to the company that has helped the fishing group. We support the company's activities and hope that PT Timah can also support the activities of our members," he said.
He also hopes that the synergy and collaboration of PT Timah with the fishing community can also continue.
"Hopefully the communication relationship that has been established between PT Timah and the community, especially fishermen, can continue to be improved," he said.
The event was also attended by the Regional Secretary of PT Timah Tbk for the Riau and Riau Islands Operational Area, Eka Budhy, Chairman of KUB Buluh Kasap Wira and Head of the Joint Venture Fishermen Cooperative (KNB3) Deni. (**)