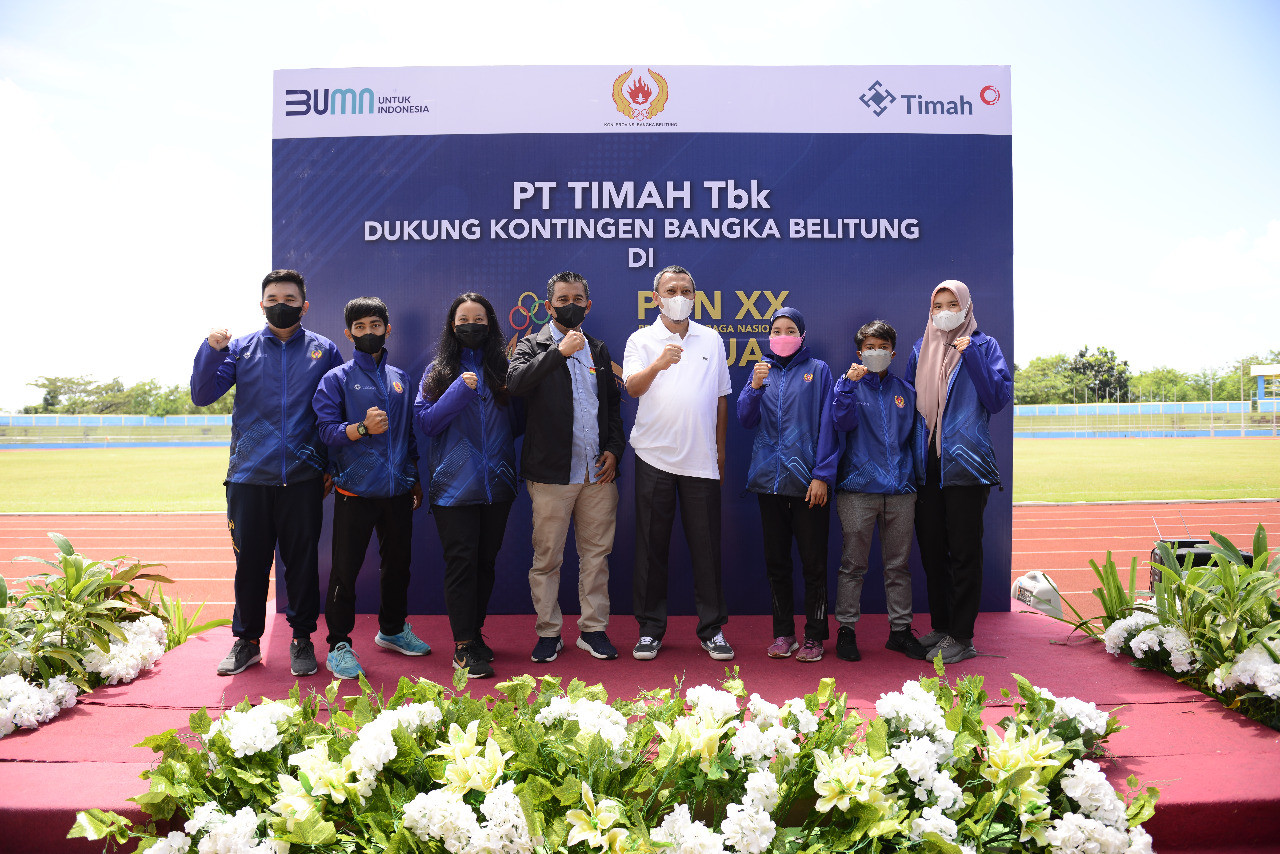 Succeeding PON XX, PT Timah Tbk Pour Rp 1,4 Billion To Babel's KONI
PANGKALPINANG – Head of Bangka Belitung's Indonesian Nasional Sports Committee (KONI), Elfandi express his appreciation to PT Timah Tbk who fully supported Babel's Contingent who is going to compete in PON XX Papua.
"Today I feel a bit relieved. Alhamdulillah my burden, athletes uneasiness, no more doubt for the athletes to depart because of PT Timah Tbk's donation. The team has no more uneasy feeling of their departure being canceled because the ticket cost has been covered up by PT Timah Tbk," said Elfandi in PT Timah Tbk donation handover event to Babel's Contingent at Depati Amir Stadion Pangkalpinang on Friday (17/9/2021).
PT Timah Tbk pours Rp 1,4 Billion money worth for Babel's KONI. This donation was handed over directly by PT Timah Tbk's Director of Finance and Risk Management Wibisono to Babel's KONI Chief in front of the athletes' representatives.
"We express much gratitude to PT Timah Tbk who has shown us dedication and empathy to Babel's citizen through supporting Babel's contingent to Papua," mentioned him.
He stated, this donation from PT Timah Tbk will surely trigger the spirit for athletes to compete, hopefully, gave away the best achievement in this sport event.
"Thank you to PT Timah Tbk for helping us sending off the athletes to PON. This is a big moment for us, the highest event in Indonesia. Hopefully, this moment becomes a good starter for Babel's sports revival," said him.
He instructed the athletes to give their best performance for Babel, so hopefully, they could bring back medals and make Babel proud.
"With this support, we will make the region proud, lifting Bangka Belitung's honor and dignity. The athletes are ready to fight. This is their best moment, and this moment will be used as best as possible so the support from various parties won't be a waste.
Meanwhile, PT Timah Tbk's Director of Finance and Risk Management Wibisono reminded the athletes to keep their discipline in following the health safety protocols while they are at Papua.
The donation given by PT Timah is the company's commitment to supporting PON XX so that later this could make Babel proud. PT Timah Tbk is present to support PON XX.
"Hopefully (Babel) could carve history in Papua. Keep discipline in following the health safety protocols. Don't go outside if not necessary, because the match is undergone on the pandemic season," he said.
He also asked so the athletes can uphold sportsmanship in the match, later on, appreciate and respect each other, also other players nor the host.
"PT Timah Tbk supports the matching athletes, hopefully, they could make history and make Babel proud. Keep up the sportsmanship. Lose and win in matches are inevitable. Make use of PON as the chance to gain achievement," he closed.
Not only donating Rp 1,4 Billion money, but PT Timah Tbk also gave away uniforms for the athletes such as shoes, bags, T-shirts, training, and hat which will be used by the athletes in the arena. (**)