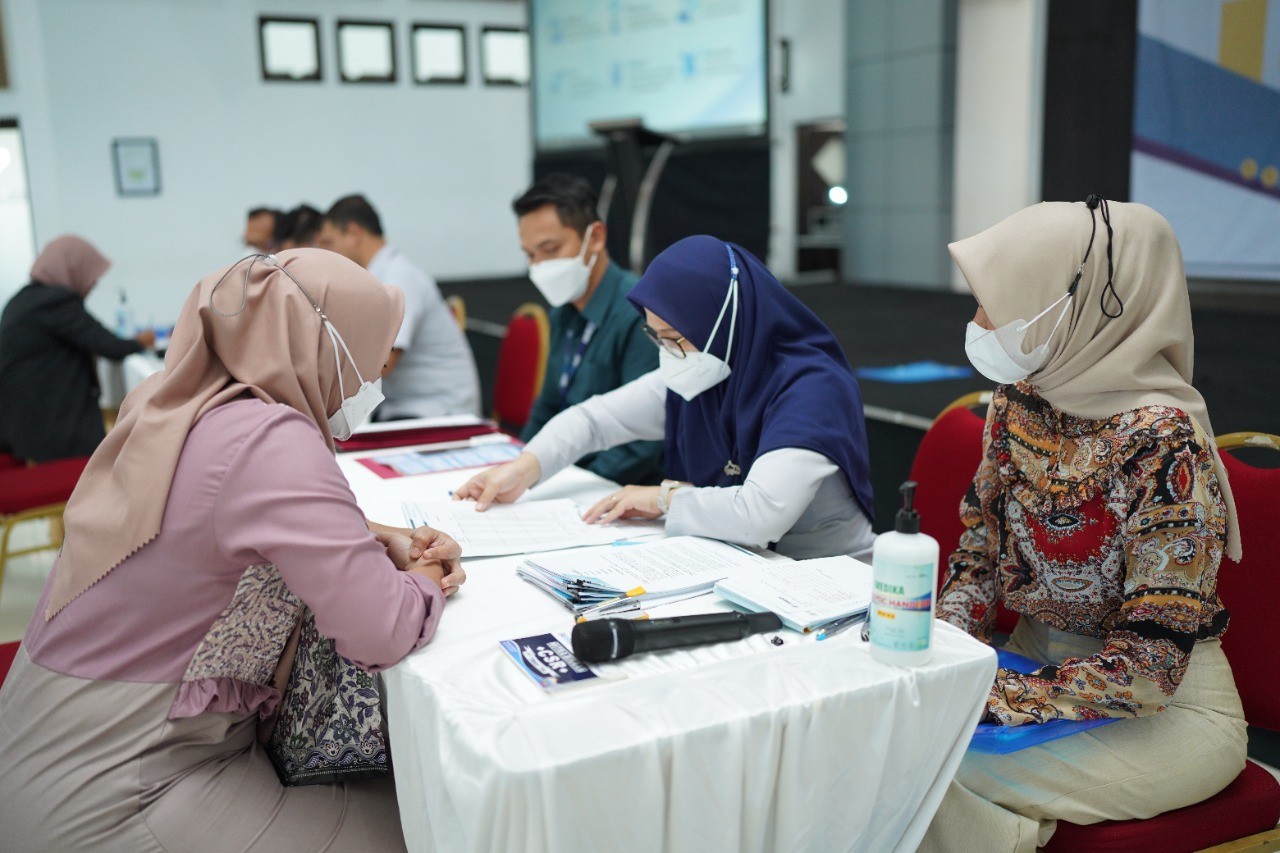 Strengthening MSME Capital, PT Timah Tbk Disburses IDR 1.2 Billion for 27 MSMEs in Bangka Belitung
PANGKALPINANG -- Access to capital can help Micro, Small, and Medium Enterprises (MSMEs) to upgrade. So that it is expected to contribute to the recovery of the national economy.
With adequate access to capital, MSME businesses can develop and reach a wider market. Realizing this, PT Timah Tbk through the Micro Small Business Funding program (PUMK) again distributed PUMK funds for the second quarter of 2022 in the amount of IDR 1.2 billion for 27 MSME actors in the Province of the Bangka Belitung Islands.
The signing of this fund distribution was held at Graha Timah Tbk, Monday (20/6/2022). This distribution activity was attended by Assistant I for Economics and Development of the Provincial Government of the Bangka Belitung Islands Yanuar, Head of the CSR Division of PT Timah Tbk Ebbi Wibisana, banking representatives, and prospective foster partners of PT Timah Tbk.
Head of the CSR Division, Ebbi Wibisana, said that PT Timah was committed to helping develop businesses and driving the community's economy through the PUMK program.
"PT Timah Tbk not only distributes capital, but we have also provided guidance, especially in terms of managing finances. In the last two weeks we have carried out training on how to manage a business on a small and large scale," he said
Ebbi hopes that the fostered partners of PT Timah Tbk can make the best use of the program. So that later it can be felt in a sustainable manner.
"We at PT Timah hope that this UMK product can penetrate the international market. With this capital assistance, SMEs are expected to be more productive," added Ebbi.
Meanwhile, Assistant I for Economics and Development for the Provincial Government of the Bangka Belitung Islands, Yanuar, appreciated PT Timah Tbk's commitment to helping MSMEs.
"We from the province are very grateful and very grateful to PT Timah Tbk because this is one part of the regional government program in order to foster MSMEs in Bangka Belitung Province," he said.
He hopes that MSMEs who get this capital loan can take advantage of this program as well as possible.
"Therefore, we hope that the recipients of this benefit will actually carry out the activities that have been proposed so that later it can run well and smoothly," he said.
Similarly, the Sub Coordinator of Financing for the Cooperatives and SMEs of the Bangka Belitung Province, Viesca Dyanti, said she really appreciates and supports the program carried out by PT Timah Tbk.
"This capital helps MSMEs in Bangka Belitung Province. Because so far I see PT Timah is very committed to providing assistance to MSMEs in Bangka Belitung. And we really support all the activities carried out by PT Timah," he said.
He hopes that the PUMK Program from PT Timah will continue to be committed to caring for and helping move the economy of the people in Bangka Belitung.
"It is hoped that in the future, the number of MSMEs that are facilitated by financing will increase. And with the funding provided by MSMEs, it can be even more productive. And for PT Timah, we hope to continue to provide the best for MSMEs," he hoped
Meanwhile, Hairul (37) one of the business actors who received assistance from PT Timah Tbk's PUMK program said the assistance would be used to add business equipment that had been built eight years ago.
"My business is trapping crabs, this assistance is to buy those tools. Something is missing, I want to add the boat, and the ship's equipment. Let the results can be more, "said the father of 4 children.
Similarly, Lestari (29), the owner of an oil palm plantation in Batu Beriga Village, Lubuk Besar District, Central Bangka Regency, admitted that he wanted to develop his business by joining the PUMK program from PT Timah Tbk.
"I will buy the capital from PT Timah to buy oil palm seeds for my garden. Thankfully, the process didn't take too long. It's my first time joining this program," he said
According to him, this program is very helpful for MSME entrepreneurs who have difficulty getting capital. So they can survive and thrive.
The details of the distribution of funds given to 27 MSME actors in the Bangka Belitung area are as follows:
For the Pangkal Pinang area, the 3 fostered partners are Rp. 240,000,000, the area of ??Bangka Induk 2 fostered partners Rp. 70,000,000, West Bangka region 1 foster partner Rp. 60,000,000, Central Bangka region 10 fostered partners IDR 270,000,000, Belitung region 2 fostered partners IDR 225,000,000, East Belitung region 9 fostered partners IDR 335,000,000. (**)