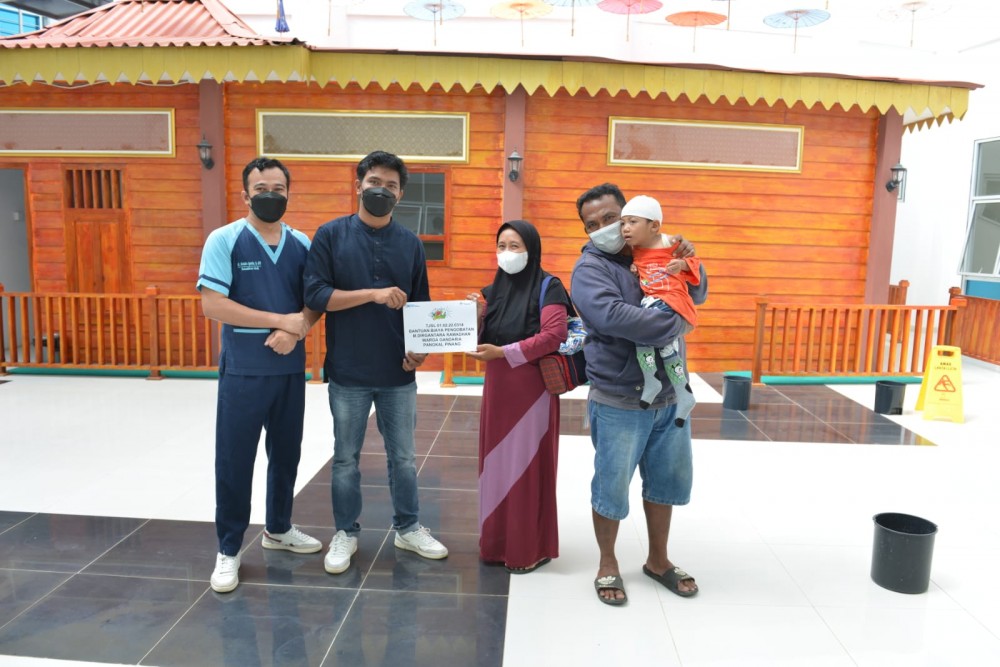 Sri Hartati is Touched when Receive Medical Assistance for Her Child from PT Timah Tbk
BANGKA - Sri Hartati (42) a resident of Pangkalpinang City does not believe that her baby can get medical assistance from PT Timah Tbk. She could not even hold back her tears while doing therapy for the child at the Dr. Regional General Hospital. (HC.) Ir. Soekarno, Friday (27/05/2022).
Sri's four-year-old son, Muhammad Dirgantara Ramadhan, has Cerebral Parsy. This assistance from PT Timah Tbk will be used to make special activity chairs for their children. In addition, for medical expenses and nutritional intake for their children.
"Alhamdulillah, I was able to get help from PT Timah Tbk, because so far I had not thought of applying for assistance to PT Timah, besides that I did not dare, because I did not know how to apply for assistance," she said.
She was grateful after getting help from one of the doctors so she could get help from PT Timah Tbk.
"Then Doctor Berry was given a solution, what if you apply for help to PT Timah, I don't expect to get help from PT Timah," she said.
"You can only thank PT Timah. We hope that it will always be victorious, always successful for PT Timah, and be able to help others too," said the worker at this coffee factory.
Se is reluctant to open donations for his child's medical expenses, because this condition has been misused by certain people.
Meanwhile, her husband, Sumidi (47) who works as a construction worker every day is unable to carry out his usual activities, because he has to take care of his baby.
"It's been four years I've been out of work, so I'm really focused on protecting Dirgantara," he said.
He said that his party routinely conducts therapy as an effort to heal his baby.
"Twice a week, we also routinely undergo therapy, from Dirgantara Born until now, we are still doing routine therapy. Thank God there is progress, although Dirgantara's weight only increases by one to two ounces in one month," said Sumidi.