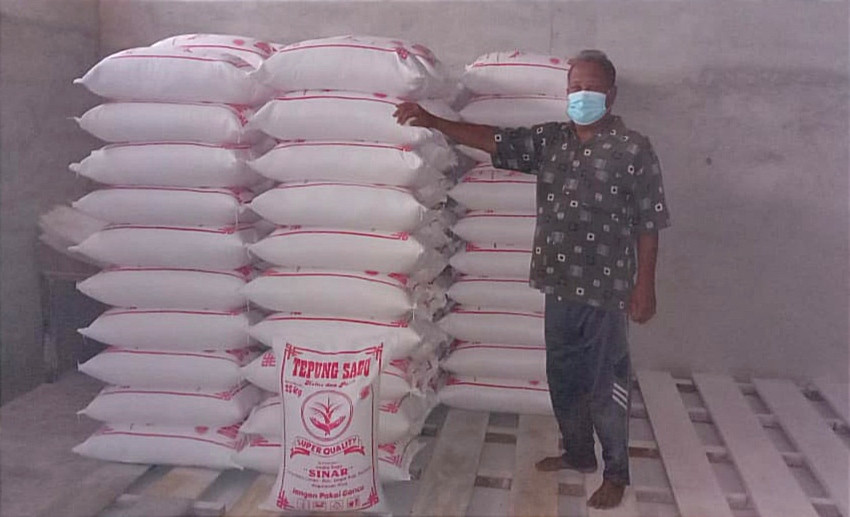 Sinar Kian Sago Flour Business Grows After Becoming PT Timah Tbk Fostered Partners
*Sold until Malaysia
KARIMUN – Sinar succeeded in developing a sago flour-making business to utilize the potential of local resources. His residence in Batu Limau Village, Ungar District, Karimun Regency is surrounded by an abundant amount of sago trees, made Sinar kept on trying to developt this potential.
It has been 30 years since Sinar founded and developed his sago flour-making business. It was not easy with the many obstacles he faced. With the determination of hard work and passion, he keeps his business going.
He kept on developing his business with support from his family. Eventually, his enterprise kept on growing. He adds more workers as his sago flour production getting more demand as time goes.
"There will always be ups and downs, well just face it. With the help and support from family everything is possible," said Sinar when interviewed in his business place some times ago."
To Sinar, there is no reason to stop his business. Rich and endless amount of sago raw material made him thinking to develop his business. Some years ago, he discussed his wish with his family to develop a sago flour-making business.
Sinar's hope to develop a sago flour processed product was also approved by his family. Their only problem was only with the budget. Not giving up, they keep on trying to develop their business.
"Like a tit for tat, I got information from the District Party there is a UMKM Program from PT Timah Tbk. Then I tried (to apply) and gratefully Alhamdulillah, my request has been accepted by the company," said Sinar.
After getting a capital loan from PT Timah Tbk, Sinar could add his production number each month and fulfilled the consumers' demands. Sinar's sago flour production could be used to make many kinds of traditional food such as noodles, laksa, and so on.
"Local citizens usually buy raw (sago) material from my business place," Sinar explained.
Sinar's flour products are marketed to Tanjung Pinang, Batam, Jakarta, even overseas to Malaysia before the Covid-19 pandemic strikes in.
"Before the pandemic, the market's demand was high. However, now because of pandemic and PPKM regulation for some territory, we found difficulties in our sells which caused the decrease of our business' overturn," he said.
He understood the current business dynamics during the Covid-19 pandemic. Not only his business but in the last 2 years almost every business sectors feel the negative side effects from the Covid-19 pandemic.
"Even with decreasing number of demands, we keep our production going. Because if we close the business down, it could cause a new problem for the workers. We are working around reducing the production number and we sell half-processed wet sago for the local citizens which is way cheaper than the dried-out sago flour. That is one of our alternatives to keep the faculty kitchen keep on fire," he said.
He felt lucky to get a capital loan from PT Timah Tbk because of the low administration fee. There is no need to think about the loan installment payment for the first three months and it helps to stay focus on developing the business.
"This program helps me develop my business. This is very good," he said.
He hoped in the future PT Timah Tbk could help to promote his products so it became well known by the public and hopefully will increase the sales and income. (**)