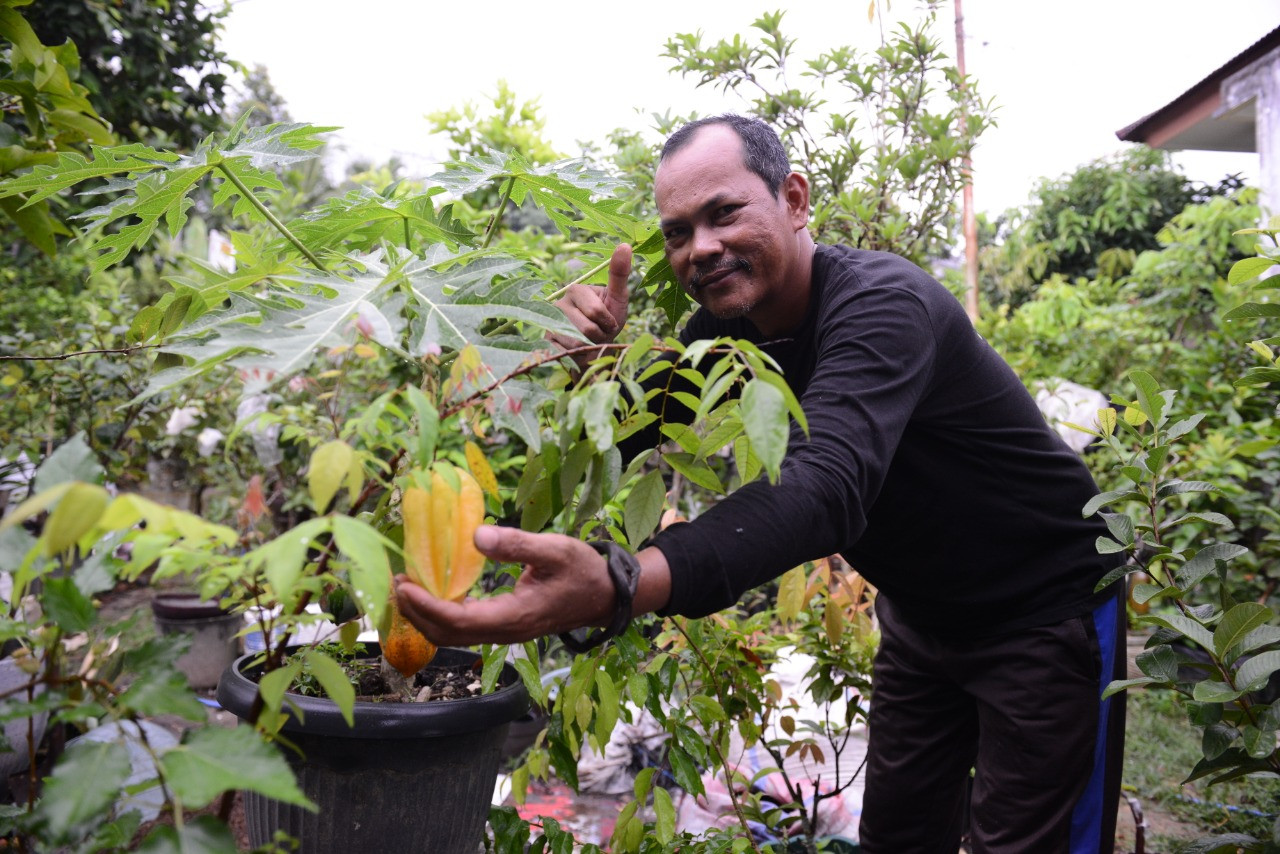 Ready's Tabulampot Successfully Planted Various Types of Fruit in Pots
*PT Timah Tbk Fostered Partners Invite to Green Babylon

PANGKALPINANG -- Agricultural methods continue to develop, land is not a problem to be able to start an agricultural business. Tabulampot or fruit plants in pots is one of the agricultural techniques that can be developed in a narrow area, but is economical.
This tabolampot has begun to be loved by many farmers, one of which is Redy Eko Putra, one of the Tabolampot farmers in Pangkalpinang City. Redy has succeeded in growing various types of fruit with this method.
Tambulapot Redy's business is quite successful, starting in 2015 his business continues to grow. With the brand Ready's Tambulapot, this man has succeeded in growing various types of fruit in pots.
It is not easy to develop his business, he has experienced many things. He even accidentally got inspiration from his workers to start this business.
"In 1989, I migrated to West Java and returned to Bangka in 2004. When I returned home, I worked mine
From my colleagues I found inspiration to start tabulampot from seed propagation techniques, plant connections and others. I also use YouTube to increase my knowledge about tabulampot," said Redy.
The mining business he was involved in did not last long, in 2013 his business closed. Then he became unemployed, that's what made his determination to start a tabulampot business.
"The reference was that when it was booming, the first crop was guava, king rose apple, images and candles. Even then, I was still developing it with used buckets and paint cans, there were around 40 at that time, and God willing, it worked," he said.
After that, Redy also developed a toga plant, ornamental flowers. He even won 1st place for Toga at the 2015 Pangkalpinang City level.
In developing his business, Redy admitted that there were difficulties in terms of working capital, but he was lucky to have a friend who helped him.
"In 2015, at the beginning of opening this business the capital was no longer 0 but minus. I am trying to run this business because I remember that I have to support my family. Fortunately, I have a friend who provides support in terms of financial assistance." Ready word
When his business started, he felt that his income was still not enough to provide for his family, so he finally added a variety of plants to sell.
"Initially, the business was selling plants of all types of toga, but I think it seems that if you only sell plants, your income is still lacking. Finally, I sell various plant variants such as oranges, avocados, durians, and others to increase my income," he said.
"I also used to sell flowers like aglonema and others about 10 years ago. But because this is only a temporary trend, I'm not anymore," he continued.
In this tabulampot business, Ready also utilizes household waste as organic fertilizer.
"For my own fertilizer, I make it with daily household waste, the function and benefits are the same as other artificial fertilizers," he said.
The demand continues to grow, even buyers come from various areas outside Pangkalpinang City. This is an obstacle for him in delivering orders because he does not have a vehicle.
The increasing number of requests for the delivery of Tambulapot, made him continue to think about how to do it. Finally he decided to become a foster partner of PT Timah Tbk to expand his business.
"In the past, there were people who we wanted to deliver the tabulampot directly to their homes, but because of the limited means of transportation, it hampered sales, because there were no vehicles," he said.
After becoming a foster partner of PT Timah Tbk, these obstacles can be removed and also further assist the marketing process of Ready's Tabulampot. Now he picks up the ball and sells his tabulampot to crowded places.
"By becoming a foster partner of PT Timah Tbk, I bought vehicles and equipment to develop my business. My business is guaranteed and not anxious because I feel safe from the capital side. Now, thankfully, the existing capital can make it easier to market the product. Besides that, now I can go around selling, not just waiting at home, "said Ready
At this time, orders that come not only from within Bangka but from various other cities in Indonesia such as Jakarta, Lampung, Palembang, and others.
Redy said that he did this business as an effort to invite the community to green Babylon with productive plants.
"The goal is to make Bangka Belitung green, I want to break the anecdote, don't plant it in Bangka, if you plant it won't live (not live), even if you live it will not bear fruit, even if it has sour fruit," he said.
For this reason, being a tabulampot farmer is his way of campaigning, that anything can be planted with sincerity and intention. He admitted, not only focusing on making profit through this business but also achieving the vision of being able to green Bangka Belitung through tabulampot.
In selling his plants, he also provides treatments to buyers for plant care. He even provides a guarantee for buyers.
"Here, if someone buys plant seeds from us, we give a guarantee if the plants purchased within 3 months are damaged or fail to grow, we will replace them with new seeds," he said.
For those of you who are curious to see Ready's Tambulapot, you can visit the location on Jalan Rasamala, Tuatunu. It can also be done through the ready's tabulampot facebook account and mobile number 081366054222. (**)