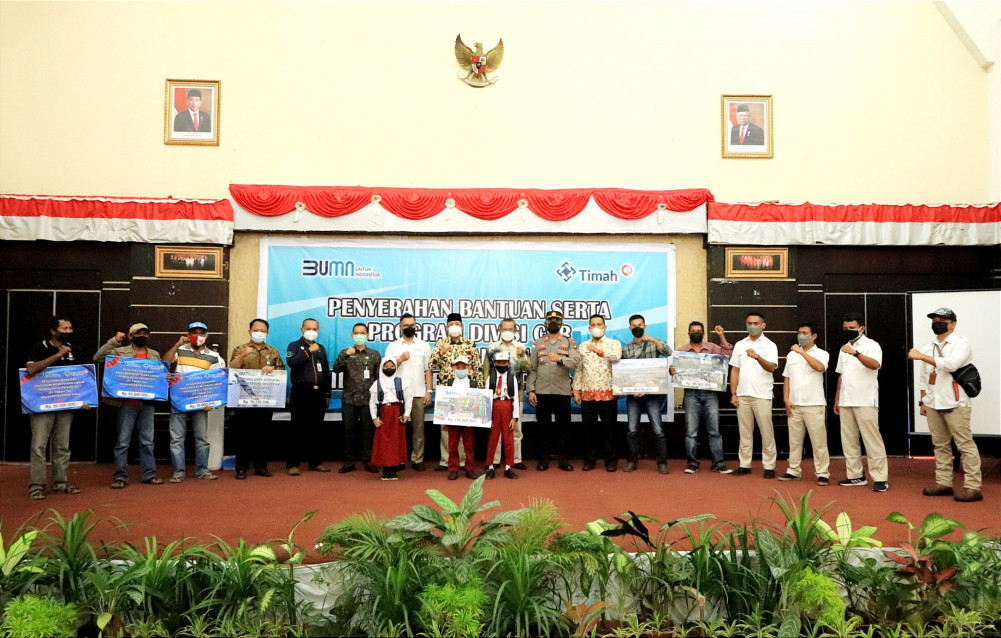 PT Timah Tbk's CSR Gave Out Hundreds Millions Rupiahs in Riau Islands Province and Riau 
KARIMUN – PT Timah Tbk is committed to distributing social responsibilities for communities in the operational area. TJSL program also distributed and synergized with the Local Government accordingly for the community needs. This social responsibility program from PT Timah Tbk is distributed to some fields such as education, health, social economy, infrastructure, and socio-religious.
This time, PT Timah Tbk has yet again donated Rp 413.765.000 CSR funding worth to Riau region Riau Islands citizens. This donation was given directly to Kundur's Vice Regent, Anwar Hasyim at Kundur Regent's Office on Thursday (9/9/2021).
The donation is then distributed to some sectors like education in the form of school equipment, worth Rp 190.800.000 including notebooks, school bags, which will be given to fishermen's children around Tebing District. As for the socio-cultural sector, the worth of Rp 86.605.000 is 11 fishermen's house renovations. Besides that, PT Timah Tbk also helps with fishermen's mooring boat bridge construction with Rp 48.110.000.
To support accelerating Covid-19 treatment, PT Timah Tbk also supporting by distributing oxygen and regulators for hospitals or public health centers with Rp 76.250.000 worth. PT Timah Tbk also donated Rp 12.000.000 to Jehovah Jireh Orphanage for the social assistance aspect. This helps will be distributed gradually to citizens in need. Hopefully, this support could help and ease citizens' burdens during the Covid-19 pandemic.
In distributing CSR, PT Timah Tbk strive to implement sustainable development in the surrounding community so that the citizen could feel company's CSR benefit directly. The company's CSR distribution is appreciated by Karimun's Vice Regent. Anwar Hasyim. Anwar Hasyim expresses his appreciation to PT Timah who always supports the regional government in implementing community development. "Hopefully, these supports from PT Timah keep on going in the future as it is very helpful. One of them is UMKM donation that we could use for businessmen's progress and development as their business capital," he stated.
He judged, PT Timah Tbk consistently distributed their support to the community, especially during the Covid-19 pandemic, this help is very expected.
"In this pandemic time, PT Timah keep consistently distributed helps," said Anwar Hasyim.
Meanwhile, one of the help receivers, Hendra said much gratitude to PT Timah who has supported the fishermen community by giving out donations to help with fishermen's mooring boat bridge construction. "This help is very much needed by the community. Not only by fishermen but also by the (local) citizen," he explained.
"Hopefully PT Timah can keep exit in Karimun Region operation," he added.
Another recipient, Syamsul Bahri, fisherman representative for house renovation from Tebing District, expressed his gratitude to PT Timah for their fisherman house renovations support. "During this pandemic, it's not easy for us to renovate our house. Good luck for the future, PT Timah Tbk," he said.
Head of PT Timah Tbk's Communication Division, Anggi Siahaan stated, PT Timah Tbk is committed to distributing the company's CSR. PT Timah Tbk's CSR is distributed to all of the company's operational areas through the social responsibility program. CSR is also distributed accordingly to the local community's needs and potential, so this giveaway could give a sustainable effect on the local community.
"CSR is distributed in some aspect like education, health, socio-economy, as the local community needed. In distributing CSR, PT Timah Tbk also collaborate with the Local Government," said Anggi. He hoped the CSR distributed by PT Timah could give a beneficial effect on the local community. (**)