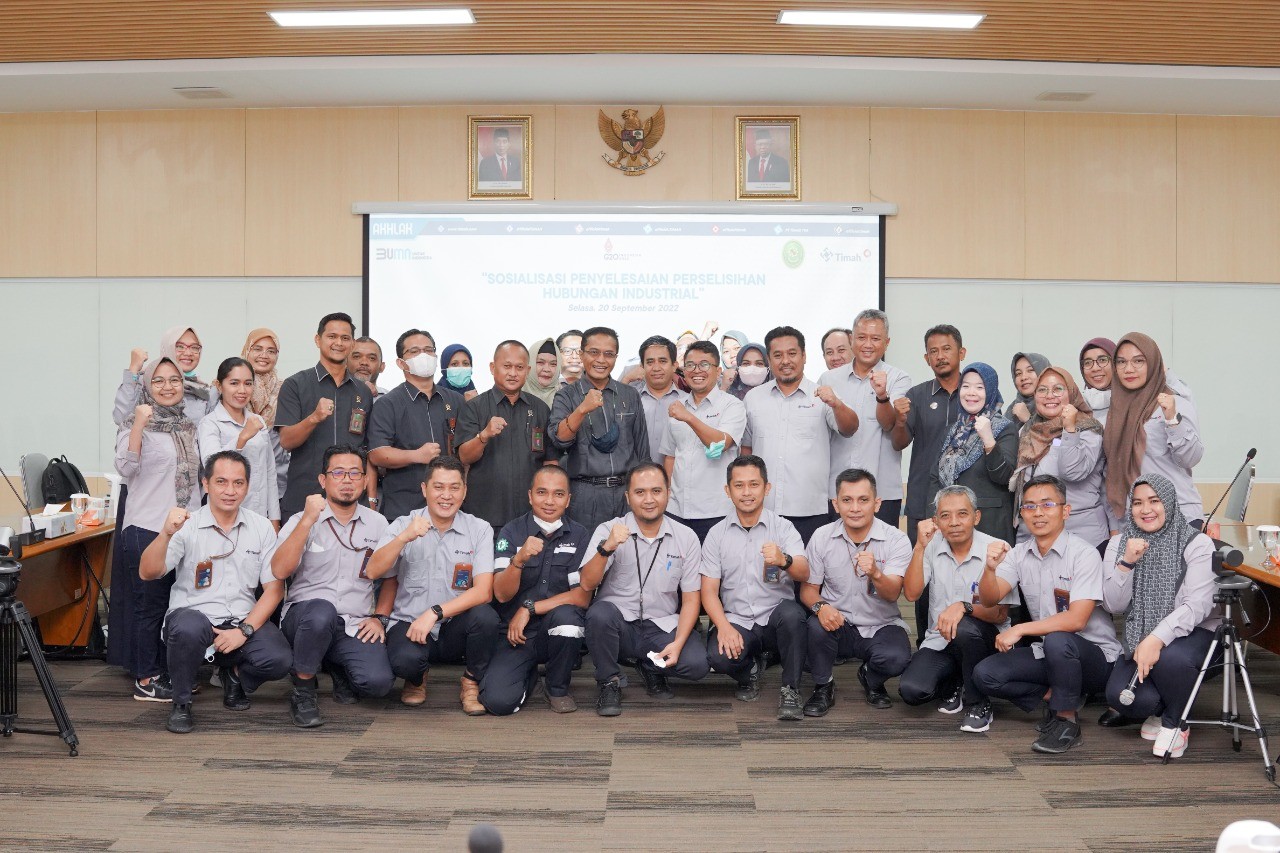 PT Timah Tbk Zero Industrial Relations Cases in Court
PT Timah Tbk is recorded to have no industrial relations cases. This was revealed in the Socialization of Industrial Relations Dispute Resolution held by the HR Division of PT Timah Tbk in the PT Timah Tbk Meeting Room, Tuesday (20/9/2022).
This activity was attended by the Head of the Pangkalpinang District Court, Raden Heru Kuntodewo along with the Industrial Relations judge from the Pangkalpinang District Court, the Head of the HR Division Rendy Kurniawan, the Head of the P2SDM Division Agung Nugroho, the Head of the SPI Division M. Hatta, representatives of the Tin Employees Association (IKT), and Tin People from various divisions.
The head of the Pangkalpinang District Court, Raden Heru Kuntodewo, said that the absence of the PT Timah Tbk industrial relations case in the court he led showed that the industrial relations between management and workers were going well.
"There is no case of PT Timah's industrial relations that has come to us, but there are many asset cases. This means that industrial relations are going well," he said.
Raden Heru said he was happy to be able to visit PT Timah Tbk and his team was entrusted to fill out material on industrial relations. For him, this is a form of synergy to prevent industrial relations disputes.
On this occasion, he also brought judges who handle industrial relations cases to share experiences and insights about industrial relations.
"Later, there will be parameters that will be used as a reference, with the absence of industrial relations cases, it means that the rights of the workers are fulfilled. This is enough to be monitored, reviewed, and also maintained," he said.
Meanwhile, the Head of the HR Division of PT Timah Tbk, Rendy Kurniawan, said that this socialization was an effort to improve industrial relations competence.
"This socialization is an effort by the company to keep industrial relations going well. Hopefully, in the absence of the case of this industrial relation, it can be maintained properly," he said.
"The socialization participants who attended across divisions and unions also indicated that our relationship was good. This is an effort to understand good industrial relations in an organization," he said.