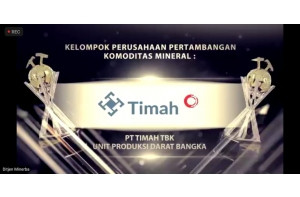 PT Timah Tbk. The Best Company for Mineral Conservation Management, Mineral Commodity Mining Company Group
#Achievement Award

PT Timah won a number of awards at the Award for Achievement for the Application of Good Principles of Mineral and Coal Mining Engineering in 2020. The event was held by the Ministry of Energy and Mineral Resources (ESDM) via virtual, Tuesday, September 29, 2020.



PT Timah Tbk, represented by the Bangka Land Mining Unit (UPDB) was selected as one of the Best Companies in Mineral Conservation Management for the Mineral Commodity Mining Company Group, together with PT Vale Indonesia. UPDB was also rewarded with the Adhitama (Gold) Award for the category of Mineral Conservation Management Aspects. UPDB was also given two other major awards (Silver), namely for the category of Mining Safety Management Aspects and Mining Safety Management Aspects.

The main award for the Mineral Conservation Management Aspect category was also given to the Belitung Production Unit and Bangka Marine Production Unit. The Primary Award (Bronze) was given to the Kundur Production Unit in the Riau Islands Region for the category of Mineral Conservation Management Aspects.

Director General of Minerals and Coal, Ridwan Dermawan, said that this activity is carried out every year on a regular basis as a performance assessment of the principles of implementing mining for mining business entities in Indonesia.

"This event is the culmination of a performance assessment accompanied by the awarding of awards to business entities that are entitled to it," he said.