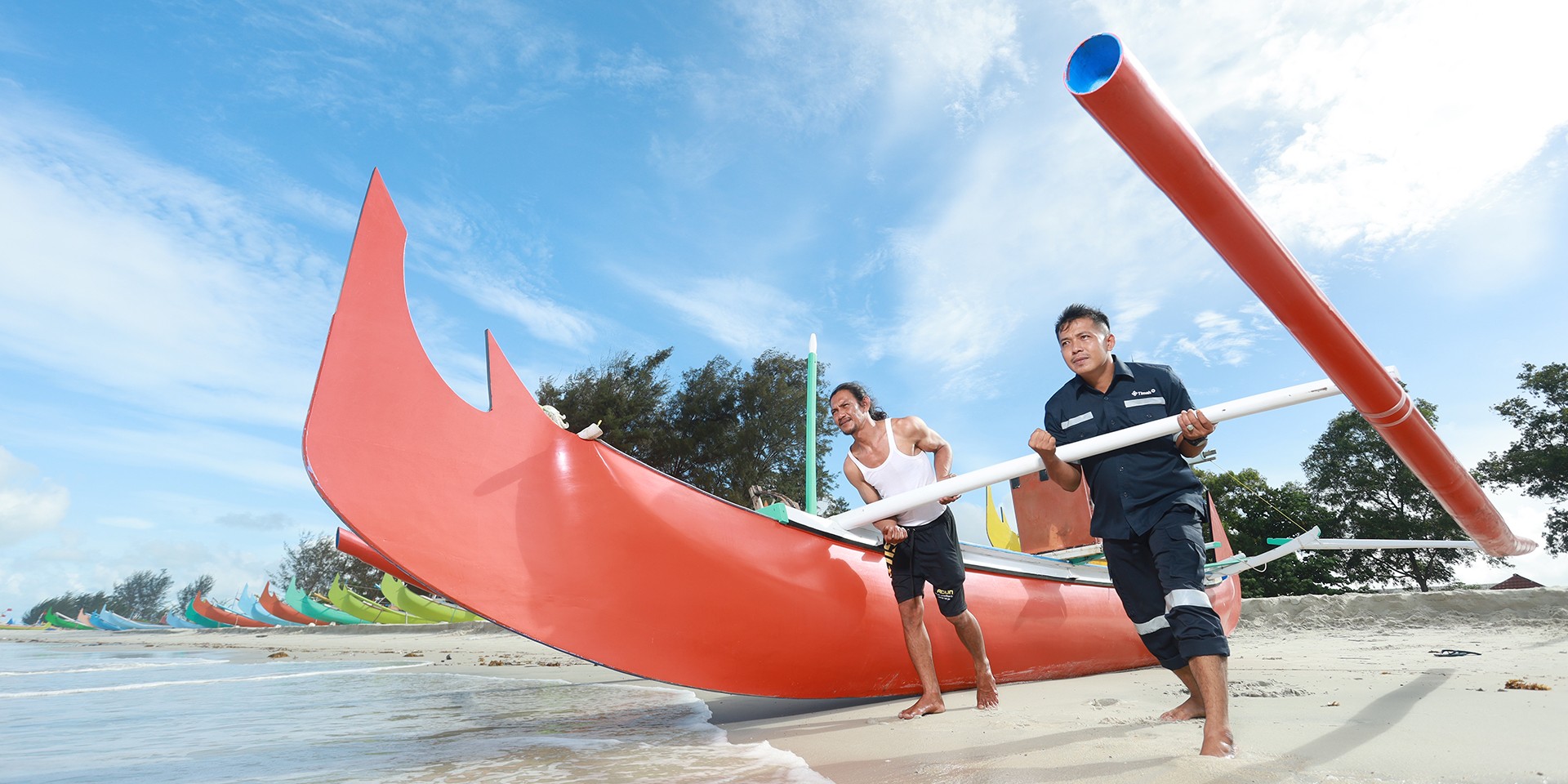 PT Timah Tbk Helps Realize Fishermen's Welfare Through Increasing Fishing Equipment Facilities and Infrastructure
PANGKALPINANG -- PT Timah Tbk continues to be committed to helping and empowering fishermen groups in the company's operational areas through its Corporate Social Responsibility (CSR) program to support improving the welfare of fishermen groups.
Members of the Indonesian Mining Industry Holding MIND ID support the activities of fishermen groups by providing fishing gear assistance, improving business facilities and infrastructure for fishing groups, and repairing fishing boats for fishing groups in the Bangka Belitung Islands Province and Riau Islands Province.
The assistance provided included fishing gear in the form of outboard engines, ketinting engines, boat engines, fishing gear in the form of wire traps and fish finders, and fishing nets. As well as boat repair assistance and infrastructure facilities for the development of fishing businesses.
Through the improvement of facilities and infrastructure, it is hoped that it will increase the catch of fishermen which will have an impact on increasing the welfare of fishermen groups.
In addition, PT Timah Tbk also provides social security in the form of Employment BPJS for fishermen groups. This TINS-coded issuer also often helps fishermen who experience sea accidents.
PT Timah Tbk also empowers fishing communities by involving fishermen groups in creating coral gardens and fishing grounds which will be sunk together.
PT Timah Tbk's commitment to supporting fishermen groups is part of the company's efforts to boost the economy of fishing communities.
One of the fishermen groups who received assistance from PT Timah Tbk,
KUB Setia Abadi Fishermen Group, Asrul said that their group members were greatly helped by the assistance of machines for their members.
"Many machines from KUB Setia Abadi members are no longer suitable for use. So the results are not optimal when used for fishing. With this assistance we are very happy and feel helped," he said.
He hoped that with this new machine, their group members could increase their catches.
"Our hope is that PT Timah can progress and develop. So that it can continue to help the community in West Kundur, not only fishermen, as we know the company has provided a lot of assistance and also contributed to society," he said.
Another fisherman who received assistance from PT Timah Tbk, Feriandi, a resident of Air Jukung Village, Belinyu District, admitted that he was very happy to be able to get a 9.8 PK outboard engine from PT Timah Tbk.
So far, he only has a 3.5 PK outboard engine so that the distance to go out to sea is not too far and has an impact on not maximizing catches.
"I'm a trap fisherman, usually if I go to that location it takes more than an hour because I only have 3.5 PK outboard engines. Actually it can be faster, but because the engine is small. So yes, if we want to buy a new outboard engine, we are constrained by costs. too. I am happy and grateful for the outboard engine assistance from PT Timah Tbk," he said.
One of the fishermen who received BPJS Employment benefits from PT Timah Tbk, Sen Hiung (43), a member of KUB Bina Sejahtera Bersama, is also grateful and feels protected by this program.
"I have been at sea for more than 19 years, I have been doing this activity since I was young. We are very grateful for the Employment BPJS provided by PT Timah to us. And of course with this BPJS we really feel helped and feel protected," he said.
He hopes that PT Timah Tbk can continue to support the independence of fishermen so that it can improve the economy of fishing communities.
"Hopefully PT Timah will continue to help small fishermen like us, such as fishing gear or other facilities and infrastructure that can boost the income of small fishermen here," said Ahyung. (*)