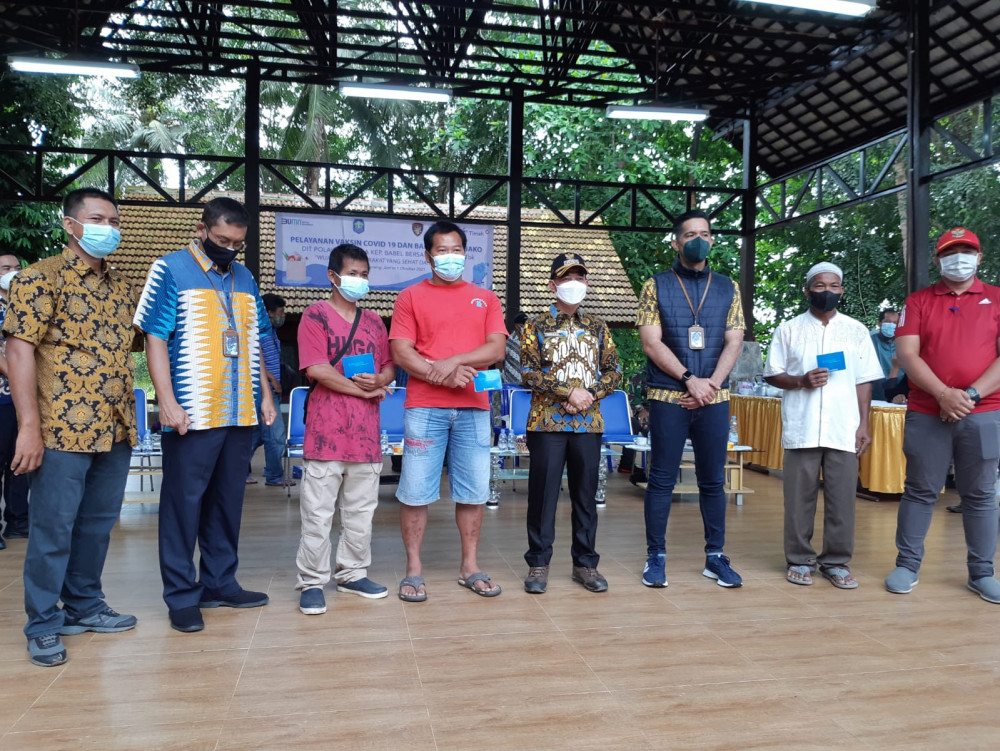 PT Timah Tbk Facilitates Fishermen to Have a Savings Book to Facilitate the Disbursement of Compensation Funds
BANGKA -- PT Timah Tbk facilitates fishing communities in Deniang Village and its surroundings to have a passbook from one of the banks to facilitate the distribution of compensation funds from PT Timah Tbk's partners to the community, in the Bangka Island Outdoor (BIO) area, Friday (1/10/ 2021).
The Regent of Bangka, Mulkan, together with the General Manager of PT Timah Tbk Territory of the Bangka Belitung Region, Robert, symbolically handed over the savings book to fishermen.
The head of the Alliance of Traditional Fishermen who Care for the Environment, Ngikiw alias Suhardi, said there were about 300 fishermen who would get this passbook, for example fishermen from Bedukang, Air Antu, Tuing.
According to Ngikiw, the distribution of compensation using this passbook is only starting now. Previously, compensation was distributed through the committee. To avoid fraud based on the results of joint discussions, it was agreed that direct distribution to the accounts of each family head was agreed.
"There are more than 300 fishermen, some were handed over yesterday. Some are today. So later the distribution will be directly to each fisherman's account holder. We have verified the data, so that later there will be no more cuts in the compensation funds obtained by the community," he said. found on the sidelines of community vaccination activities and handing over of passbooks.
Ngikiw said that by distributing compensation funds using accounts, it would be more transparent.
"This is more open, so there are no cuts. All people can be the same and can immediately get the benefits when it is entered into their respective accounts," he said.
For Ngikiw, the existence of this passbook will make it easier to distribute compensation to fishermen and the community.
"Now those who manage the fishermen, the compensation goes to the fishermen. There's no longer a committee saying the boat doesn't work, the boat doesn't operate. Now it's transparent, we apply this system after discussions with fishermen and PT Timah Tbk," he said.
Meanwhile, Yuliantara, a fisherman from Bedukang, said he was happy with the way the compensation was distributed using this account system.
"Yes, I'm happy, so it's transparent, we don't use the committee system anymore. There are no more cats and dogs and everything is open. There's not everything is even," he said.
Meanwhile, the Regent of Bangka Mulkan said this would make it easier for the fishing community.
"This makes it easier for fishermen regarding compensation funds, hopefully it will be useful," he concluded. (**)