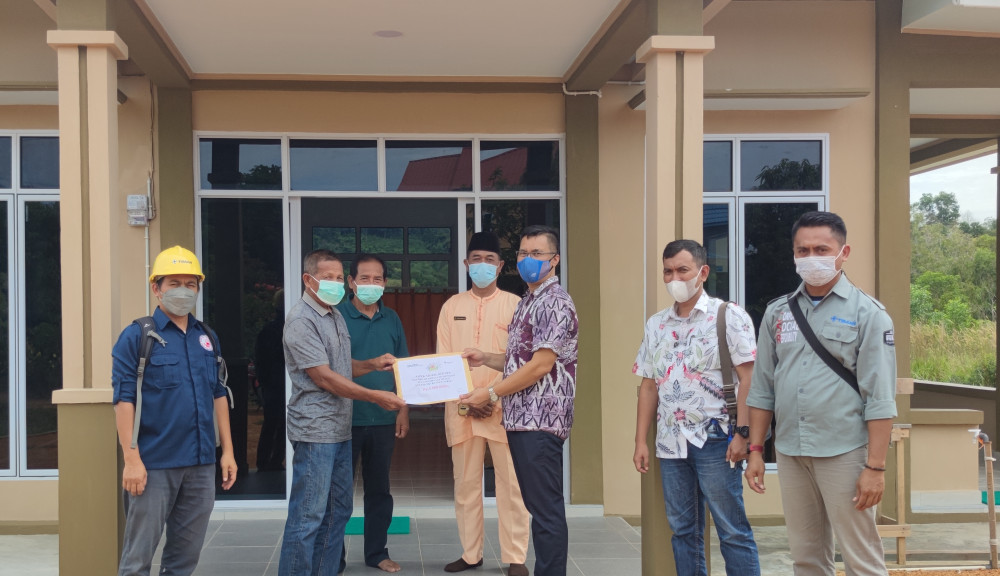 PT Timah Tbk Assists the Construction of Surau Al Fattah in Rumbling Village
KARIMUN -- PT Timah Tbk, Riau Islands and Riau Islands Operational Area, through its CSR, gave up aid for Surau Al-Fattah Hamlet 3 Bukit Happy, Gemuruh Village, Kundur Barat District, Karimun Regency, Friday (01/10/2021).
This cash assistance was handed over directly by GM Kepri and Riau Ebbi Wibisana to the management of Surau Al-Fattah M.Amin.
M.Amin expressed his appreciation to PT Timah Tbk for helping the construction of Surau Al-Fattah.
"We would like to thank PT Timah for granting our proposal for Al-Fattah Surau. This surau was built with the help of the community and Waqf Land from the PT Timah Tbk Pension," he said.
Previously, he said, there was no Surau in this area, so if you wanted to carry out congregational worship, you had to travel quite a distance to the mosque.
"Here the congregation are retired PT Timah and previously there was no Surau here, if you want to go to the mosque it is also a bit far. For that we took the initiative to build this Surau in mutual cooperation. Thank God we are currently receiving assistance from PT Timah so that it can complete the existing shortcomings so that the congregation can worship solemnly and comfortably," he said.
Meanwhile, Village Head Gemuruh Untung Sutrisno appreciated PT Timah and its staff for always supporting the needs of the community.
"Hopefully this will become a charity field by the company and PT Timah will get abundant results from Allah SWT," he said.
The handover of aid was also attended by Panji Sabdo Pamungkas as Head of the Secretariat, Eka Budhy Susanto Coordinator of PPM Kepri and Riau, Murdjani Al-Fattah Surau Management. (**)