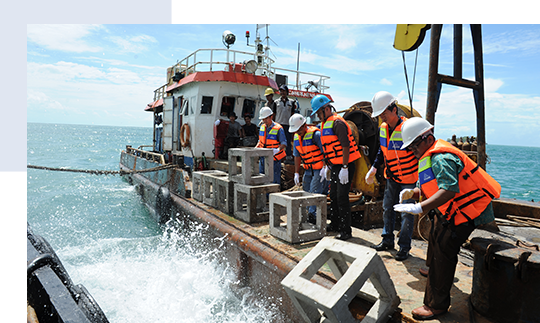 PT TIMAH Sea Reclamation at Batu Kucing Desa Beach
In order to finance and safeguard operations on dredgers, suction vessels and marine vessels in Banka Belitung, PT Timah Tbk cooperates with the Indonesian Navy Base in the Bangka Belitung Islands. PT Timah Tbk M. Riza Pahlevi Tabrani and Babel Lanal Commander, Marine Lt. Col. Mohamad Taufik MMDS, took place at TImah Pangkalpinang Griya, Tuesday, February 8, 2019.
Lanal Babel is a security executive responsible for safeguarding National Vital Objects and marine patrols in the shipping area of ??Bangka Belitung, the Authority supported by LANAL Babel in accordance with the laws and regulations in force in this country.
Based on the Minister of Energy and Mineral Resources Decree number 1762 K / 07 / MEM / 2007 concerning Safeguarding National Vital Objects in the Energy and Mineral Resources Sector, PT Timah Tbk is one of the National Vital Objects.
In addition, there is also a commitment to participate in this campaign. In addition, there are also those who help to ensure that nothing can be done in Bangka Belitung. (*)