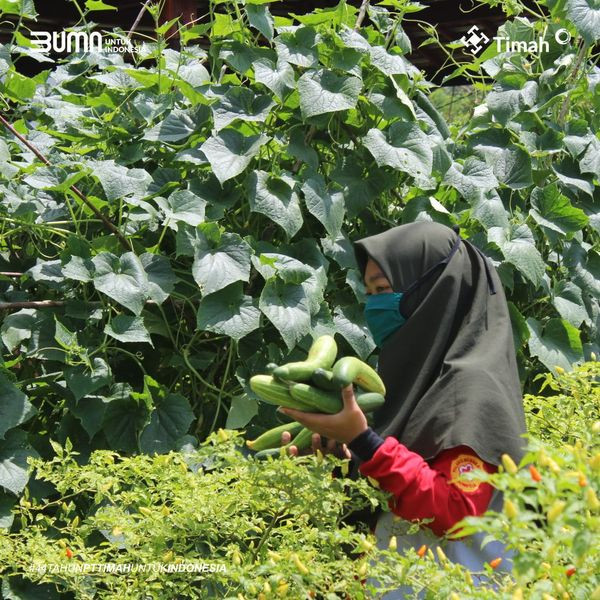 PT Timah Education Scholarship Recipients Equipped with Soft Skills in the Middle of a Pandemic
* Learn from the Dorm SUNGAILIAT, Distance learning which is carried out online does not make the students who receive the PT Timah education scholarship who attend SMAN 1 Pemali become complacent. In the dormitory, apart from carrying out learning, the recipient students are equipped with soft skill activities to add to their skills.
Even in the midst of a pandemic, students continue to carry out learning from dormitories by following health protocols and minimizing entry and exit from dormitories. Various activities are designed so that students can learn comfortably through online facilities. Soft skill knowledge continues to be improved, so that PT Tiimah Tbk scholarship recipients not only have intellectual abilities, but also have their skills and character trained. It is hoped that later this will be a provision for continuing to the education level at university.
"The students are not sent home, with the current pandemic condition, it is prone to leave the area. With students still studying in the dorms there is still a lot they can do. One of them is to improve his soft skills so that they remain productive, "said Head of Corporate Communication at PT Timah Tbk, Anggi Siahaan.
To hone soft skills, students are given several choices of activities such as knitting, skills training, farming, cooking and an honesty canteen, processing waste into wearables, pewter craft training. One of the activities carried out is gardening, by utilizing the land around the dormitory covering an area of ??15x8 meters. The students plant horticultural crops such as beans, cucumbers, corn and several other types of crops.
The activity of managing this garden has been going on since last year when the pandemic started to enter Bangka Belitung. Taking advantage of this unproductive land, these students did not just do gardening, but they put into practice the theory they got from the extension workers. "Gardening is one of the potentials to be developed, this knowledge can later be applied at home as well. By carrying out the concept of pojok tani, these students are provided with the theory first by the agricultural coaches then they practice it directly there, "said Anggi.
Initially the students only planted corn and chilies using an intercropping system, then replaced with cucumber and peanut plants and after that the crops were sold to the kitchen section of the hostel. Anggi hopes that by honing these soft skills it will be a provision for students which can later be developed in the community. "The PT Timah scholarship does not only look at individual intellectual abilities, but is also taught to hone soft skills so that later they have positive knowledge that can continue to be transmitted to the local community," he concluded.
One of the students, Deswi Andini, said that he had never tried directly to plant vegetables, but with direct guidance and practice he and his friends could grow various types of vegetables. "We were taught gardening, before I didn't know that I could grow vegetables. My friends and I have been planting beans, corn, kale and other vegetables. Before I did not know how to plant, now I know the methods and tricks, my ability has increased, "he said.
He was lucky to get an educational scholarship from PT Timah, the article was not only taught academically, but also taught other skills.
Likewise, Dalfina, a class XI student, admits that she has received direct learning to become an entrepreneur through the honesty canteen they have developed. In addition to meeting the students' snack needs, they also learn how to manage finances.
"We got a lot of experience from managing this honesty canteen, I learned the basics of entrepreneurship, learned financial management because I thought about capital so I could return. From this honesty canteen, students are trained in character to be honest, "he said. (**)