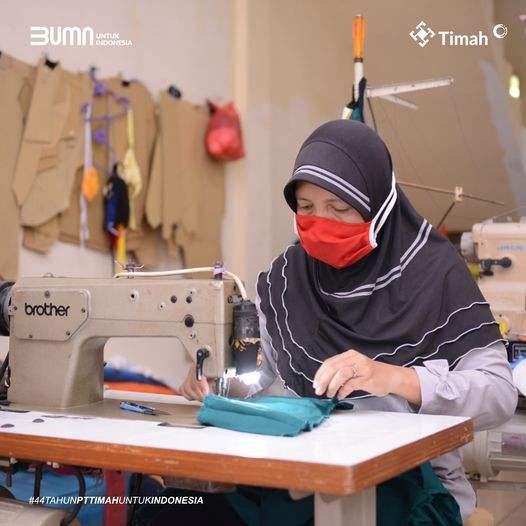 PT Timah Distributes IDR 1 Billion for 18 MSMEs in Karimun
KUNDUR - PT Timah Tbk, Kepri and Riau Operational Areas, once again distributed revolving funds for the partnership program for the fourth quarter of 2020 for Small and Medium Enterprises (MSMEs) in Karimun Regency, at the Wisma Timah Kundur Multipurpose Building, Thursday (21/1/2021) .
PT Timah's CSR funds flow through this partnership program to support MSMEs in Karimun so that they can survive and develop businesses amid the Covid-19 pandemic. PT Timah Tbk distributed funds amounting to Rp. 1 billion for 18 MSMEs in Karimun Regency which developed businesses in the services, agriculture, trade and livestock industries.
This partnership program is a form of PT Timah's commitment to help MSMEs develop their businesses, not only in terms of capital, coaching, to product marketing. Through this revolving fund, it is hoped that MSMEs can move the community's economy, create jobs, and that UMKM products can reach the global market.
One of PT Timah Tbk's fostered partners, Ikbal, who runs a motorbike spare part business, said he was very grateful for PT Timah's revolving fund because he could develop his business. He considered that the requirements were also easy and the administrative services offered were not great. The capital he gets will be used to add to his goods.
"I borrowed after receiving information from a friend who had borrowed it, and informed me that apart from the conditions it was easy and there was no interest. I became interested, especially seeing the current condition where the motorcycle and car accessories business is never empty of enthusiasts. I will use this loan to increase the availability of my merchandise, "said Bobby.
Another case with Sucipto, a chicken farmer who has twice taken advantage of this program. According to him, he will use this second loan to enlarge his farm.
"I used the first loan to add seeds and add to the chicken coop because the market demand has begun to stabilize, showing an increase. This opportunity makes me try to meet the needs of the community by increasing capacity, "he said.
According to him, the second loan will be used to develop other businesses such as vegetable and pineapple crops. Later, this plant will use fertilizer from chicken manure.
"Vegetables and pineapples were chosen because the fertilizer from chicken manure is very good for them, and I don't need to buy fertilizer. once paddled, two to three islands are surpassed. My hope is that other people can participate in this program because the revolving fund program from PT Timah is very good and does not burden us. We have benefited a lot from being PT Timah's fostered partners, "he said.
This partnership fund distribution activity implemented health protocols and was also attended by the Head of the Metallurgical Unit Kundur Nono Budi Priono, CSR staff Eka Budi, Djuriza and the fostered partners.