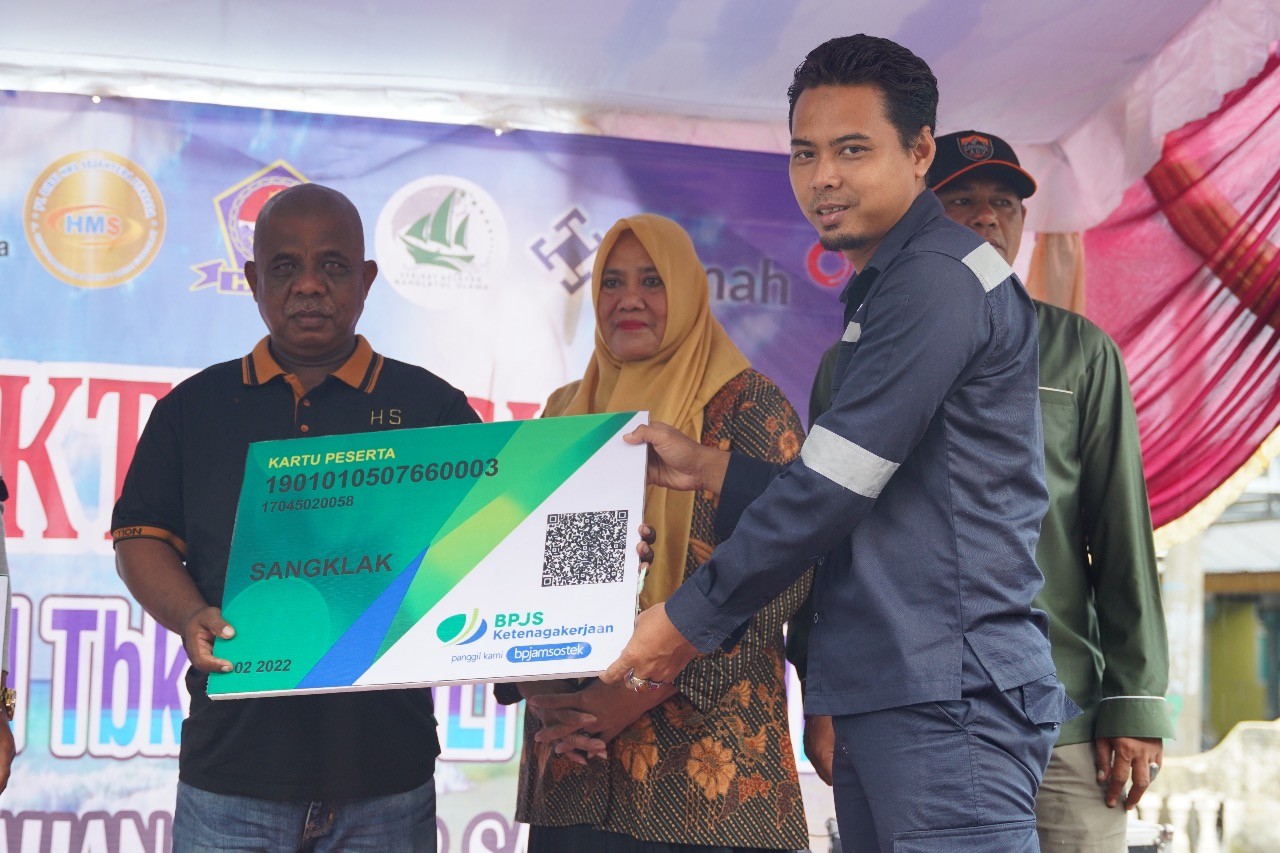 Providing Social Security to Fishermen, PT Timah Tbk Handing BPJS Employment for Fishermen in Bangka Regency
*Covered For One Year
BANGKA -- PT Timah Tbk again handed over BPJS Employment to 78 fishermen in Fisherman's Village II, Sungailiat District, Bangka Regency, Thursday (16/06/2022).
The delivery of social security protection through BPJS Ketenagakerjaan is an ongoing program run by PT Timah Tbk that targets fishermen, and vulnerable and disabled groups.
This TINS-coded issuer will provide BPJS Employment social protection guarantees for 1000 people around the mine which will be distributed in stages. Where PT Timah Tbk registers and bears for one-year BPJS Employment costs for beneficiaries.
This time, PT Timah Tbk synergizes with
The Representative Council for the Branch of the All Indonesian Fishermen Association (DPC HNSI) of Bangka Regency chooses fishermen who get this program.
"For now, there are 78 BPJS recipients. The MoU between PT Timah and BPJS includes 1000 fishermen. This is still the first stage. And for the duration of time, PT Timah gave one year," said the chairman of the DPC HNSI Bangka Regency, Lukman.
According to him, BPJS Employment assistance is a form of social protection that is much needed by fishermen, especially in the Sungailiat District area.
The beneficiaries of social security in this program are fishermen who have a fisherman card and who really need it. It is hoped that this program will provide security and social security for beneficiaries while working.
"We are very grateful to PT Timah because we really need this kind of assistance, we have hoped that from a few years ago, the relationship between mining and fishermen can be sustainable. We hope that our fishermen will be given BPJS assistance," he said.
Similarly, the Secretary of the Sub-district of Fisherman's Village II, Sungailiat District, Bangka Regency, Ridwan said that the program carried out by PT Timah had a very positive impact on the community.
"This assistance really touched us. This is a positive and targeted program. Because our area here has been the area that has been directly affected by exploitation from the PT Timah company," he said
According to him, apart from insurance, PT Timah has also provided assistance to fishermen such as boats and others.
He continued, he said this program is very interesting and is really needed by fishermen. Because as fishermen they have a lot of job risks.
"So in the future, it is hoped that PT Timah will have to move even faster in providing social assistance, be it in the form of goods or insurance, which our community desperately needs," he said.
One of the beneficiaries of fishermen from Fisherman's Village II, Sangklak (53) said that with this guarantee he became calmer at work.
"As a fisherman, I am very happy to be able to get insurance assistance like this. I rarely at home, more often at sea. So if manti there is something wrong with me or my family. We already have a guarantee, "explained this father of three.