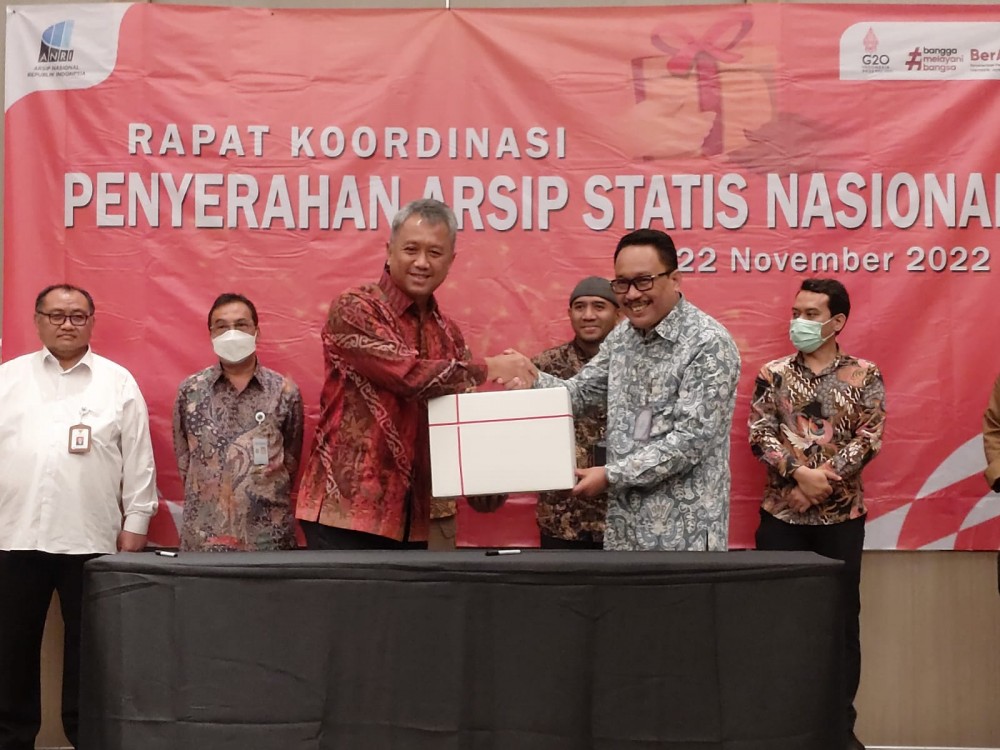 Protecting History, PT Timah Submits Static Archives to the National Archives of the Republic of Indonesia
JAKARTA -- PT Timah Tbk handed over the static archives to the National Archives of the Republic of Indonesia (ANRI) which were symbolically handed over by the Head of the Division of Facilities and General Administration (SAU) of PT Timah Tbk Agung Nugroho to the Head of ANRI, Imam Gunarto at the National Static Archive Submission Coordination Meeting, Tuesday (22/11/2022).
The archives of PT Timah Tbk submitted by ANRI are archives of historical value as many as 164 descriptions of documents in the period 1968 - 2002.
Apart from submitting static archives, this TINS ??Coded Issuer also won an award from ANRI. TINS won the award 'For Its Participation in the Rescue and Preservation of Valuable Archives for National Accountability for the Life of Society, Nation, and State'.
Head of ANRI Imam Gunarto conveyed that the government's awareness to be accountable for its performance to the public is increasing as evidenced by the submission of static or historic archives to ANRI as a state representative.
He admitted that currently the majority of the archives stored in ANRI are government archives and not many community archives are kept. In addition, there are still many archives of historical value that are scattered both inside and outside the country.
He continued, based on yearly data from 1975-2021 the Archive Creators who had submitted their static archives to ANRI namely 82 agencies or 46% of the 178 Institutional Ministries. For new BUMN, 50 BUMN or 32% of 155 companies.
"Therefore, it is necessary to accelerate the rescue of static archives by organizing archives. Archive management performance is also greatly influenced by the availability of archivists," he said.
In this coordination meeting, there were 27 archive creators who submitted static archives from KL, BUMN, and the West Kalimantan historian, Mr. Syafarrudin Usman.
"In essence, archives are not only of historical value but also archives as state assets/wealth, state defense, collective memory, identity, and national identity," he said.
According to him, the static archives stored at ANRI are not only preserved but served and utilized as widely as possible for the benefit of society.
ANRI has endeavored to optimize archive services both off-site and online, as well as utilization of archives, including through the establishment of a tsunami archive study center, a corruption eradication archive study center, a presidential static archive study center, exhibitions, publication of archival source texts and cultural diplomacy through nominating archives as MOW.
Meanwhile, SAU Division Head Agung Nugroho said the submission of static archives from PT Timah Tbk to ANRI had been carried out since 2019 and this was the second time.
PT Timah Tbk, he said, continues to make improvements in the management of records, because archives have an important role in maintaining the sustainability of the company's organization.
"PT Timah Tbk hopes that this archive can be used for the community in research and as the nation's collective memory," he said.