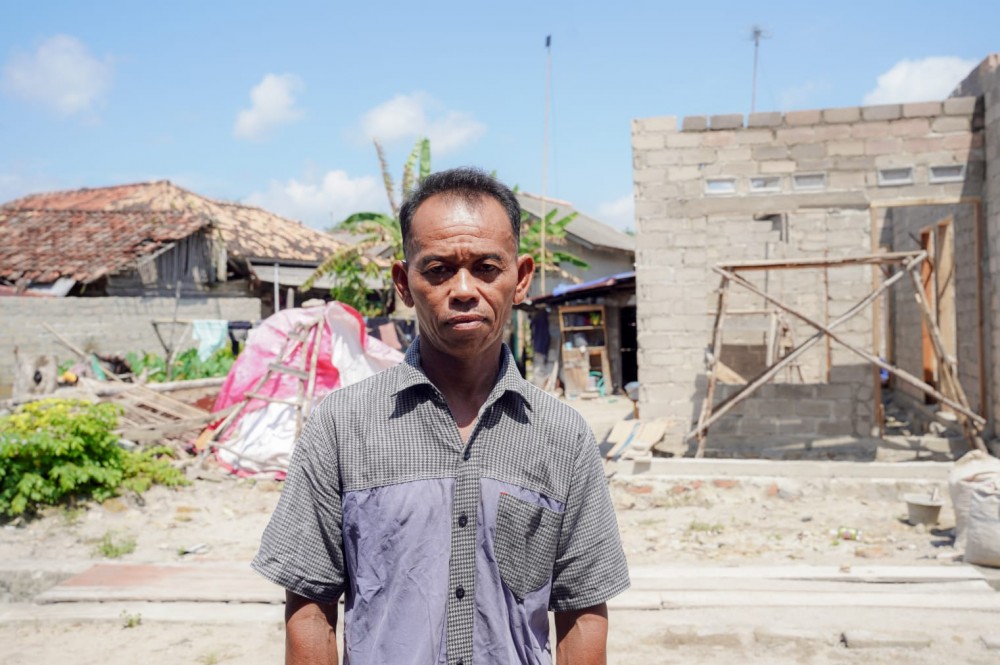 Pendy: PT Timah Tbk Answered My Prayers To Be Able To Build A House Again
*Victims of the Tornado Disaster in Batu Behole Village
CENTRAL BANGKA -- PT Timah Tbk has built a livable house for Pendy, 54, a tornado victim in Batu Behole Village, Pangkalan Baru District, Central Bangka Regency.
Pendy's semi-permanent house was razed to the ground as a result of being hit by a tornado that hit his area last February. He could only resign himself to seeing the ruins of his house.
Despite the disaster, he is still grateful that his child who is pregnant and is still at home is safe. For him, this is an unavoidable disaster.
Seeing the condition of his house which was razed to the ground, he just gave up and kept praying for a benefactor who could help him rebuild their house.
As a day laborer, it was difficult for him to be able to rebuild their house. His income is only enough to meet his daily needs. So he can only pray that his house can be rebuilt.
"After that incident, I was always worried about strong winds. If you are working your mind is not calm. Every night I pray, I don't sleep well, thinking about how to rebuild this house," he said when met at his residence, Tuesday (10/5/2022).
Not long after the disaster, he received news that PT Timah Tbk would help rebuild his house. Pendy is endlessly grateful and can sleep well there is hope to rebuild her house.
"I can't stop being grateful, I sleep better. Because if you want to wake up alone it feels very heavy. For daily living, it is also mediocre, let alone building a house again," he said.
Just during the month of Ramadan, various tools to rebuild his house were available. Once again he did not stop being grateful for the blessings he received.
"PT Timah Tbk answered my prayers, who were anxious about the falling house, I was helped through PT Timah Tbk. So far, I have heard that PT Timah Tbk helps people a lot and I have felt the assistance from PT Timah Tbk firsthand," he said.
The house is currently under construction and will soon be completed. Meanwhile, he and his four family members live in the kitchen of their old house which was not affected by the debris.
Similarly, the Head of Batu Be Lubang Village, Dasih Tri Wulandari, said that Pendy deserved to receive housing assistance from PT Timah Tbk. Because Pendy is the backbone of the family, her economic condition is uncertain because she only works as a daily laborer.
"PT Timah really cares about our residents who were hit by the tornado to build Pak Pendy's house. This man deserves help because he is a citizen in need. Pak Pendy is also one of the recipients of assistance from the Village Government," he said.
He appreciated PT Timah Tbk for routinely helping residents in his village, especially social assistance. He hopes that this synergy can continue.
"PT Timah Tbl often helps the residents of Batu Be Lubang village, such as washing hands, basic necessities, cows and sick people. We really appreciate PT Timah Tbk's concern for our community," he said.