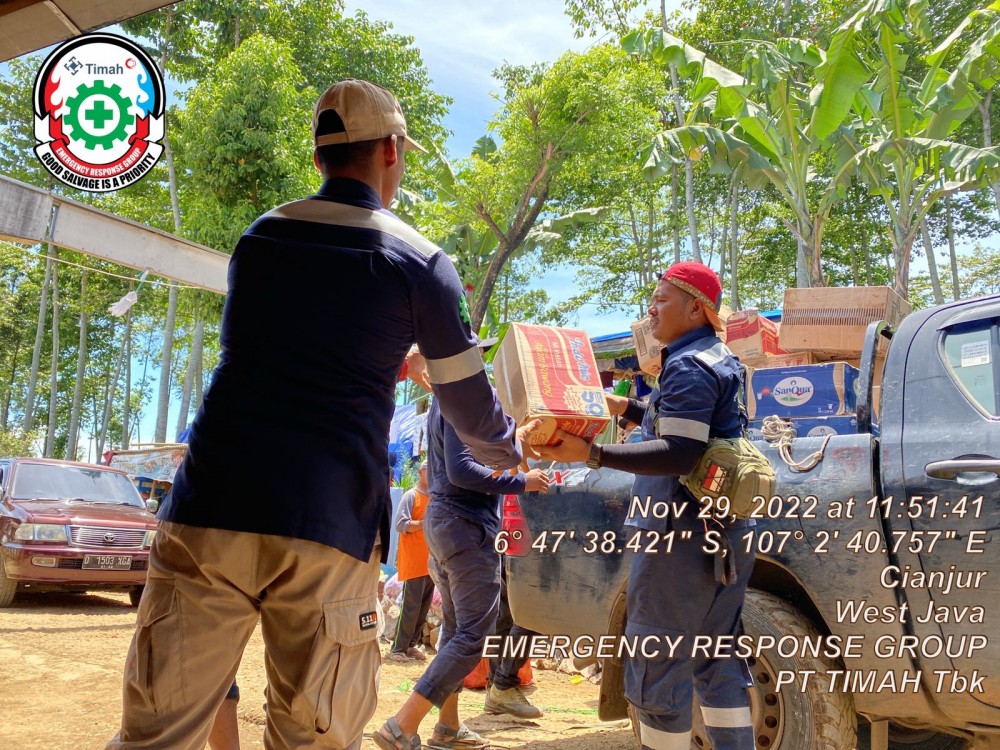 Nine Days of Helping Cianjur Earthquake Victims, PT Timah Tbk's ERG Team Closes Post in Ciherang Village
WEST JAVA -- After nine days of helping earthquake victims in Cianjur Regency, West Java Province, PT Timah Tbk's Emergency Response Group (ERG) team returned to Pangkalpinang, Bangka Belitung.
PT Timah Tbk's ERG Team together with the Government, volunteers works together to carry out humanitarian missions to help disaster victims. Members of the Indonesian mining holding MIND ID together with the BUMN Disaster Task Force and the Ministry of Energy and Mineral Resources work together to distribute aid and health services.
To make it easier to help disaster victims, ERG PT Timah Tbk established a post in Ciherang Village, Pacet District, Cianjur Regency.
The ERG team provided health services to hundreds of people, distributing logistical assistance such as staple food, instant noodles, baby and adult diapers, tarpaulins, sleeping mats, and drinking water. Apart from that, it also provides rescue services to help evacuate residents.
"PT Timah Tbk's ERG began carrying out humanitarian missions from November 23 to December 1, 2022. We provide health services, rescue, and logistics distribution," said PT Timah Tbk ERG Team Coordinator, Guntur Avriyandi.
Guntur explained that while in Cianjur, they had assisted seven villages in Pacet District. The team spread out to help the victims to villages.
"Kita membantu Desa-desa yang ada di Kecamatan Pacet baik itu logistik, pelayanan kesehatan maupun rescue. Ada sekitar tujuh desa yang kita bantu," ucapnya.
Menurutnya, Tim ERG menutup posko mengingat kondisi personil tim yang mulai kelelahan. Selain itu juga, sudah banyak relawan yang datang ke kawasan tersebut untuk terus membantu masyarakat.
"Personil kita terbatas dan mempertimbangkan kondisi kesehatan tim maka diputuskan untuk menarik pasukan ke Pangkalpinang. Tapi kami tetap mendukung tim relawan lainnya dengan membagikan data mapping yang dibutuhkan masyarakat. Di sana juga sudah banyak relawan yang berdatangan," ujar Guntur.
Guntur menceritakan, selama berada di Cianjur Tim ERG PT Timah Tbk berupaya maksimal untuk membantu masyarakat. Diakuinya, selain membantu korban, Tim ERG juga harus tetap siaga karena masih terjadi gempa susulan.
"Cuaca masih banyak hujan dan gempa susulan masih terjadi. Ini menjadi tantangan bagi relawan, tidak hanya untuk membantu korban tapi juga harus selalu siaga," tandasnya.