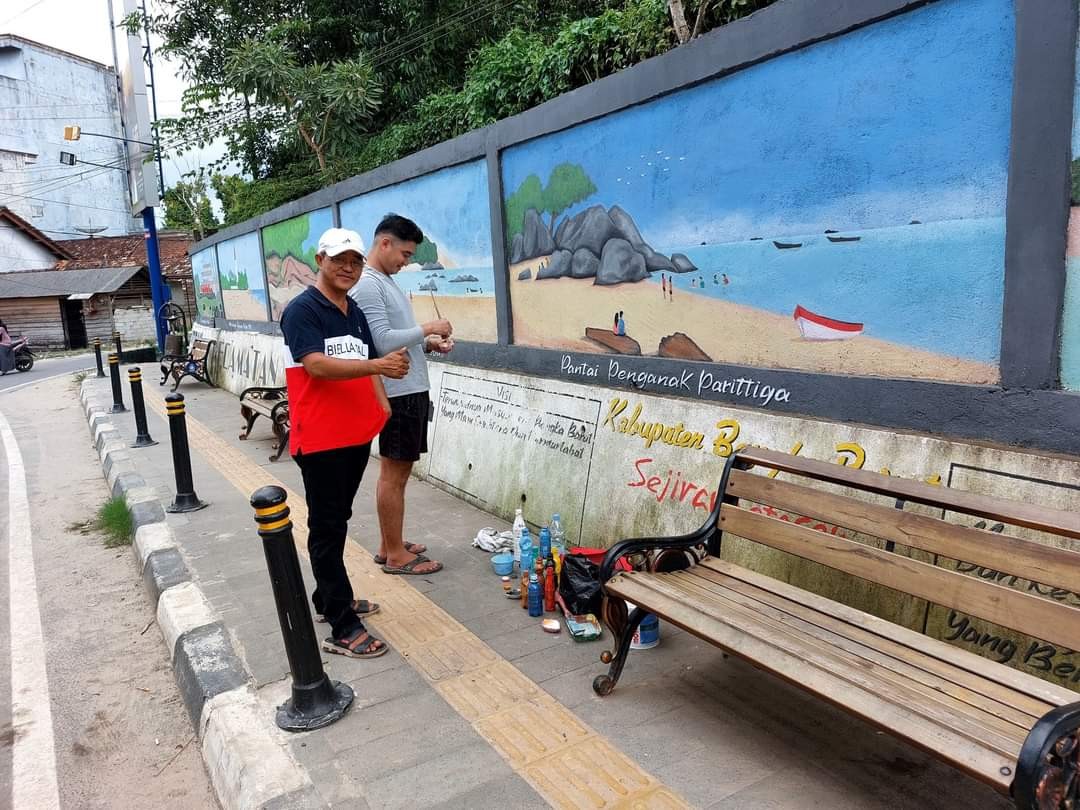 Merah  Putih Youth Raising Forum with PT Timah Tbk Renovation and Beautification of the Green Line in Parittiga District
WEST BANGKA -- The open space area arranged in an area will become the attention of tourists as well as an attractive icon for the surrounding community. To that end, the Red and White Youth Kibar Forum, which is a youth organization in West Bangka, renovated and beautified the Green Line area on Jalan Pasar, Puput Village, Parittiga District, West Bangka Regency.
In renovating and beautifying this area, the Merah Putih Youth Kibar Forum received assistance from PT Timah Tbk. This assistance is a form of support for PT Timah Tbk to develop the open space into a comfortable place for the community.
The secretary of the Mersah Putih Youth Kibar Forum, Rusdi Ujang, said that initially this area was slum and not well maintained, so they took the initiative to renovate it so that it could become a new gathering place for young people.
He said this idea came about because many young people currently hang out in dark places and have the potential to do negative things. With a representative place, this can be avoided.
"Initially we thought how to make these young people no longer hang out in dark places which will eventually behave negatively. And we saw that the Green Line area on Jalan Pasar already has a mural but it is not well maintained and looks shabby. In the end, we decided to beautify it and grateful that PT Timah Tbk cares and can help," he said, Wednesday (3/8/2022).
Together with the people of the Merah Putih Youth Kibar Forum, they arranged the green line area by adding new ornaments such as stone balls, lamps, flower pots, chairs, landmarks written welcome Parittiga. So that the area is now more organized and becomes a new icon.
As a form of community empowerment, they also involve the community to make ornaments such as pots and others.
"We are also empowering the community, for making pots and others, we are self-managing to the community. Hopefully later this can become a new icon that can support tourism," he said,
He hopes that later the synergy with PT Timah Tbk can continue, so that in the future there will be more community development and empowerment that can be done together.
"PT Timah Tbk already cares, hopefully in the future there will be more activities that can be collaborated, especially to improve the quality and development of human resources," he said.