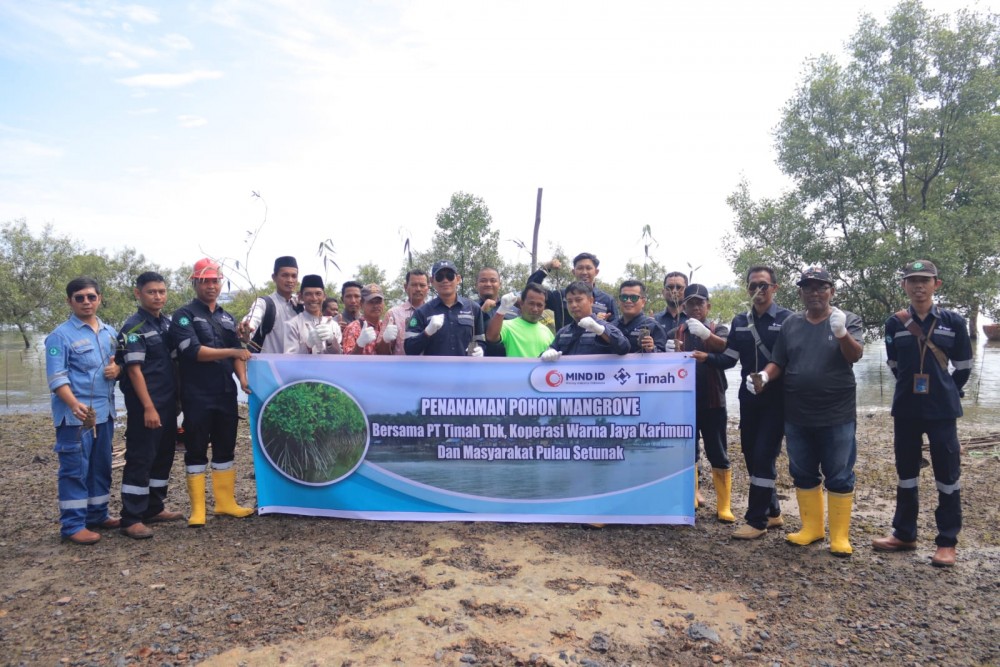 Maintaining Mangrove Conservation, PT Timah Tbk Re-planted Hundreds of Mangroves on Setunak Island
KARIMUN -- Mangroves have an important role in maintaining marine ecosystems, for PT Timah Tbk to sustainably plant mangroves.
PT Timah Tbk again planted hundreds of mangrove trunks on Setunak Island, Bone Village, Selat Gelam District, Karimun Regency, Friday (23/9/2022).
This mangrove planting was carried out by employees of PT Timah Tbk together with the community and the Karimun Regency Integrated Fishermen Group (NTKK) and the Bone Village Government.
Previously, PT Timah Tbk had also planted mangroves in this area as an effort to preserve mangroves. This time, the type of mangrove planted is fire and mangrove.
In addition to planting mangroves, a review of the location of crab rearing cultivation, mangrove cultivation and hydroponics that have been running on Setunak Island was also carried out.
With the planting of mangroves, it is expected to be able to maintain the surrounding ecosystem, so that marine animals such as fish, crabs, and shrimp can breed which is expected to have an economic impact on the surrounding community.
Not only that, with the existence of this mangrove, it is also expected to be able to withstand abrasion.
The Chief Fisherman of Setunak Island, Apid, admitted that he was very happy with the second stage of mangrove planting activities. The results of the first stage of mangrove planting, he admitted that the mangroves were living quite well.
"Now we are trying to replant in a different location but still around Setunak Island. So it is hoped that the preservation of the mangrove forest on Setunak Island can have a positive impact on people's lives and reduce the impact of abrasion", he explained.
Meanwhile, Chairman of the Integrated Fishermen of Karimun Regency (NTKK) Azizman appreciated PT Timah Tbk for planting mangroves. The reason is, planting mangroves is very important to maintain the existence of Setunak Island from abrasion.
"Hopefully in the future what we plant together can grow and develop well," he said.
Similarly, the Head of the BPD of Tulang Village, Irwansyah, said that in addition to planting activities, PT Timah had helped the community with empowerment programs on Setunak Island so that it was expected to improve the community's economy.
"PT Timah's assistance to the people on Setunak Island is very much, both programs and direct assistance. This is able to move the economy of the people here," he said.