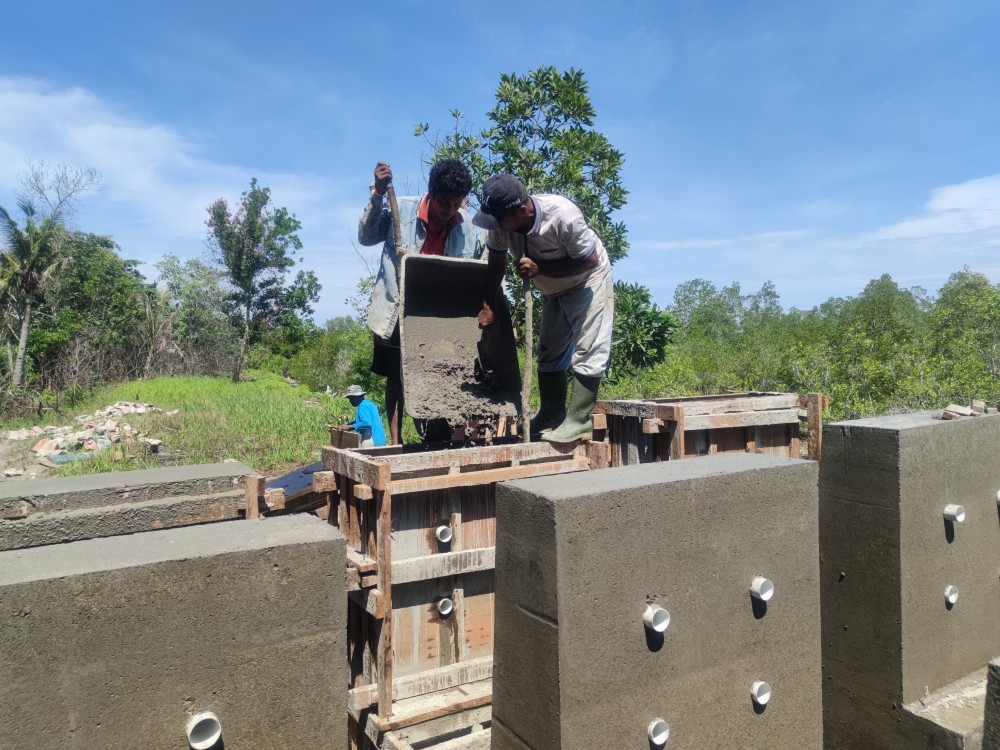 Involving the Community to Build Abrasion Retaining Embankments, PT Timah Tbk Provides Economic Impact for Residents
MATA AIR -- The company's business performance must be in line with the company's positive contribution to developing the country. Realizing this, PT Timah Tbk continues to be committed to involving the community in its business processes so that it can have an economic impact on the community.
PT Timah Tbk plans to build a 400-meter abrasion-resistant embankment in the Riau Islands operational area. The abrasion-resistant embankments will be installed at three points, namely in Hamlet III Springs, Kundur Village, for 200 meters, Hamlet II, Gemuruh Village, 100 meters, and at Pongkar Beach, Tebing District, Karimun Regency, 100 meters.
This TINS-coded issuer involves the community around the operational area to build an abrasion-resistant embankment. So that the community also gets the economic impact of the company's reclamation program.
Dusun III Mata Air fisherman, Saparudin, said that the construction of the abrasion-resistant embankment from PT Timah Tbk will provide them with additional income. Usually, they get income from fishing.
"I am happy with the installation of this abrasion containment embankment because my house is right on the beach. In addition, this activity indirectly has an economic impact on the family, because apart from fishing there is additional income for the family from working here," he said.
Similarly, a resident of Mata Air Firdaus who was met at the job site said that he was helped by the construction of an abrasion-resistant embankment because it could increase the family's economic income.
"I am happy to be involved in the construction of this abrasion containment embankment because more or less there is additional income for the family since the Covid-19 outbreak has had a negative impact on the economic sector and it is felt by us who in fact have a lower class economy," explained Firdaus.
"Hopefully, after the installation, this location can become a new tourist destination in Kundur Village such as on Teluk Dalam beach so that the economy of the people here can also be lifted," he continued.
Meanwhile, the Head of Kundur Barat Sub-district, Khaidir, expressed his appreciation to PT Timah for the installation of the abrasion containment embankment. According to him, this activity provides a multiplier effect not only for the environment but for preventing beach abrasion. But also provide jobs for the community.
"A lot has been done by PT Timah for the community in its working area. So far the company has been very consistent with the environment with various activities that directly involve the community, we hope that in the future PT Timah can continue to advance and develop," he said.