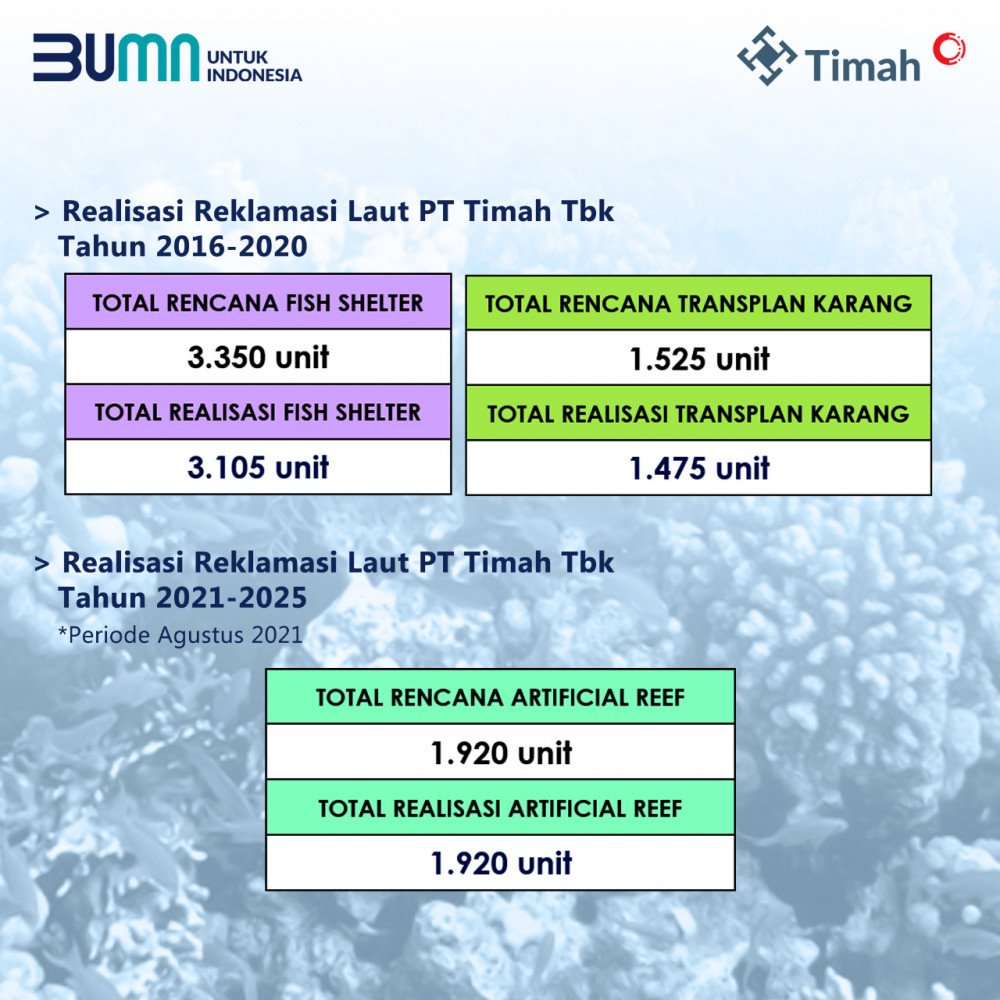 In 2021, PT Timah Tbk Sinks 1,920 Artificial Reef Units
*The Realization of Sea Reclamation of Artificial Reef Activities Reaches 100 Percent
PANGKALPINANG – PT Timah Tbk continues to be committed to environmental aspects in mining operations. One of them is shown by consistently carrying out reclamation. Reclamation carried out by the company is carried out on land and at sea.
The sea reclamation carried out by PT Timah Tbk is in the form of an artificial reef which will become a breeding ground for fish in the Province of the Bangka Belitung Islands.
Throughout 2021, PT Timah Tbk has submerged 1,920 artificial reef units in 11 locations. The sinking of the artificial reef is in accordance with the company's reclamation plan this year.
The sinking of artificial reefs was carried out in Panjang Island as many as 240 units, Karang Rulak 240 units, in Rambak 240 units, Tuing Waters as many as 60 units, Putri Island as many as 240 units, Tanjung Melala as many as 240 units, Malang Gantang as many as 240 units, Tanjung Ular as many as 120 units , Karang Aji 120 units, Pulau Pelepas as many as 60 units and Tanjung Kubu as many as 120 units.
"PT Timah Tbk's marine reclamation plan for artificial reefs has been realized 100 percent, from the target of 1,920 units, 1,920 have been realized in August 2021. The sinking of this artificial reef is a commitment of PT Timah Tbk to maintain the balance of the marine ecosystem," said Head of Corporate Communications of PT Timah Tbk, Anggi Siahaan.
According to Anggi, PT Timah Tbk in exploiting tin mineral resources in the Bangka Belitung Sea, Riau Province and Riau Islands does not ignore measures to protect marine ecosystems. From 2016 to 2020, PT Timah Tbk recorded that it had sunk 3,105 fish shelter units and 1,475 coral transplant units.
In addition, as a commitment to maintain the marine ecosystem, the sinking of FADs is also an effort by the company to make fish houses for fishermen which is later expected to increase fishermen's catches.
"Sea reclamation is also an effort by the company to support underwater tourism, so that the artificial reef forms that are submerged are also continuously updated, such as the serving hood model which is one of the icons of Bangka Belitung," said Anggi.
In carrying out sea reclamation, PT Timah Tbk also involves fishing communities and communities. So, in its implementation, PT Timah Tbk also empowers the community.
Meanwhile, Bangka Belitung University Marine Science Lecturer, Indra Ambalika said, in 2021 there will be three new locations for artificial reef sinking by PT Timah, namely in Tuing Waters, Mapur Village, Bangka Regency, Pelepas Island Waters in Tanjung Pura Village, Central Bangka Regency, and the waters of Malang Gantang, Teluk Limau Village, West Bangka Regency.
"There is one old location that was reduced by PT Timah Tbk because the water conditions were deemed not suitable to support marine reclamation activities due to the high level of mining activity by the community on Player Permis Island, South Bangka Regency," he said.
Indra, who has been involved with PT Timah Tbk from the start in carrying out sea reclamation, said that this year the artificial reef used was in the form of a serving hood with improvements to the previous form.
"Previously we used wire mesh, so this year we don't use wire nets anymore but add an iron frame to the artificial reef side. This is because, based on the evaluation of the activities of previous years, this wire mesh quickly corrodes and eventually becomes brittle and falls to the bottom of the water, it does not last long. However, the iron frame remains strong and effective as a medium for attaching marine biota," said Indra.
He said that after the artificial reef was submerged, PT Timah Tbk together with his party continued to carry out monitoring and evaluation to see the effectiveness of the artificial reef as a new habitat for marine biota.
Where the success criteria are measured by looking at the extent to which the function of the artificial reef media sinking location becomes a new habitat for marine biota, namely a feeding ground, a spawning ground, and a nursery ground.
"The way to see it can be seen from the composition of the types of marine biota found at the artificial reef sinking location, the abundance of marine life, and the number of natural attachments of marine biota," explained Indra.
Furthermore, he said that the drowning involved local fishermen and local communities. Where the artificial reef media is designed so that it can be lifted by human power (not having to use a crane), and can be transported using local fishing boats so that it can be accommodated by traditional local fishing boats. (**)