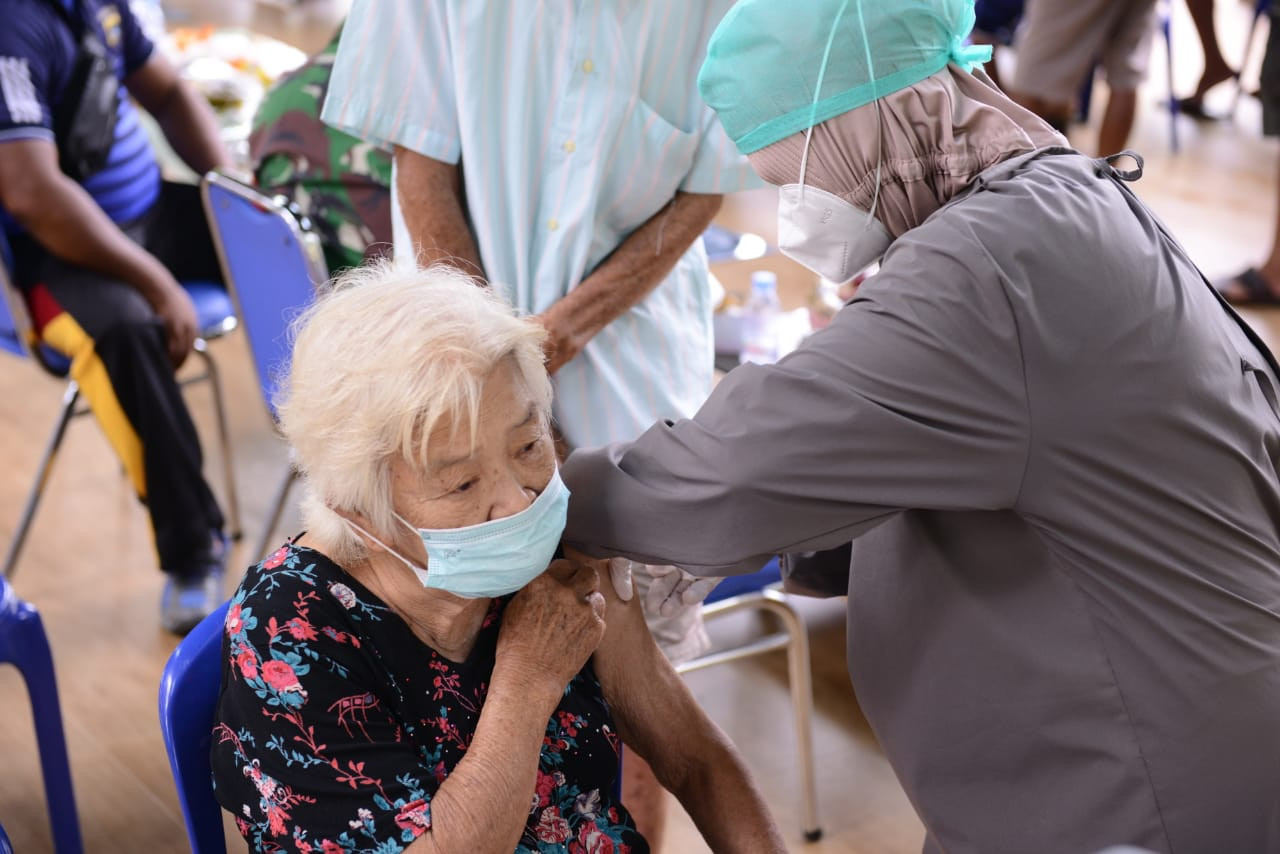 Improving Vaccination Achievements, PT Timah Holds Mutual Cooperation Vaccination in Bangka Regency
BANGKA – Accelerating vaccination achievements in Bangka Regency to achieve herd immunity, PT Timah Tbk held a mutual cooperation vaccination for the community. This vaccination was carried out in the Bangka Island Outdoor (BIO) area in Deniang Village, Riau Silip District, Bangka Regency, Friday (1/10/2021).
The vaccination activity for around 200 people coincided with the Pancasila Sanctity Day. Where people from several hamlets enthusiastically participated in the vaccinations organized by PT Timah Tbk together with Dit Polairud Babel.
Before carrying out this mutual cooperation vaccination, the people were first checked for their health condition, then swab for antigens. If it is declared negative, the community can carry out vaccinations.
The vaccination carried out by PT Timah Tbk is the Company's commitment to improve the achievements of the vaccination program that is being promoted by the Government. At this time, all sectors must be able to boost vaccination to achieve herd immunity.
The Regent of Bangka, Mulkan, also reviewed the implementation of the vaccination for the community which was carried out by PT Timah Tbk. He appreciated PT Timah Tbk for helping the government improve immunization achievements and bring vaccination services closer to the community.
"We express our deepest gratitude and to PT Timah Tbk for being concerned about the success of vaccination for the people in Bangka Regency, especially the fishing communities in Tuing and Bedukang today," said Mulkan.
According to him, related to public health, it is not only the responsibility of the government, but all sectors so that collaboration to accelerate the achievement of this vaccination is an effort to accelerate herd immunity.
"We must collaborate in handling the COVID-19 pandemic by always reminding the implementation of health protocols and accelerating vaccinations as an effort to suppress the spread of the corona virus. Vaccination does not mean we are immune and free from Covid-19, but vaccination can reduce the severity of a person if confirmed positive for Covid-19, "said Mulkan.
The Head of the Bangka District Health Office, Dr. Then Suyanti, said that the vaccination activity carried out by PT Timah Tbk had greatly helped the Government in increasing vaccination achievements.
"This is extraordinary, before the vaccination is carried out, it is carried out first, such as an antigen swab. This is important to avoid Post Immunization Events (AEFI). Mutual cooperation vaccination activities like this help the Government in accelerating vaccination achievements so that it can achieve herd immunity," he said.
He hopes that in the future PT Timah Tbk will not only implement it here, but will continue to support vaccination activities so that it can help the Government.
"Our vaccination achievement is only 42.6 percent, we need to cooperate with all parties to accelerate vaccination achievements. We hope not only here but also in other areas in Bangka Regency," he said.
One of the participants in the vaccination, Djit Kwet, a resident of Aik Antu, said that the vaccination carried out by PT Timah Tbk made them closer, besides that there was no need to worry.
"I just vaccinated because it's closer here, then all of us are citizens, so we don't have to worry. It's nice to have this vaccine, especially since PT Timah has helped us for the vaccine," he said, who also works as a fisherman.
Likewise, Iwan, a resident of Bedukang, said he was also happy to be vaccinated because the examination process had been carried out beforehand, so he felt safer.
"It has been vaccinated, before being vaccinated it was swab first. We become more confident that we don't have COVID-19, so it's safer too. This vaccine is now a must," he concluded.
Meanwhile, Chairman of the Alliance of Traditional Fishermen Care for the Environment, Ngikiw alias Suhardi, said that the fishing community was enthusiastic about the vaccination activities carried out by PT Timah Tbk.
"There are hundreds of fishermen who participated in the vaccine today. Thank you PT Timah for carrying out the vaccination, meaning that PT Timah has cared for fishermen to vaccinate. We hope it will be held again, because this is not all," he said.
The Head of Riau Silip Sub-district, Lingga Pranata, said that this activity had a positive impact on the community as an effort to prevent the spread of Covid-19.
"This is very beneficial for people who have not been vaccinated, so we can work together to return to normal life with the achievement of herd immunity," he concluded. (**)