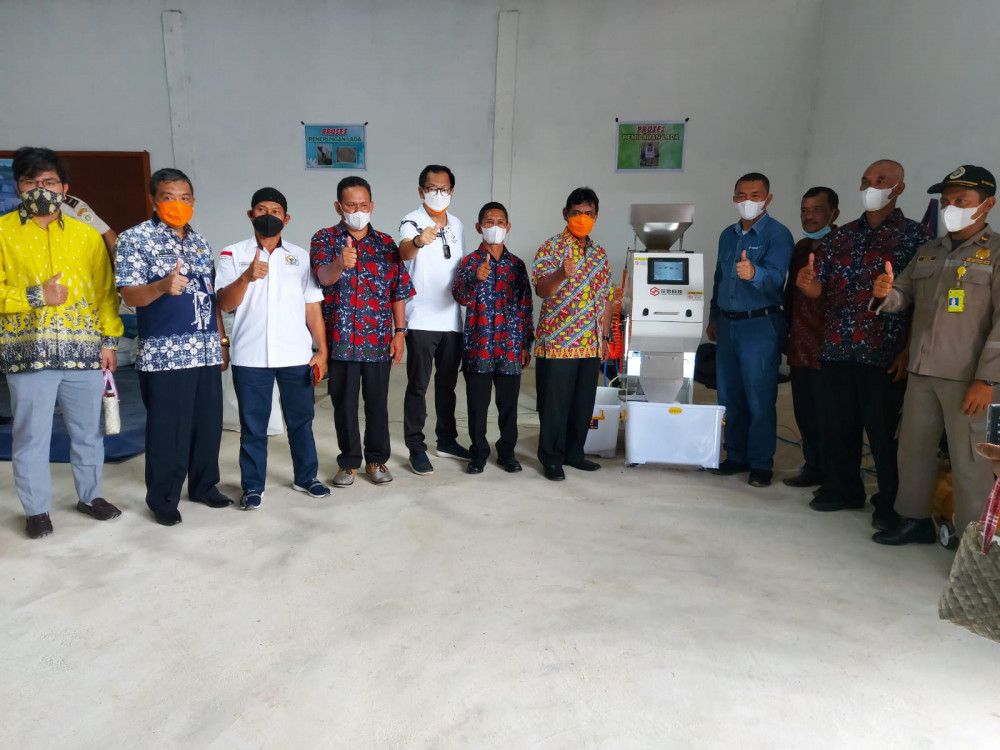 Improving Pepper Quality in Belitung, PT Timah Donated Pepper Cleaning Machine To Plasma Kacang Butor Cooperative 
BELITUNG – Bangka Belitung Island Province has a great potential for their pepper. This agricultural product even already reached the export market. Bangka Belitung Pepper is well known for the best quality seasonings.
To push and improve Bangka Belitung's pepper quality, especially on Belitung Regency, PT Timah Tbk gave away blower machine or pepper cleaning machine to Plasma Kacang Butor Cooperative, Belitung Regency to maximize pepper production in Belitung.
The donation was given to PT Timah Tbk's Belitung Head of Production Unit, Sigit Prabowo to Plasma Kacang Butor Suhardi's Chief, Suhardi. This event was also attended by Belitung's Regent H. Sahani Saleh, Belitung's Vice Regent Isyak Meirobie, Belitung's Regional Secretary MZ Hendra Caya, and BUMN's Representative at Plasma Kacang Butor Cooperative on Thursday (9/9/2021).
Head of Plasma Kacang Butor Cooperative Suhardi mentioned, there is some type of business run by the cooperative such as savings and loans for the member, transportation on plasma land, fertilizers and medicines sell for pepper plants, pepper purchase from farmers, also exporting peppers from Belitung.
He mentioned, pepper business from local Belitung Island farmers is an effort to help to raise pepper prices on farmer level. The business unit started because many members of the cooperative which occupation are also farmers complained about the low pepper buying prices on farmers level.
Therefore, in 2020 the cooperative started this business after they found a pepper buyer from Belitung Island. To market the farmers' pepper, they had a problem as the pepper quality is varied, resulting in the cooperative still need to re-process the pepper (before they are sold to the market).
Suhardi said all this time they used wind fan to separate peppers from dust, dirt, and separating between white and black peppers. This has to be done so the pepper quality is well maintained, makes it has a high selling price.
"This is the very first tool we have thanks to PT Timah Tbk. All this time we only have been using wind fan," said Suhardi.
According to him, as the consumers demand peppers are cleaned before they are sold. This will increases pepper's selling price. He said, currently he has two regular customers to market their pepper. Those are PT Ganesha Abadi and PT CAN Bandung.
"Pepper business is very beneficial from the local citizen's view because (these consumers) bought peppers from farmer members and local citizens. We could buy it for a fairly high price, and this could increase farmers' (pepper) selling price," he explained.
He said, currently they buy farmers' pepper according to the cooperative's financial capability. With this machine support from PT Timah Tbk, they are getting excited to improve the pepper's quality fit to standard. Hopefully, the pepper selling price on the farmer level would raise higher as the result.
"We can buy around 10 tons of pepper. Of course, we are greatly helped with improving pepper's price on farmers' level. Our price (currently) is around Rp 91.000 to Rp 92.000 per kilograms," he explained.
With the help of this machine, his cooperative hopes in the future they could export pepper with their brand called 'Sahang Kacang Butor'. His cooperative also will keep on trying to develop pepper products so in the future. Not only selling pepper seeds but also processed as other product like pepper grains as well.
"We say many many thanks to PT Timah Tbk for the help of this machine," he explained.
Meanwhile, Belitung's Regent H. Sahani Saleh appreciated PT Timah Tbk for accomodating the local citizens' need in developing their business.
"We are grateful to PT Timah Tbk, with their full attention to the community in developing local business," he said.
According to the Regent, PT Timah Tbk's CSR help is very in line with Belitung's District Government, because they also planning to bring back Belitung's pepper to the world's market, so they automatically need facilities and infrastructure support related to production growth and quality.
"This help is accurate and as expected, upon request from the cooperative," he explained.
This number 1 person in Belitung province hoped in the future PT Timah Tbk can keep monitoring the machine after being given away, and not just given, at least checking on the receiver to maximize utilizing the help (machine). (**)