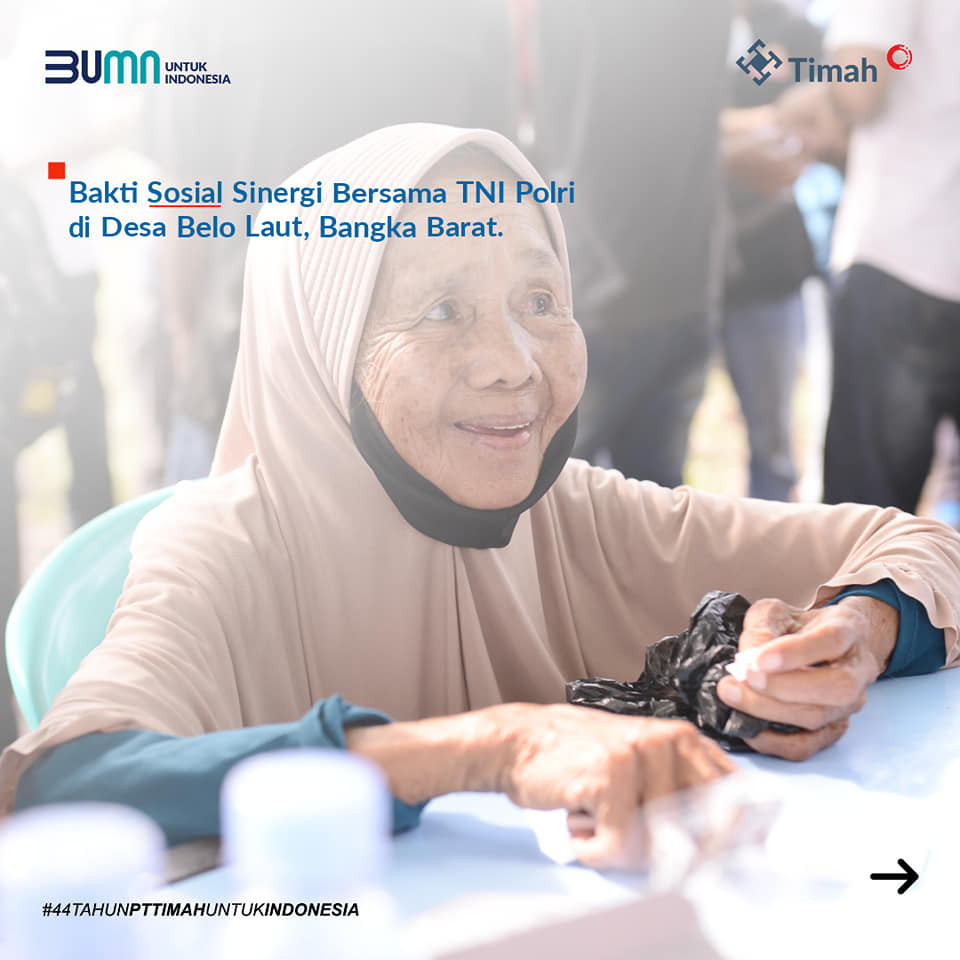 Free Food and Medical Treatment for Belo Laut Residents
PT Timah Tbk together with the TNI and Polri work together to carry out social services in the form of distributing food packages and free health checks for residents of Belo Laut Village at the TNI Polri Security Post, Friday (4/12/2020). The community is quite enthusiastic about participating in this social assistance program, it can be seen from the large number of people who attend the activities. Abdullah, one of the residents who received social service assistance, said that his party welcomed this activity. "Thanks to PT Timah for the assistance. This program is quite good, good luck and will continue to be successful and continue the programs so far," he said.

Chairman of RT 02 Dusun 3 Belo Laut, Bahrom, appreciated the assistance provided by PT Timah together with the TNI and Polri. This assistance is considered very helpful for the community. The reason is, he has never received any assistance at all. Bahrom hopes that the KIP activity in Belo Laut can foster the development of Belo Laut and transparency on the part of the committee in managing or empowering the community.

According to him, mining activities in Belo Laut themselves do not interfere with fishermen's activities, because the fishing area for fishermen and the mining area is very far away and their catching results have no effect. "In 2012 there were 27 KIP units operating in the Belo Sea and this did not disturb the fishing area," he said.

Likewise, Farida said this basic food assistance can help ease the burden on her family. The reason is, he was one of the affected by the Covid-19 pandemic. "Alhamdulillah, the distribution of basic foodstuffs is very helpful, because during the Covid 19 pandemic my trading activities stopped," he said.

Meanwhile, dr. Karsen said the free medical check-up with a ball-pick system can increase public awareness to detect potential diseases early so that they can be handled more quickly. "This pick-up system helps the public in checking blood sugar, uric acid and cholesterol. It is hoped that in the future such activities can be carried out regularly, so that public health is more secure," he said.

This activity was attended by the Head of the Bangka Marine Mining Unit, Ronanta Tarigan, representatives of the West Bangka Police, representatives of Dandim 0413 and the CSR team of PT Timah Tbk. *