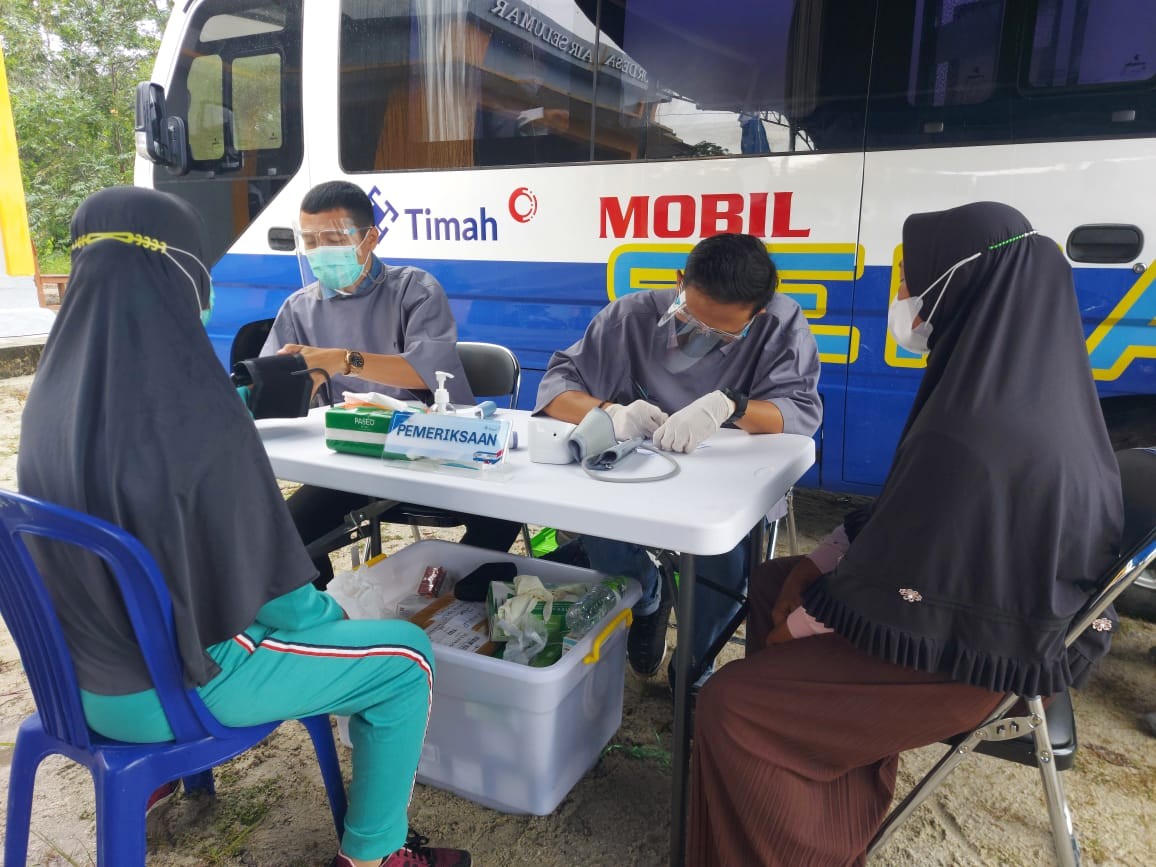 Even though it was raining, the residents of Air Selumar Village were enthusiastic about getting treatment in PT Timah Tbk's Healthy Car
*Close Community Health Services
BELITUNG -- PT Timah Tbk continues to intensify free health services for the community in the company's operational areas through PT Timah Tbk's Healthy Car. This time the Healthy Car visited Air Selumar Village, Sijuk District, Belitung Regency, Friday (17/6/2022).
Even though it was raining, the people of Aik Selumar Village were still enthusiastic about getting health services at PT Timah Tbk's Healthy Car.
One of the residents of Air Selumar Village, Harmiati (55) welcomed the healthy car, because the car provides comfort in treatment, especially during a consultation with the doctor.
"Even though it's the first time, the atmosphere in the treatment is very comfortable," said Harmiati.
Harmiati hopes that PT Timah Tbk's healthy car can regularly come to Air Selumar Village, to provide free health services.
"If we come here we are closer to reaching this health service," she explained.
Another resident said the same thing, Ibrahim Samsudin (71). He considered the drugs in PT Timah Tbk's healthy car to be very good, so he hoped that the car would come to their village every month.
"For me and the community for treatment in this car, it is very comfortable, because the facilities are quite complete," he explained.
Meanwhile, the head of Air Selumar Village, Iman Rafli, said that his party had invited the community and provided information that there would be healthy cars in their village.
Even the Village Government has prepared transportation, for people who cannot use motorbikes or walk, so they are delivered and picked up.
"We appreciate PT Timah Tbk with the healthy car PT Timah Tbk," he said.
According to Iman, the PT Timah Tbk program was well received by the people of Air Selumar Village and the entire Belitong Island, as well as being able to detect diseases in the community early.
Because, he said, the new company in Belitung is PT Timah Tbk, which has mobile health services such as free healthy cars.
"With this kind of examination, we can detect the early disease as well, and maintain public health," he explained.
Therefore, he hopes that PT Timah Tbk's healthy car will regularly visit their village, after the other villages as well. Because the residents of Air Selumar are very enthusiastic about using the health facilities.
"Currently, the Sijuk Health Center is in their village, the distance is about 2 Kilometers, previously it was in Sijuk so the distance was 7 Kilometers," he said.*