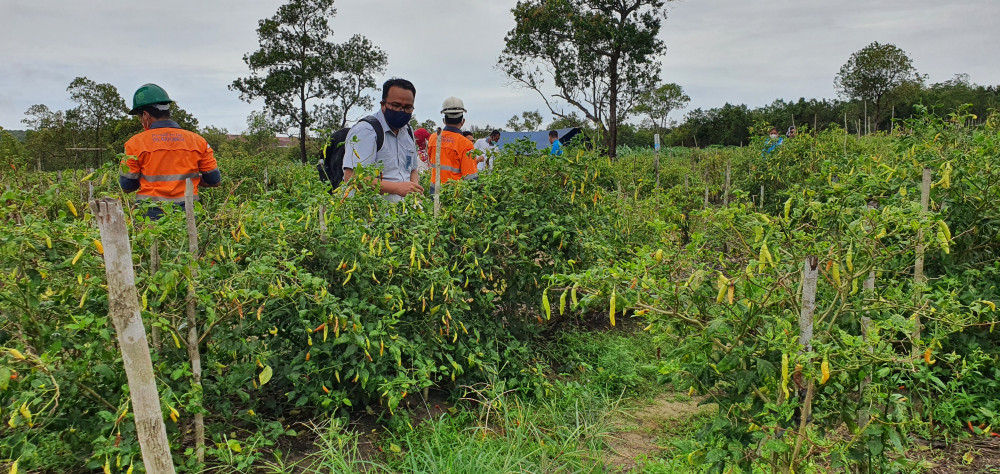 Empowering the Community, PT Timah Collaborates with BUMDes Maju Bersama
BELITUNG - Supporting the economic independence of the community through Village-Owned Enterprises (BUMDes), PT Timah Tbk in collaboration with BUMDes Maju Bersama,  Burong Mandi Village, East Belitung Regency utilizing ex-mining land which is used as a local food crop agricultural area.
Through PT Timah Tbk's CSR Program, in this case Community Development and Empowerment (PPM), PT Timah through UPTP Batu Besi empowers the communities around the mining area. This program makes an area of ??two hectares into an integrated agricultural plantation area that utilizes local labor.
Currently, the land that is under the Mining Business License (IUP) of PT Timah Tbk, is planted with various types of vegetables and fruits. Not only doing empowerment, PT Timah also provides assistance, training, facilities and infrastructure assistance for BUMDes to develop this integrated agricultural area.
The treasurer of BUMDes Maju bersama, Burung Mandi Village, Dodi Firmansyah, said that the collaboration between PT Timah and BUMDes is a form of synergy for community economic development, creating jobs, and transfer of knowledge. "We welcome this collaboration, because this is the community's economic development through the CSR program. We manage the ex-mining land to become a plantation by planting a number of vegetable and fruit commodities, "he said. (**)
According to him, the management of ex-mining land into plantations is also expected to meet local food needs, so that later it can achieve food self-sufficiency. "We are facilitated with equipment for gardening, the result is for us to be able to manage and be assisted until we are independent. Then, later it can also be developed in stages. We are also given training, so there is a transfer of knowledge. Besides that, the people who work on it are our society too, "he said.
"We are very happy and this program is very useful and it helped. Initially, there were only three workers, now seven people. Besides managing the plantation with PT Timah, we plan to open an agricultural depot, so that we can cooperate with local farmers, equipment, advice and infrastructure, "he said.
Meanwhile, the Head of Burung Mandi Village, Sudarsono, said that the PPM program of PT Timah Tbk with BUMDes Maju Bersama has enjoyed many benefits. According to him, there is not only a program but also a transfer of knowledge for the community to manage critical land. "Many of the benefits of this collaboration are not only plantation partnerships, but also education to the community on how to manage critical ex-mining land which can be managed to plant various types of horticultural crops, for example melons, chilies and currently developing grapes," he said.
In terms of community economic empowerment, he said by absorbing local labor, this would certainly have an economic impact on the community. "Farmers who are now working get knowledge and assistance, so that later they can become independent farmers and their knowledge can be shared with the community because they are equipped with knowledge to cultivate crops," he said.
He hopes that the synergy between PT Timah and the village will improve so that both parties can benefit from each other.