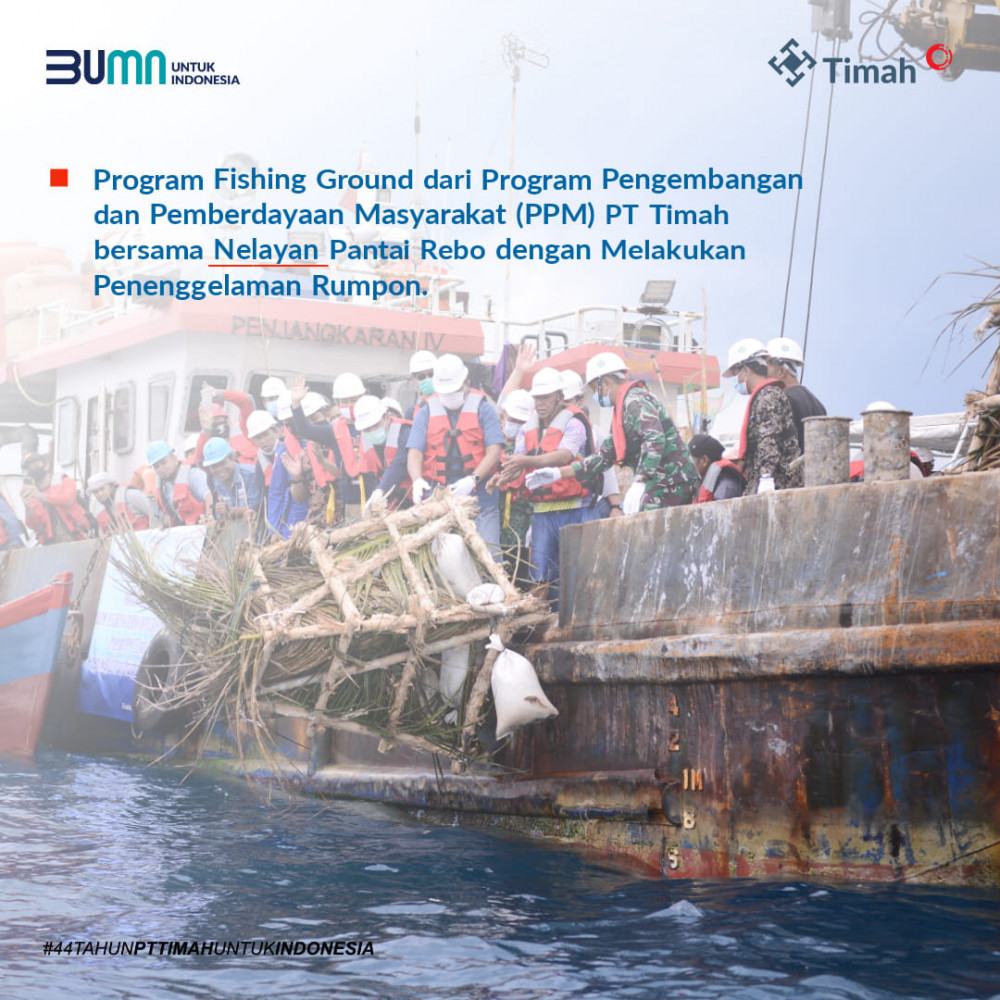 Drowning Hundreds of FADs in Rebo and Kenanga Waters
PT Timah Tbk drowned 101 FAD units through the Fishing Ground Program initiated by PT Timah's CSR for Community Empowerment Development in collaboration with Rebo and Kenanga Fishermen starting on November 16-21 2020. The drowning ceremony was carried out by the General Manager of the Bangka Belitung Region, Ahmad Syamhadi, Head of the CSR Division, Rendy Kurniawan, Head of the Security Division, Djaelani and other invited guests on Thursday (26/11/2020).

The submerged fish aggregating device (FADs) consisted of four models, namely, fish apartments, squid drums, dom and boat FADs. From the production process to the maintenance of the drowned FADs, it involved local fishermen. General Manager for the Babel Region, Ahmad Syamhadi, said that this activity was PT Timah Tbk's commitment to rehabilitate the sea while empowering the community. According to him, Babylon is very lucky because it has the potential for abundant natural tin resources, has lots of fish and charming tourism potential.

Based on the data he obtained from HNSI Babel, fish production always increased every year, even though mining was still running. He did not deny that problems arising between fishermen and mining only need to improve communication. "This is a PPM program to empower the surrounding fishing community. In rehabilitating the sea, PT Timah has become an example for other mining companies whose operational areas are deep sea reclamation, "he said.

He added, in addition to drowning FADs as a PPM program, marine reclamation can also be used for tourism development as is done in Bali. Where tourists can also do coral transplants which will later become a tourist attraction. "Hopefully this can run smoothly and provide benefits for all of us, so that later it can be used together," he said.

Meanwhile, the Head of PT Timah's CSR Division, Rendy Kurniawan, said that this activity embraced fishermen, starting from making 101 units of FADs, drowning to maintaining FADs. PT Timah involves fishermen, because the fishermen who will later use the FADs which will become fish houses are used as fishing ground areas. With the existence of these FADs, it is expected to increase fishermen's catch while protecting the marine ecosystem. "This empowerment program is sustainable, we involve around 30 Rebo fishermen starting from production, this involvement is done so that they have new skills to make FADs. The drowning was carried out at four points involving Rebo and Kenanga fishermen, "he said.

He said, after this drowning, fishermen will carry out maintenance and monitoring of the drowned FADs condition. In addition, later if it is assessed that something is damaged, maintenance will be carried out. To take care of these fishermen, they will be accompanied by the K3LH team of PT Timah Tbk, Academics from Bangka Belitung University and the Sayang Babel Community. Furthermore, he conveyed that after the drowning, monitoring will be carried out to see how far the development of FADs has been whether the fish have responded to them or not. Later, this monitoring will be carried out by fishermen and will be facilitated by PT Timah. "This coordinate is only known by fishermen who are members of this program and they will also later guard it. In the area where FADs are submerged, it is prohibited to use tiger trawl because it will damage it, "he said.

"Empowerment of fishing communities by drowning FADs is important so that fishermen have new abilities, they can maintain and improve their catch and our marine ecosystems are also maintained," he concluded. *