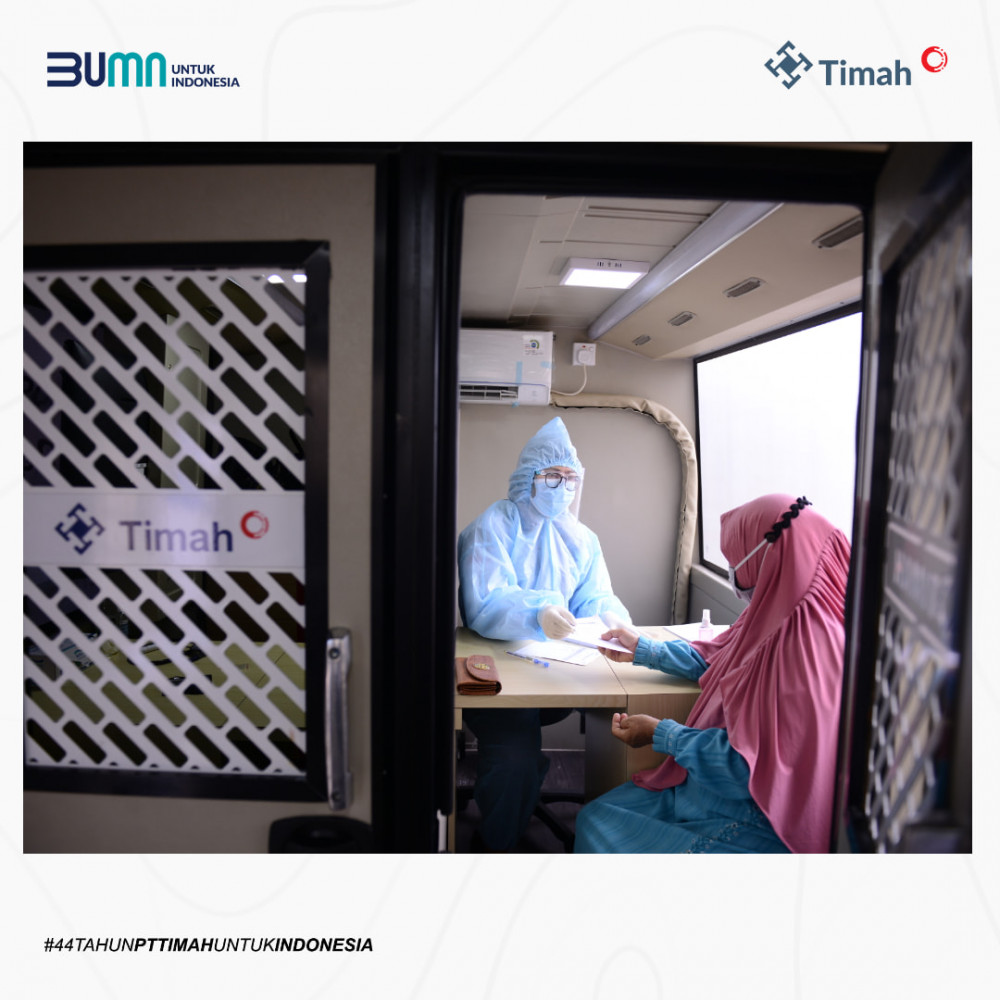 Dozens of Tanjung Gunung Village Elderly Get Health Care for Healthy Car PT Timah
BANGKA CENTRAL - The rain that flushed the Tanjung Gunung Village Square did not dampen the enthusiasm of dozens of elderly people in Tanjung Gunung Village to get health services through PT Timah Tbk's Healthy Car, Thursday (28/1/2021).
The elderly apply the health protocol to wait their turn to be examined by health workers in PT Timah's healthy car. They chatted about their health complaints. "This is when you are old, you have a lot of diseases. All your body aches, coughs, fever. What's more, during the rainy season, this kind of free health service is what we are waiting for," said Jainah when waiting in line.
Usually these elderly people get health services through monthly Posyandu activities. However, in the midst of the Covid-19 pandemic, posyandu services are not as routine as usual. They only depend on medicines purchased at the shop or medicines obtained from Posyandu without having their health checked.
Once they received an invitation from local village officials to have their health checked, they were grateful because they could go back to check their health, get medicine and consult a doctor directly for free. "I am fasting from 9 pm, because I want to check my health today. I want to check my blood sugar. I am very grateful that this healthy car is free. I can check my health directly. Usually we are at Posyandu, but this month there is no posyandu so we only eat the medicine. there is, "said Jainah.
Likewise, Suryati said that she was given several medicines from a healthy car, but in the next two weeks she had to go back to a medical check-up to measure her blood pressure. "I am grateful that I have health service activities from PT Timah. Just now I was given medication for high blood pressure so in two weeks I was told to have another blood check. Besides being given medication, I can also consult with a friendly doctor. Hopefully this healthy car program will be held continuously, so we will not go far to seek treatment, "he hoped.
The Head of Tanjung Gunung Muslim Village said that the presence of a healthy car to provide health services was a form of PT Timah's concern for the people of Tanjung Gunung. He hopes that PT Timah's healthy car will not only come once but also come to their village frequently. "Actually, many of our people want treatment, but because of the Covid-19 pandemic, they are limited. We hope this is not just once but often. We appreciate PT Timah. This is a form of PT Timah's concern in providing health services to the community. Not only physical assistance but also this health service, "said Muslim.
Muslim explained, PT Timah has often helped the people of Tanjung Gunung village. He hopes that the synergy will continue to be established so that more people will feel PT Timah's contribution directly. "PT Timah's assistance to our community has been frequent, and we hope the synergy between PT Timah and the village and the community will continue like this," he hoped.
The midwife in Tanjung Gunung Village, Siti Mudrikah hopes that this health service will be of great help both to medical personnel and to the community. He hopes that in the future this healthy car will provide special services for pregnant women and children. "As health workers, we feel helped by this healthy car. We hope that there are activities that are more specifically for pregnant women, toddlers and adolescents. In the future, we hope that this program can continue and we can exchange data, for example from today's examination what can be done. we are following up at the Puskesmas, we can also work together to handle stunting, "he said.
Meanwhile, Head of Corporate Communication at PT Timah Tbk, Anggi Siahaan, said that a healthy car is PT Timah Tbk's commitment to provide basic health services for communities around the company's operational areas. Not only that, in implementing CSR PT Timah adopts sustainable development goals or what is known as Sustainable development goals or SDGs. Where one of the points is improving access and quality of public health services. To improve this health service. From PT Timah, one of the ways is through this healthy car program.
"PT Timah strives to provide basic health services, not only free health services but also mapping the status of public health. This healthy car will travel around the company's operational areas. While still specifically on Bangka Island first. God willing, the healthy car program will be back here soon, "said Anggi.
"We hope that the presence of PT Timah's Healthy Car can actively help the community, especially those in need," he continued.
PT Timah Tbk's healthy car was launched at the end of last year, with the aim of providing basic health services for the community, pregnant women and children. Health services that can be provided by a healthy car include routine health checks such as blood pressure, blood tests, blood sugar checks, cholesterol checks, and health consultations.
This Healthy Car is also equipped with medical personnel consisting of doctors, nurses and midwives. In addition, there are also consultation booths, examination booths, stretchers, medicine cabinets and other medical equipment that support public health checks. (**)