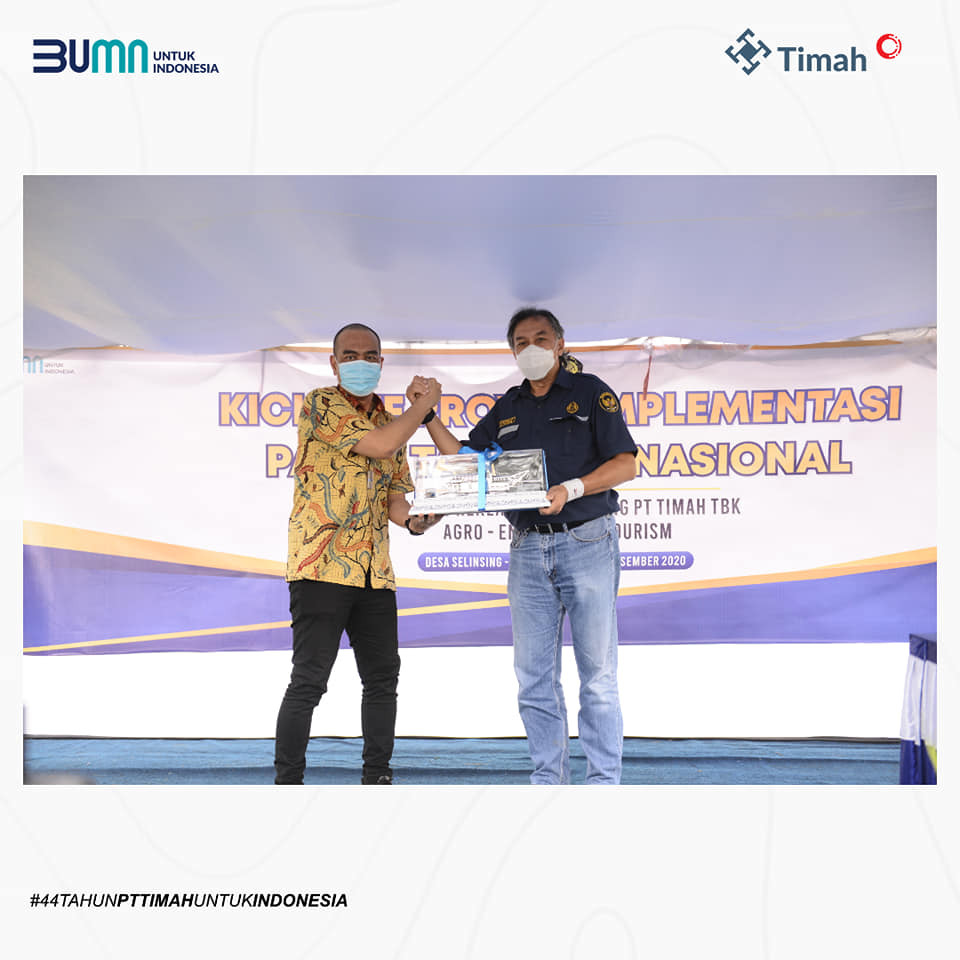 Director General of Minerba Inaugurates Floating PLTS and Fishing Villa Kampong Reclamation Selinsing PT Timah Tbk
Director General of Coal Mineral, Ministry of Energy and Mineral Resources, Ridwan Djamaluddin inaugurated a fishing villa and a floating PLTS in PT Timah Tbk's Selinsing Reclamation Village, Friday (11/12/2020). Kampong Reclamation which is located in the mine in Selumar Hamlet, Selinsing Village, East Belitung is a form of PT Timah Tbk's commitment to maximizing ex-mining land. This activity was also attended by the Director of Engineering and Environment for Mineral and Coal, Directorate General of Mineral and Coal, Lana Saria, Director of Operations and Production of PT Timah Tbk, Agung Pratama, Deputy Regent of East Belitung, Burahnudin, Chairman of the East Belitung DPRD, Fezzy Uktolseja, and Forkompinda.

On this occasion, PT Timah Tbk's Selinsing Reclamation Village became the host for the Kick Off for the Post-National Mining Implementation Project for Mineral and Coal Business Activities in 2021. The kick-off, which was carried out by the Director General of Coal Mineral, Ridwan Djamaluddin, also took place virtually. This was also attended by PT Kaltim Prima Coal, PT Lanna Harita Indonesia, PT Adaro Indonesia, PT JRBM, PT Kasongan Bumi Kencana, PT Arutmin Indonesia, PT Multi Harapan Utama and PT Insani Baraperkasa.

The Director General of Mineral and Coal at the Ministry of Energy and Mineral Resources, Ridwan Djamaluddin, said that currently the awareness of the government, business actors and the community towards the interests of maintaining the sustainability of nature is getting better. "Mining is often criticized as an industry that is not environmentally friendly, he said, but I believe that what is created on this earth has benefits, it's just how we use our knowledge to manage it to be useful," he said.

"We are grateful that our community's awareness is good regarding this reclamation. This is marked by the involvement of the entire community to run this program. Overall, we hope that this kick-off activity can run smoothly so that the eight reclamation projects can be implemented, "he continued.
Deputy Regent of Belitung, Timur Burhanudin, in his speech said that this reclamation is another example of reclamation that suits the needs of the community.

"Reclamation that is carried out must provide benefits, not all ex-mining land must be returned to the way it was before by revegetation, reclamation can be carried out as needed and this is for example the reclamation area which will later become tourism and this must provide a multi-factor economic effect for the surrounding community," he said.

Burhanudin said not many realized that ex-mining land could be transformed into productive land. He asked the community to maintain what has been built to be cared for and utilized properly so that it becomes a safe and comfortable place and becomes a new tourist destination in East Belitung.
"It's just how we open ourselves, don't have the attitude to prejudice an activity being carried out, because we want East Belitung, which has a PT Timah IUP, to be used well for the welfare of the people of East Belitung," he said.

Meanwhile, the Director of Operations and Production of PT Timah Tbk, Agung Pratama said that the Selinsing Kampong Reclamation was a form of commitment to develop community and environmental empowerment programs in a responsible and sustainable manner, as well as carry out mining based on the principles of good mining practices. "Selinsing Reclamation Village is part of the Company's efforts to organize, restore, and improve the quality of the environment and ecosystem, so that it can function again as intended," he said.

He mentioned, previously, the initial conditions for the former mine were tailings, under, swamps and vegetation with unstable land topography.
In the field of Community Empowerment, he said that all workers in the Selinsing Reclamation Village involved the local community through the BUMDes Village of Selinsing forum. "Community involvement in BUMDes includes planting, maintenance, harvesting, nursery, care for livestock and cleaning gardens and infrastructure. The entire project of PT TIMAH Tbk's Kampong Reclamation is expected to provide benefits ecologically, economically as well as as a means of education and new tourist destinations, especially in East Belitung, "he said.

The Head of Selinsing Village, Harianto said that the presence of the Selinsing Reclamation Village has provided benefits to the community in his village such as providing jobs, increasing village income and empowering the community. No less important is the presence of new tourist destinations. "We have collaborated with BUMDes and PT Timah in managing tourism, cattle, agriculture and fishing activities. With the existence of this reclamation village, our young people through the youth organization, LPM, have activities for tourism management and other activities, "he said.