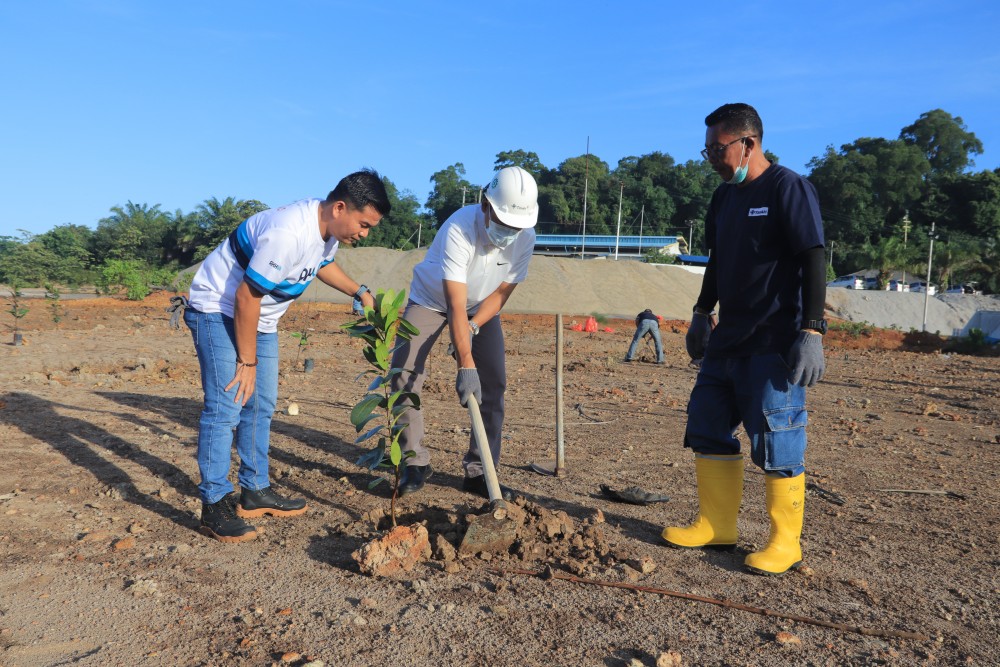 Commemorating World Environment Day, PT Timah Tbk Plants Hundreds of Pines
KUNDUR – Sustainable environmental management is one of PT Timah Tbk's priorities, as a mining company PT Timah Tbk is committed to improving environmental management.
Various environmental management activities such as reforestation, tree planting and mangroves are routinely carried out by the company. Like this time, in commemoration of World Environment Day, PT Timah Tbk planted hundreds of cypress trees in an office area located in the PT Timah PLTD Area, Jalan Hang Tuah Perayun Village, North Kundur District, Karimun Regency, Friday (3/6/ 2022).
This fir tree planting involves employees of PT Timah Tbk as an effort to green the area, as well as a form of environmental management carried out by the company.
Not only in the office environment, previously PT Timah Tbk has also planted sea pine trees on Asamara Dewi Beach, Sawang Village, Kundur Barat District, Karimun Regency.
Sea pine planting has also previously been carried out on Penanas Island, Buku Limau Village, Manggar District, East Belitung Regency.
As is known, fir trees have many benefits, including helping the process of fertilizing the soil, preventing abrasion, and protecting other plants from wind.
In commemoration of World Environment Day which falls on Sunday (5/6/2022), the theme is 'Only One Earth' (Sustainably in Harmony with Nature).
Head of Corporate Communications, PT Timah Tbk Anggi Siahaan said that environmental management efforts were carried out in a sustainable manner.
"PT Timah Tbk is very concerned about sustainable environmental management, efforts to organize ex-mining land with reclamation are also being encouraged. PT Timah Tbk carries out land and sea reclamation in accordance with the company's operational area," said Anggi.
In environmental management, PT Timah Tbk also involves the surrounding community, so that these environmental management efforts can be maintained together.
"Our environmental management is also in line with community empowerment programs, for example we buy plant seeds from the community," concluded Anggi*