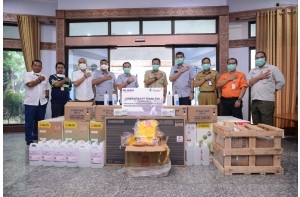 Billions of Rupiah to Anticipate and Prevent Covid-19
COVID-19
PT TIMAH Tbk has spent IDR 17 billion to prevent and handle the Covid-19 pandemic in the company's internal and external environment. Assistance has been distributed to all operational areas of the company, namely in the provinces of Bangka Belitung, Riau and Riau Islands.
Realizing that the handling of Covid-19 must be carried out in a structured manner due to the long impact of the pandemic, PT Timah distributes assistance according to community needs and current conditions according to developments.

The assistance distributed includes 30 thousand basic food packages to grocery stores in operational areas and village-owned enterprises (BumDes) at the location of the distribution of these basic necessities. Purchasing at the grocery store as an effort to drive the people's economy. The community can purchase these aid packages at the local grocery store.

PT Timah also distributed 30 thousand cloth masks produced by 29 micro, small and medium enterprises (MSMEs) in the company's operational areas. The involvement of MSMEs aims to maintain and protect MSME businesses during the Covid-19 pandemic. Apart from distributing cloth masks, he also distributed 12,980 sheets of N95 masks and 100,352 3 ply masks.

Next, PT Timah also distributed 300 portable sink units, which were also carried out by MSMEs. Distributed 18,155 bottles of handsanitizer, 8,851 packages of PPE to hospitals, 8,851 liters of disinfectant, and held two ventilators and three portable X-ray units for the treatment of covid-19.
"PT Timah, through its subsidiary RSBT, is also holding an isolation room equipped with negative pressure, as well as procuring a PCR laboratory to deal with this pandemic. Through CSR funds we have disbursed around Rp. 17 billion for the handling of covid-19, "said President Director Mochtar Riza Pahlevi.

Riza added that PT TIMAH had also distributed 3000 sets of rapid tests to the Babel Province Covid-19 Task Force, 520 sets to the Tanjungpandan Task Force, and 320 sets to the East Belitung Task Force."Internally, we have also conducted rapid tests on 6,199 employees and swab tests for 566 employees and outsourcing. We also conducted a rapid test for 420 partner employees and 96 swab tests," he said.

Riza said, PT Timah continues to work together with various parties to deal with this pandemic and prepare to implement a new normal. PT Timah is also trying to drive the social economy by involving MSMEs. "We have to adapt to the new normal and of course this requires cooperation with all parties. We also have to keep moving the community's economy, one of PT Timah's ways to drive the economy by empowering MSMEs," he said.
The Chancellor of the University of Bangka Belitung, Ibrahim, expressed his appreciation to PT Timah for consistently helping to handle Covid-19, especially in Babel. He conveyed this in a light dialogue with Babel academics, and Forkompinda, with the theme 'Creative Economy Policy in the Covid-19 Period at the UBB Rectorate Hall, Monday (6/7/2020)."We appreciate PT Timah for being consistent in handling Covid-19, and we hope that this will continue to be done to help the community, including empowering MSMEs," he said. *