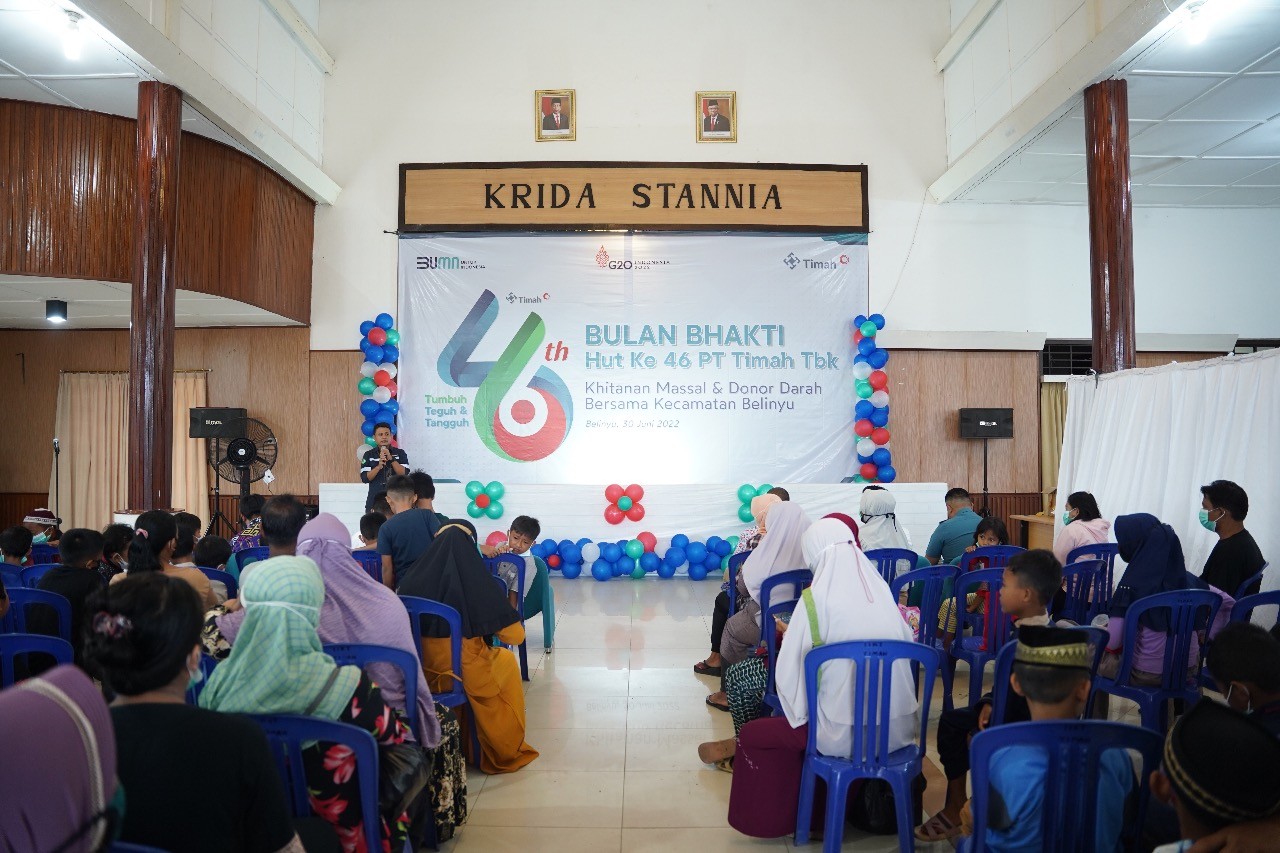 Tuti is Relieved that her Child can Take Part in a Mass Circumcision in PT Timah Tbk's Month of Service
*Helping the Community
BANGKA -- PT Timah Tbk's Month of Service continues, this time a series of activities for the 46th Anniversary of PT Timah Tbk took place at the Krida Stannia Building, Belinyu, Bangka Regency, Thursday (30/6/2022).
The series of activities carried out were blood donation, mass circumcision and also free health services through PT Timah Tbk's Healthy Car.
PT Timah Tbk's Month of Service activity in Belinyu was enthusiastically welcomed by the residents, one of which was Tuti Haryati (43) resident of Parit 5 Hamlet, Romodong Indah Village, Belinyu District, Bangka Regency. Tuti looks deft in motivating her baby Farren Mahardika (8), when her child will be circumcised by the medical team at PT Timah Tbk's Krida Stannia Building.
She said that she was aware of the mass circumcision held by PT Timah Tbk from the school. At that time the school teacher conveyed the information and her son wanted to be one of the participants in the mass circumcision.
"The teacher asked the students who would like to participate in the circumcision. My son said she would, then I confirmed again with the school that our child wanted to participate in the circumcision and thank God, today our child has been circumcised," said Tuti.
Tuti is grateful for the mass circumcision in PT Timah Tbk's Month of Service, because it was very helpful for her to reduce costs.
"Alhamdullilah, I'm happy, because it's free, if you want outside circumcision, you have to pay. With this activity, it really helps us. Besides that, our children are very excited to participate in this mass circumcision, because many of their friends are also circumcised," said Tuti.
Meanwhile, Belinyu Lingga Pranata Sub-district Head appreciated the Month of Service activities carried out by PT Timah Tbk.
"Thank you, PT Timah Tbk for carrying out this activity, of course it will have an impact on our community. This mass circumcision is a very fitting moment, where it enters the children's school holiday schedule," she said.
"PT Timah is always present in the midst of the community, giving a positive impact to our community. And of course these activities can continue to be improved, because we still have a lot to touch," she said.*
Today as many as 106 children were circumcised in the Month of Service activity held in Belinyu. Previously, PT Timah Tbk also held mass circumcisions in Sungailita and Pangkalpinang City.