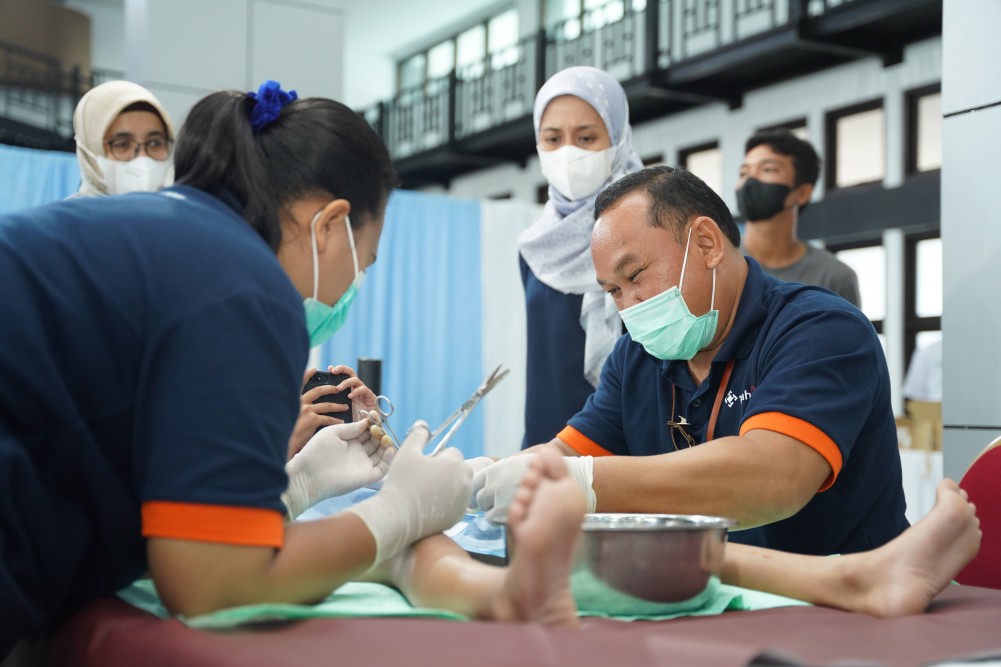 Rafa Happy to Participate in Mass Circumcision in PT TIMAH Tbk's Bulan Bhakti in 2022
*Series of Activities to Welcome the 46th Anniversary of PT Timah Tbk
PANGKALPINANG -- Rafa Azka Saputra (7) looks eager to wait for his turn to be called, accompanied by his parents. They arrived at around 07.00 WIB at the PT Timah Tbk Office to take part in the mass circumcision which was held in PT TIMAH Tbk's Bulan Bhakti activity at Graha Timah, Monday (27/27/2011). 6/2022).
This second-grade student at SDN 8 Pangkalpinang looks relaxed, there is no nervousness on his face when he is about to be circumcised because he asked to be circumcised.
PT TIMAH Tbk provides gifts for children who have been circumcised. In addition, it also presents clowns to entertain and encourage children who will be circumcised.
"It's nice to be circumcised, I'm not afraid because it doesn't hurt," said Rafa, smiling shyly.
Rafa's father, Gilang (35) said that his son had wanted to be circumcised for a long time, but due to several considerations, his parents only granted his baby's wish now.
Gilang said that since morning Rafa had been getting ready to be circumcised, so he woke up earlier than usual. He was grateful that PT TIMAH Tbk held this mass circumcision because it could help reduce their costs. In addition, the requirements for participating in this activity are not too difficult.
"Thank God it was his son who did ask to be circumcised, coincidentally PT TIMAH Tbk held a mass circumcision in its Month of Service activity. This is very helpful because we can divert the allocation of funds for child circumcision for other purposes. Very helpful," said the resident of Bukit Lama.
According to him, this activity is also very fitting to be carried out by children on school holidays, so they can rest for post-circumcision recovery.
Similarly, Tri Adhiah Putri, Raihan's parents, said that the mass circumcision from PT TIMAH Tbk really helped them. Plus, it's done together so it can reduce worry.
"My son is really excited to take part in mass circumcision, he wakes up early because he wants to get ready. He immediately takes a bath and prays at dawn, has breakfast, and asks to leave quickly. In fact, I am the mother who is nervous because the child wants to be circumcised," she said.
"Alhamdulillah, there is an opportunity for mass circumcision, because it is the child who wants to be circumcised. With this crowd, the child is less afraid because he has many friends," she continued.
Meanwhile, Siti Hasanah, one of the parents whose children participated in the mass circumcision, said that she was very grateful for the mass circumcision held by PT Timah Tbk.
"My son Daffa is 6 years old, she is happy and is not afraid to be circumcised. I am happy as a parent. Thank you PT TIMAH Tbk for holding activities like this, hopefully, this activity can be carried out regularly," he said.
PT TIMAH Tbk held a Bulan Bhakti to welcome the 46th Anniversary of PT Timah Tbk which will take place on 2 August. In addition to mass circumcision, PT Timah Tbk's Bulan Bhakti also presents blood donation activities.
In the Bulan Bhakti in 2022, PT TIMAH Tbk targets 700 children to be circumcised from all of the company's operational areas. Carrying the theme Grow, Firm, and Resilient, this activity is a form of the company's concern for the community.
The Bulan Bhakti of PT Timah Tbk was officially opened by the President Director of PT TIMAH Tbk, Achmad Ardianto, which was held at Graha Timah. Achmad Ardianto seemed to monitor and directly encourage the children to be circumcised.