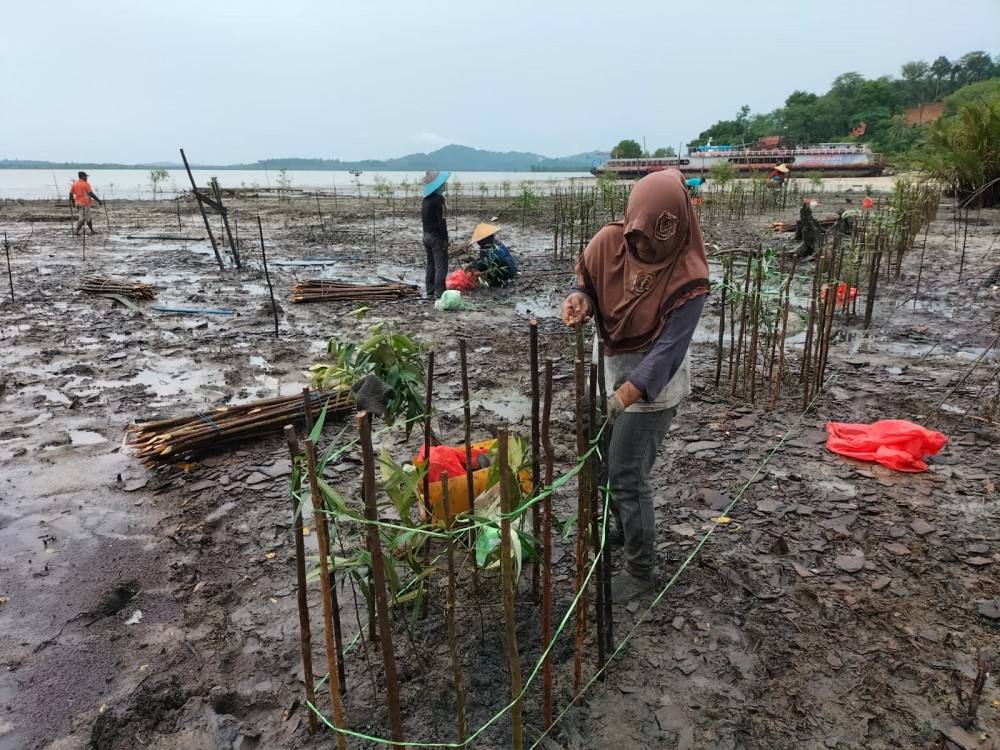 Together with the Residents of Teluk Salak, PT Timah planted 5000 Mangrove Seeds on Teluk Salak Beach
WEST KUNDUR -- PT Timah Tbk continues to plant mangroves in the company's operational areas. This time, PT Timah Tbk together with the community of Hamlet IV Teluk Salak Village, Gemuruh Village, Kundur Barat District planted 5000 mangrove seedlings on Teluk Salak Beach, Tuesday (21/6/2022).
This mangrove planting is also in line with the Government's efforts to reduce carbon emissions. Consistently PT Timah Tbk through the Kundur Production Unit from 2017-2021 has planted 38,900 mangrove seedlings with the types of mangroves, saplings, and fires.
Mangrove planting in Salak Bay is an effort to prevent abrasion. PT Timah Tbk also involves the community in planting mangroves so that they can be protected together.
The Head of the Karimun Regency Environment Agency, Rita Agustina, said that her party supports this activity. The reason is, that mangroves are very good at holding back seawater erosion on the shoreline and also as a producer of oxygen and absorbing carbon dioxide.
"Mangrove forests also have a very large function for our environment, including as plants that are able to withstand sea currents that erode coastal land, in other words, mangrove plants are able to hold sea water so as not to erode the soil on the shoreline," he explained.
Like other plant functions, mangroves also have a function as an absorber of carbon dioxide gas (CO2) and a producer of oxygen (O2). Mangrove forests have a role as a place to live for various kinds of marine life such as small fish for shelter and foraging for food.
Meanwhile, the Chairman of Rt.004 Teluk Salak Abdul Aziz, said that the people in Teluk Salak are very happy with planting mangroves. Because this activity is expected to reduce coastal abrasion that occurs every year.
"We are happy that PT Timah planted mangroves here so that our beach abrasion can be controlled in the future. As we can see, the abrasion rate on Teluk Salak's coast is already at an alarming stage, so we are all very happy with planting mangroves in this location," he said.
Likewise, Kamariah (38), a resident who participated in planting mangroves, said that the community was directly involved in planting mangroves and taking care of these mangroves.
"I and the community feel happy because they are directly involved in this activity. As stated, we are also involved in the treatment, so that more or less there is an addition for the family," he said.