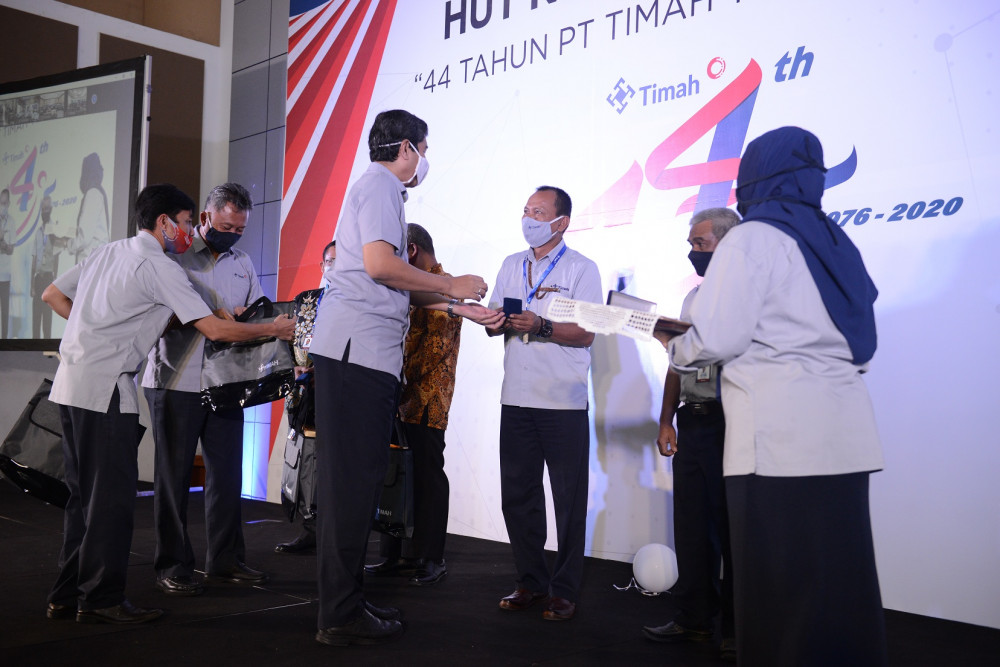 Purnabakti & Stayabakti Award
Located at the Graha Timah building, Monday, 3/8/2020, PT Timah awarded Purnabakti and Satyabakti awards to employees who have entered retirement and who are still serving. This year, 45 employees received the Purnabakti award and 94 employees received the Satyabakti award. They are scattered in the operational area of ??the company.

The Satyabakti award was given to 94 employees and retirees for a work period of 20, 30 and 35 years, the Satyabakti Madya award with a work period of 20 years for one person, the Satyabakti Utama award for 60 people. Meanwhile, 33 employees who received the Satyabakti Kencana award with a work period of 30 years.

The award was handed over directly by the Director of Business Development, Alwin Albar accompanied by the Head of the HR Division, Agung Nugroho to coincide with the 44th thanksgiving of PT Timah Tbk. Unfortunately, due to the Covid-19 pandemic not all retired employees can participate in this event, so awards are only symbolically given to retired representatives.

Head of the HR Division, Agung Nugroho, expressed his appreciation to the retirees and employees who have dedicated themselves to the company. He hopes that employees who are currently still on duty can give their best contribution to the company. "In a pandemic like today, we can't all gather, but here are some representatives. On behalf of our company, we would like to express our appreciation to employees who have retired and who have received Satyabakti awards. On this occasion we also hope that they will be useful, "said Agung.

He also requested that employees who have retired to remain together to maintain the glory of PT Timah Tbk, pray for the sustainability of the company and provide input for the progress of the company. One of the retired representatives, Deny Firdaus, appreciated PT Timah Tbk for still holding activities for retirees even in the midst of the Covid-19 pandemic. For them, this is a special form of attention that the company gives to retirees. "We appreciate that the company is still carrying out special activities in the midst of the Covid-19 pandemic. We have many memories, impressions and other things while working and being part of PT Timah Tbk, "he said.

He said that he started working at PT Timah Tbk since 1989 and has gone through at least six changes to the president director of PT Timah who has various leadership styles and challenges to face in order to advance the company. "The problems faced by each era are different, for example the restructuring of the Pak Kuntoro era. In the era of Pak Erry, he faced an economic crisis. I have felt a lot of pleasure and sustenance received during my 30 years of work. I got married and supported my children and I have this welfare thanks to working at PT Timah, "he said.

He is proud to be able to complete the task until he retires. There were many things he got while carrying out his duties at PT Timah Tbk. No less important for him, according to him, the company still gives awards to retirees even though they are in difficult times. "It is my pride to be able to complete the task until I retire, I'm sure you can too. We also appreciate the company's attention to retirees, "he said.

He advised employees to continue to work selflessly and do their best for the company. "Currently, the era has changed greatly. Everything can be done easily using a mobile phone, this style of work must be adjusted. Work according to the rules, passion for work and selfless. Do not pursue a position and work diligently, later the fortune will come by yourself, "said Deni who served as Head of the Corporate Legal Division before entering retirement. *