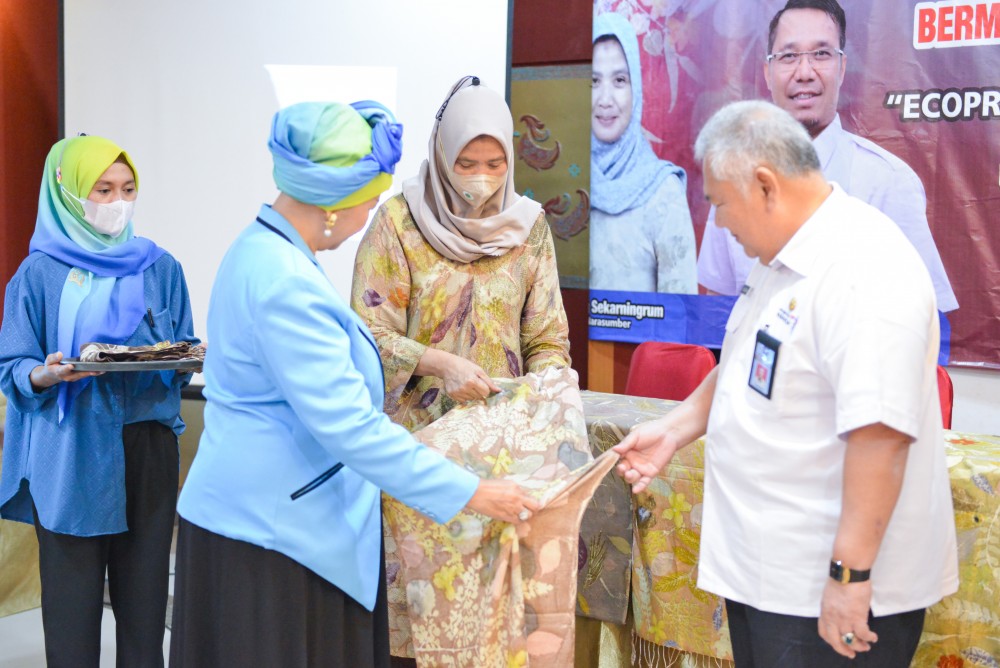 Improving MSME Skills in Bangka Belitung, PT Timah Tbk with DPD Persikindo Holds Ecoprint Training
PANGKALPINANG - PT Timah Tbk together with the Regional Representative Council of the Indonesian Creative Hero Association Bangka Belitung (DPD Persikindo Babel) held an ecoprint training for creative economy actors in Bangka Belitung, at the Ishadi Weaving Cual Museum, Pangkalpinang, Wednesday (18/05/2022) .
This ecoprint training was attended by Micro, Small and Medium Enterprises (MSMEs) in Babel, Persikindo management and PT Timah Tbk fostered partners. This training aims to improve human resources who are strong and excel in the economic field.
In addition, this activity aims to introduce the process of an environmentally friendly product from an Ecoprint technique, as well as to develop the creativity of training participants in advancing the economy.
Chairman of the DPD Persikindo Babel Hj. Isnawati Hadi said that if in Bangka Belitung the variety of souvenir products is still lacking, it is very necessary to carry out various types of training to increase knowledge for MSME actors in creating a product.
"Babel is still very minimal in the diversity of types of souvenirs, so we really need to provide various kinds of training to our MSME actors in Bangka Belitung, besides that creativity is also needed from each product," said Isnawati.
"This knowledge is also very good for supporting tourism in Bangka Belitung, because with this ecoprint technique we can make various types of souvenirs," she continued.
For this reason, her party appreciates PT Timah Tbk's CSR which has supported and facilitated this training. Because this training is very useful for business actors.
"We are also very grateful to CSR PT Timah Tbk, for supporting this training. I really salute PT Timah Tbk's CSR team," said the chairman of the DPD Persikindo.
Head of the Department of Cooperatives, Small and Medium Enterprises, Bangka Belitung Islands Province
Yulizar Adnan hopes that this ecoprint training can improve human resources (HR) in the MSME sector in Bangka Belitung Province. And this activity is expected to help MSMEs stay strong, adapt and even grow in the midst of current conditions.
"We hope that the presence of Persikindo can help develop MSMEs in Bangka Belitung, as well as improve the quality of human resources and be able to create products that are competitive in all lines," said Yulizar.
"We are also very grateful to PT Timah Tbk, which continues to be committed to fostering MSMEs in Bangka Belitung," he said.