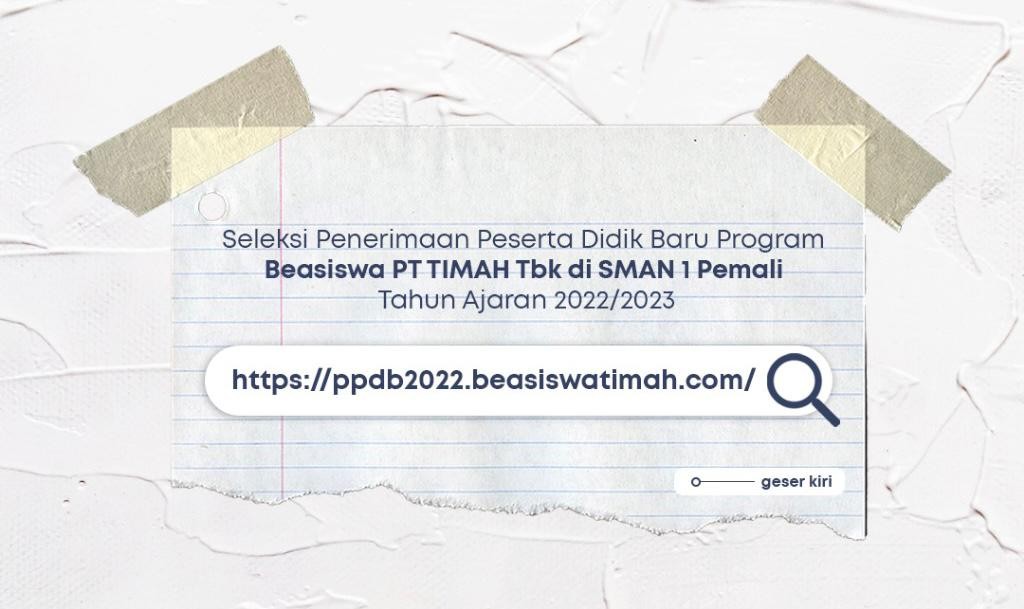 Hundreds of Junior High School Students Register for the PT Timah Scholarship Class Program at SMAN 1 Pemali
PANGKALPINANG -- Registration for the PT Timah Tbk Scholarship class program at SMAN 1 Pemali for the 2022/2023 academic year was officially closed on Saturday (14/5/2022). This program is quite attractive to students, there are as many as 130 students who register for this program.
The number of students who registered is more than in 2021 as many as 118 students. The PT Timah Tbk Scholarship Class registration program starts from April 25 to May 14, 2022.
Most of the participants who registered came from Bangka Regency as many as 36 students, West Bangka Regency 28 people, Central Bangka Regency 20 people, South Bangka Regency 15 people, Pangkalpinang City as many as 12 people, Belitung Regency two people, East Belitung Regency two people, Karimun Regency seven people, Meranti Islands Regency as many as eight people.
Head of Corporate Communications at PT Timah Tbk, Anggi Siahaan, said that after the registration process the New Student Admissions selection team (PPDB) will evaluate and verify administration.
"The announcement of the results of the administrative selection will be held on May 17, 2022. The team is still evaluating and verifying the administration," said Anggi, Monday (16/5/2022).
Later, the participants who pass the administrative selection, students who register will still take a series of tests such as academic potential tests, psychological tests, interview tests, clinical psychological analysis and health tests.
The PT Timah Tbk Scholarship Class Program at SMAN 1 Pemali is a free education program with a boarding system intended for high achieving and economically disadvantaged students residing in the operational area of ??PT Timah Tbk.
"The selection process is carried out transparently and involves professional staff in their respective fields," said Anggi.
According to him, the PT Timah Tbk Scholarship Class program which has been started since 2000 is a commitment of PT Timah Tbk to improve the quality of human resources, especially the community around the mine.
Anggi appealed that students can continue to monitor the latest information regarding the PT Timah Tbk Scholarship Class program through the registration page https://ppdb2022.beasiswatimah.com/home.php.