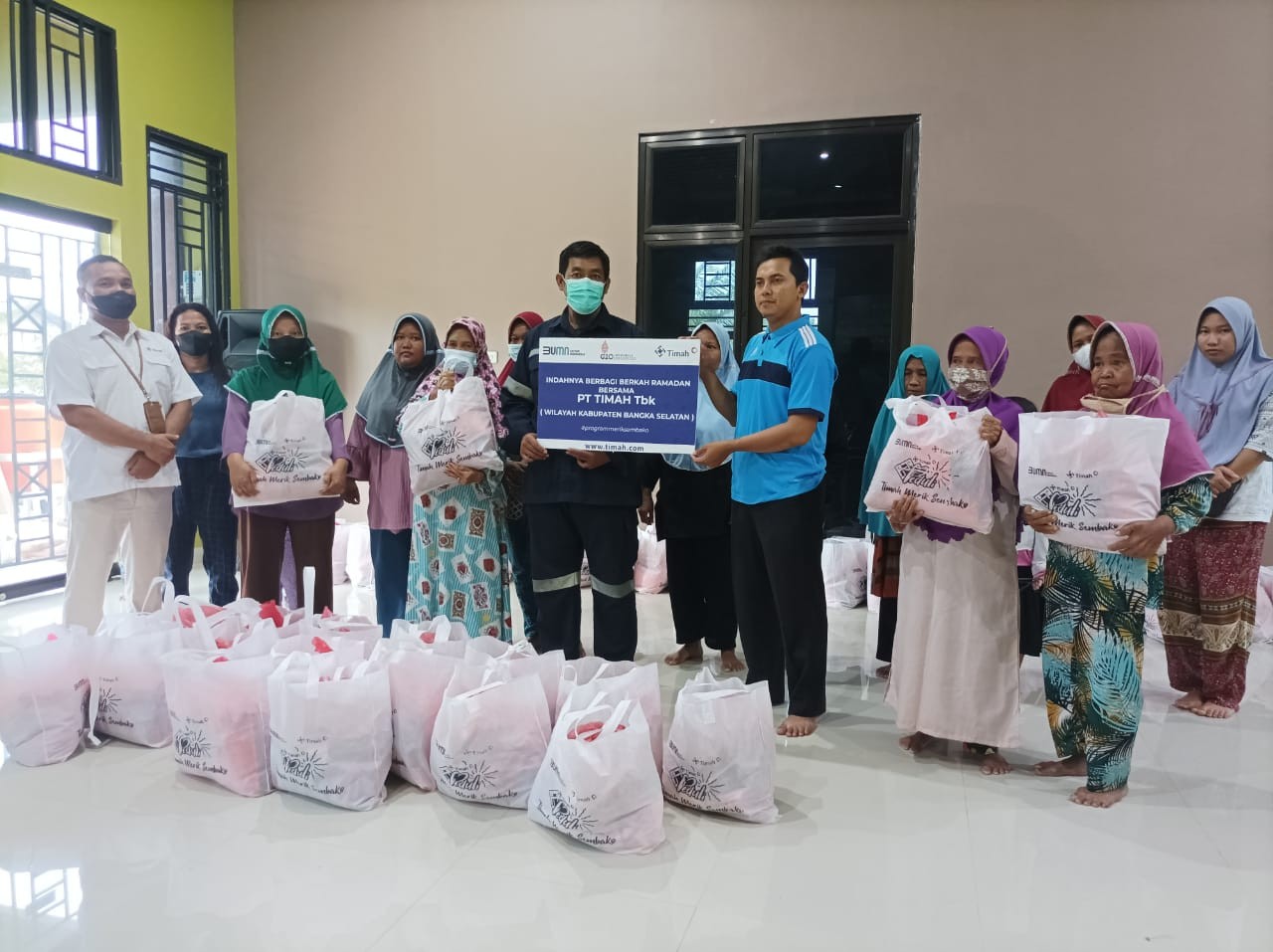 Hundreds of Food Packages for South Bangka Residents from PT Timah Tbk
SOUTH BANGKA – PT Timah Tbk handed over 450 food packages for the people of South Bangka Regency, Thursday (21/4/2022). These basic food packages are distributed to the elderly, economically disadvantaged communities and orphans.
The Head of Keposang Village, Keni Edwardi, appreciated the assistance of basic food packages from PT Timah Tbk which were given during the month of Ramadan. According to him, PT Timah Tbk also routinely provides food packages assistance to the community.
"This assistance is really needed by the community and every year PT Timah Tbk distributes this assistance to people in need. We thank you for the assistance from PT Timah Tbk," he said.
Likewise, Andi Saputra as the Head of Rindik Village expressed his appreciation to PT Timah for caring the residents in his village by providing free basic food assistance.
"Alhamdulillah, thank you very much to PT Timah for helping our community through basic necessities, thank you for doing so much for the community," he said.
Likewise, Andi Saputram, Secretary of Air Gegas Village, Omar Wirahadi Kusuma, also appreciated the real steps taken by PT Timah Tbk which consistently helped the community.
"We from the village would like to thank you for the donation from PT Timah Tbk. This is not the first time of help. In every year, we always receive from PT Timah for the people of Air Gegas Village and this is very helpful for the community, "he said.
One of the recipients of the basic food package, Mainah, a resident of Harapan Mulia Hamlet, Keposang Village, was very happy with the assistance provided by PT Timah Tbk because it was very useful.
"Hopefully in the future such aids will continue to be held regularly because they are very useful for those in need," she said
Meanwhile, Eis, a resident of Rindik Village, said that the assistance provided by PT Timah Tbk was right on target. According to her, this is not the first time she has received this assistance, because at the beginning of Covid-19, she had also received assistance.
"I also received a food package at the beginning of Covid-19, I thank you very much for helping the community. This aid is right on target because those who get it are the ones who need it," she said.*