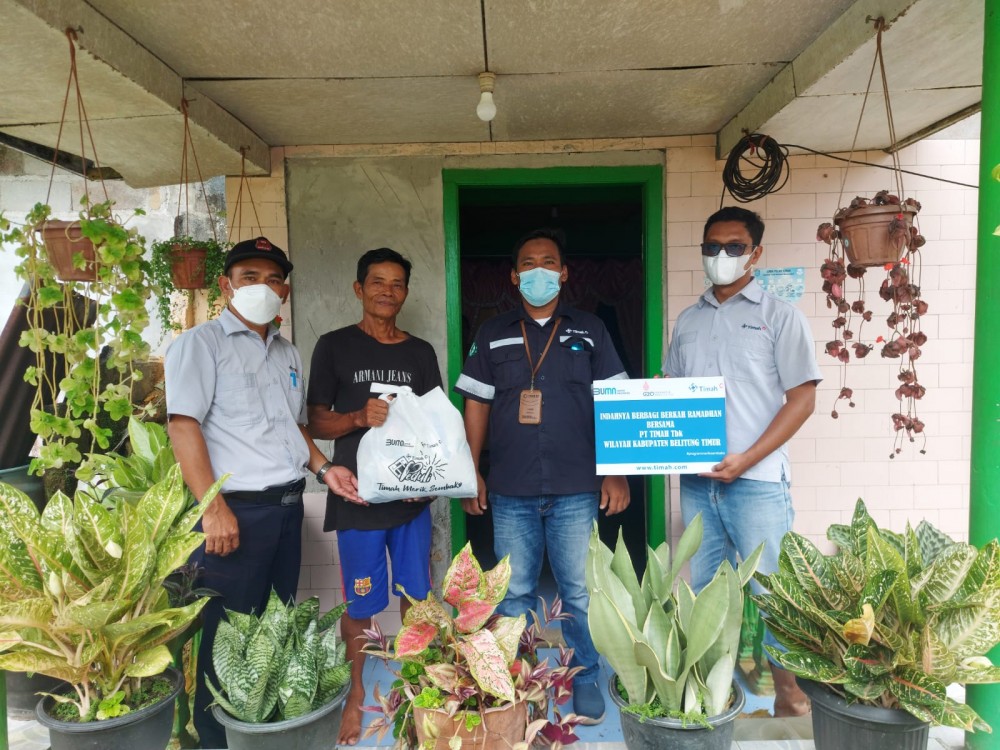 Distributing Thousands of Food Packages on Belitung Island, PT Timah Tbk Targets the Elderly and People in Need
EAST BELITUNG - PT Timah Tbk continues to be committed to helping the community in the company's operational areas, not only empowering the community. During the momentum of the month of Ramadan, PT Timah Tbk also shared blessings with the community by handing over food packages.
A total of 1500 food packages were handed over by PT Timah Tbk to the elderly and underprivileged communities on Belitung Island.
This assistance is intended to ease the burden on the elderly and economically disadvantaged communities. Especially with the Covid-19 pandemic, plus the current soaring prices of basic commodities.
Thousands of food packages began to be distributed in stages starting from Monday (18/4/2022) to several villages in Palau Belitung including Buding, Mentawak, Badau, Cerucuk, Bantan, Simpang Rusa, Lassar and Membalong villages.
The people of Buding Abidin Village are grateful for the basic food assistance, because they are currently still in the Covid-19 pandemic situation. Especially now that the price of basic commodities is soaring. This is of course very useful for him.
"We thank you very much, and may PT Timah Tbk continue to progress and run smoothly," he said.
The people of Mentawak Hasia Village are also grateful for the assistance, because the one who earns a living by washing, ironing the neighbors' clothes is only enough to eat.
"Thank you very much PT Timah Tbk, grateful for this daily assistance," he said.
Meanwhile, the Mentawak Village Head Dairobi appreciated the assistance from PT Timah Tbk, hoping that PT Timah Tbk would continue to prosper and continue to collaborate with the community.
"Thank you PT Timah Tbk for caring for Mentawak Village, I hope this assistance can be useful for the community," he explained.
Similarly, the Head of Buding Village, Mardini, said that the Buding Village Government appreciated PT Timah Tbk for the basic food assistance to the community.
"Hopefully PT Timah Tbk will continue to be victorious, continue to get a lot of production and the community will continue to be given health," Mardini hoped.
Then the food assistance will continue to be distributed to Belitung Island villages.
The following is the data for the sub-districts and villages that received assistance from PT Timah Tbk in Belitung Island.
1. Belitung
a. Sijuk District
1. Sijuk
2. Air Selumar
b. Badau District
1. Badau
2. Cerucuk
3. Kacang Butor
C. Membalong District
1. Bantan
2. Simpang rusa
3. Lasar
4. Membalong
B. East Belitung
a. Kelapa Kampit District
1. Buding
2. Mentawak
b. Damar
1. Burung Mandi
2. Mengkubang
3. Sukamandi
4. Mempaya
c. Gantung
1. Selinsing
2. Gantung
3. Lenggang
4. Limbongan
5. Lilangan
6. Jangkar Asam
7. Batu Penyu
d. Simpang Pesak
1. Simpang Pesak
e. Simpang Renggiang
1. Air Madu
2. Lintang
f. Manggar
1. Baru
2. Kurnia Jaya
3. Lalang
4. Lalang Jaya
5. Padang
6. Mekar Jaya
7. Buku Limau
8. Kelubi