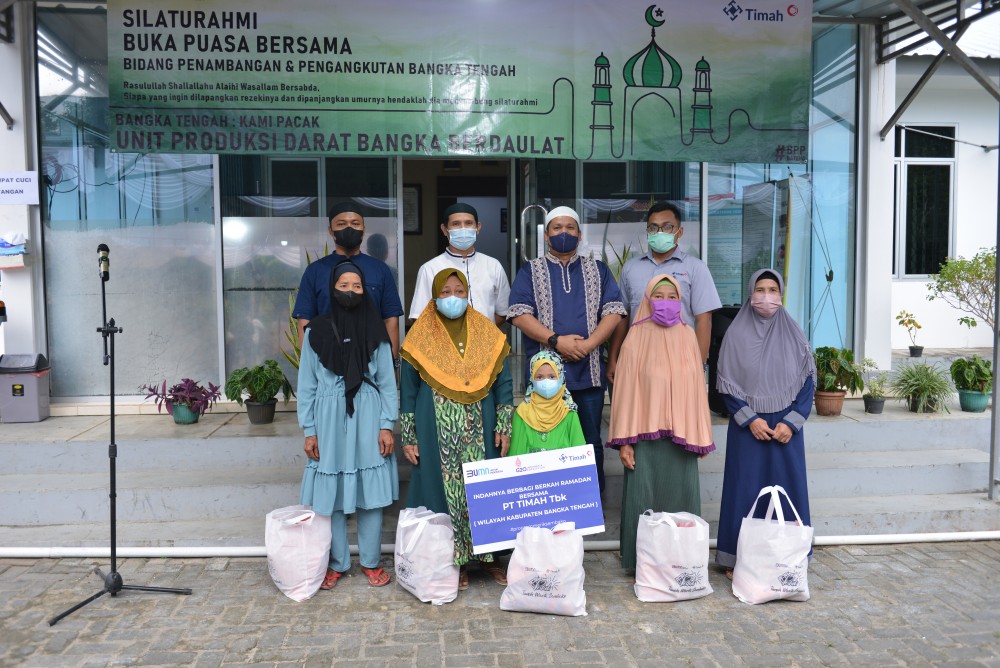 Central Bangka Residents Receive Basic Food Packages from PT Timah Tbk
*For Widows and Dhuafa
CENTRAL BANGKA - PT Timah Tbk again handed over food packages for the community in the company's operational areas. The food packages handed out during the month of Ramadan are an attempt by the company to help the community meet their food needs.
This time, the basic food packages were distributed to the community in Central Bangka Regency, precisely in Cambai Village. Food packages were handed over by the Head of the Land Mining Unit (UPDB) to widows and poor people at the Central Bangka Mining and Transportation Division, Monday (18/04/2022).
One of the beneficiaries, Misroh (56) said she was happy to receive the basic food packages from PT Timah Tbk. She has often received assistance from PT Timah Tbk, so she feels the presence of PT Timah Tbk has helped her.
"I am very grateful to PT Timah, because whenever there is any kind of assistance from PT Timah, I always get it. Besides that, PT Timah has also made a house for me, and thank God with PT Timah it really feels good to me, "said a resident who lives in RT 03, South Cambai Village.
This woman, who works as a cake maker and seller on a daily basis, said that she could no longer earn a living like she used to because of her health condition. So, she only sells cakes at home.
"This leg is already sore, so I can no longer sell around the village. I just hope that people come to buy it at home," said Misroh.
Similarly, Suphia (48) is also grateful for the assistance of basic food packages from PT Timah Tbk for her. This food package assistance is really needed to help meet daily needs.
"Alhamdullilah, I am very happy to receive help from PT Timah. Whenever there is assistance from PT Timah, I am always given, for example, distribution of meat and other assistance," said the woman who works as an ampiang fryer.*