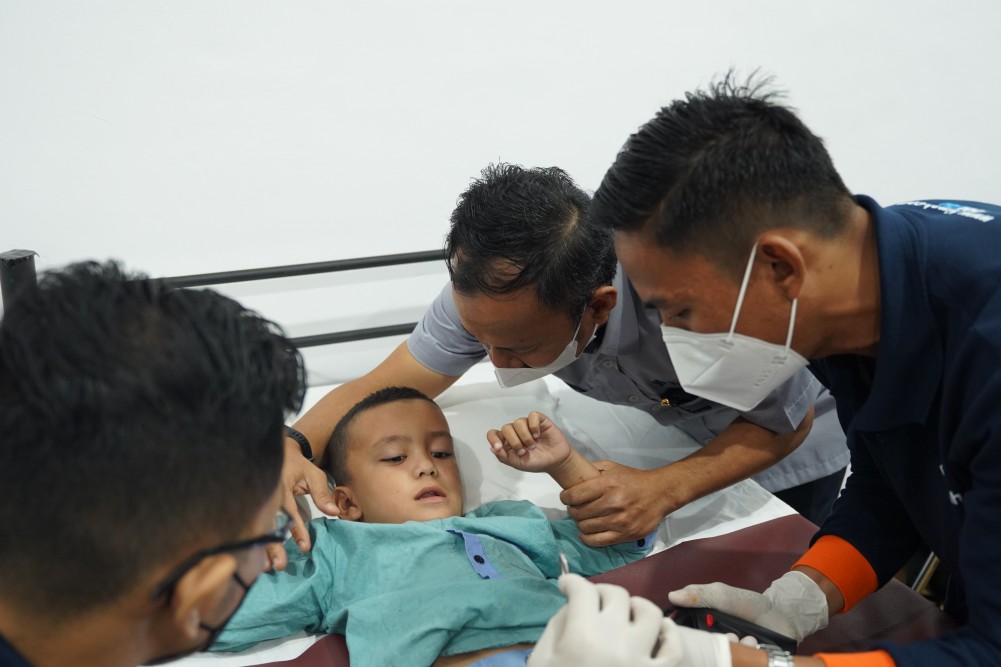 Alif Doesn't Cry when Participating in Mass Circumcision for PT Timah Tbk's Month of Service in Sungailiat
*Parents Feel Helped
BANGKA -- The series of Months of Service of PT Timah Tbk to welcome the 46th Anniversary of PT Timah Tbk continues. Today it is the turn of the community in Sungailiat District, Bangka Regency to participate in the Mass Circumcision and Blood Donation which was held at the Engineering Multipurpose Building, Wednesday (29/6/2022).
Although the drizzle did not dampen the enthusiasm of the participants who will take part in this mass circumcision and blood donation. Since their morning
flocked to the engineering office of PT Timah Tbk. Some of them are even delivered by trishaw.
One of the participants in the mass circumcision, Muhammad Alif Abiya Simamora (6) from Air Ruai Village, Pemali District, looks happy and calm when he is about to be circumcised. Before entering the circumcision room accompanied by his father, he greeted his mother.
There were no tears coming out of this boy who was just about to enter elementary school. Encouraged by his father and also the nurse who circumcised him, he looked calm and even smiled occasionally.
"I'm not afraid because it doesn't hurt, so I don't cry," he said.
He really wanted to be circumcised, so courage was able to overcome his worry.
"I want to be circumcised myself, because my friends have been circumcised," he said with a smile.
Alif's parents, Binu Hajar Simamora (39) said that their son really wanted to participate in the mass circumcision because he heard stories from his friends.
"From last year my son wanted to participate in the mass circumcision. But Alhamdulillah this is from PT Timah Tbk so that my son's wish is achieved. It also helps me because I don't have to pay anymore, it can be for other needs. Because the income is uncertain as a daily laborer," he said.
Similarly, Akhmad Vino (7) a resident of Tutut Pengamun is happy to be able to participate in the mass circumcision. Even though he looked nervous, he still managed to smile.
"It's nice to get a gift, I'm not afraid because I really want to be circumcised," he said.
Akhmad Vino's father, Jamaluddin, told that they were willing to rain to take their baby to be circumcised at PT Timah Tbk's Month of Service.
"Alhamdulillah, despite the rains, my son was finally able to be circumcised. This is very fitting to be carried out when the children are on school holidays. Thank you PT Timah Tbk for holding this mass circumcision because it is very helpful," he said.
Likewise, M Riski Saputra (7) a student of SDN 2 Pemali said he was happy because he had been circumcised. In addition, he also received a gift.
"I am very happy to be able to get a gift, circumcised also because it is big," he said.
Ms. Riski Saputra, Rita, said that this mass circumcision had helped the economically disadvantaged people.
"Hopefully this will be there every year, because it is very helpful especially for people who are less economically like us," she said.
Sungailiat became the second location, after the previous series was held in Pangkalpinang City.